Living in Colorado has really opened my eyes to new things. One thing in particular is delicious healthy food. Healthy food is a default decision for most people here. When I arrived at a Grill Out Party last week I find that there's a choice of regular, chicken, turkey and veggie hot dogs or  black bean burgers or you even have a choice of a plate of grilled veggies! Sides included homemade hummus, quinoa salad and Watermelon and Watercress Salad with Ginger. See I grew up in the South where you have a choice of (beef) hot dogs or (beef) burgers with either potato salad or coleslaw as sides. That's it. So I have had to really use my creative cooking skills. I've even ventured down ailes in the grocery store that I have previously avoided- like baking supplies! And in my research I have discovered delicious Chocolate Chip Energy Bites by "Gimme Some Oven" on Pinterest!
If you are an outdoorsie  person I think you will love these bites because not only are they packed with protein but they are also low calorie and engergy boosting! I recently made these for a day hiking trip with my husband and he LOVED them and they gave us a full day of energy for our hike up Lily Lake. He called them "Little Cliff Bar Balls".

Ingredients: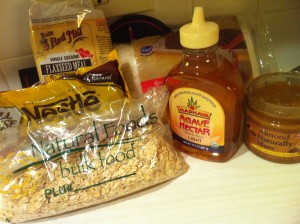 1 cup (dry) oatmeal (I used Bob's Red Mill Rolled Oats)
2/3 cup toasted coconut flakes (I used sweetened coconut flakes)
1/2 cup peanut butter
1/2 cup ground flaxseed or wheat germ (Again, I used Bob's Red Mill Ground Flaxseed )
1/2 cup chocolate chips
1/3 cup honey or Agave Nectar
1 tsp. vanilla
Preparation:
Stir all ingredients together in a medium bowl until thoroughly mixed.  Chill in the refrigerator for half an hour so they can be more easily rolled.  Once chilled, roll into balls of whatever size you would like. After, store in an airtight container and keep refrigerated for up to 1 week. Enjoy!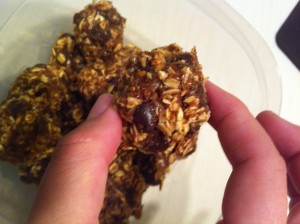 Katy's adaptation:
I substituted Naturally More Almond Butter instead of Peanut Butter because of the lower calorie/higher protein but I will say it is more difficult to keep the balls together and they don't look as pretty. You can also use sunflower seed butter as a subsitution.
I also substituted Madhava Light Agave Nectar. I typically use this to sweeten my coffee but decided to use this instead of honey. Many people who do not like honey will still like the flavor of agave nectar. Unlike honey, agave syrup is completely vegan as well! It also has less calories than honey. However, honey does help keep the balls together more tightly and you may like that full honey flavor!
I was thinking next time about adding some coffee flavoring or even some light grounds to give it a real energy boost!