Heidi
Hi! I'm the owner of TheBusyNothings.com. I've been married to my college sweetheart Ben for 10 years and I'm passionate about my 2 little boys- one of whom has special needs. I love being real about my life and struggles and seek to understand God and chase his beauty. I enjoy cooking healthy/gluten-free, fashion from thrift stores and exercise to keep my sanity. I work from home, freelance writing and social media consulting with bloggers and small businesses. I am slowly figuring out how to balance family life and work. I love connecting with people, contact me at TheBusyNothings@gmail.com
Sarea
Hi, I'm Sarea, contributor at the TheBusyNothings.com. I home-school my three kids, dabble in photography, quilt, know how to change the oil in my car and love baseball #GoNaturals. I volunteer at the local Arts Center. I am an instructor of Life-guarding/CPR/First Aid with the local Red Cross. I like finding new music. I have a love for records and have quite a collection, but currently no way to play them. I have a fetish for office supplies, I am a great listener, love roller coasters, I am WAY behind in scrapbooking and can't wait till my oldest turns 18 so we can skydive together for the first time! Follow Sarea below!
Sherry
Hi, I'm Sherry, a writer for at the TheBusyNothings.com. I am passionate about helping people with disabilities learn life skills and am fortunate enough to be able to do it full time! I love doing Wordless Wednesdays, capturing life at the Camp I work at as well as sharing bits of my life. I work a lot and come and post when I can!
Katy
Currently living "The Rockies Life" in Fort Collins, CO but a southern girl at heart! In love and married almost 5 years. No kids yet...just a few furry friends. I am a Social Worker who spends most of her days in jails, foster and group homes, connecting with and advocating for at risk kids. I love eating healthy but indulge way too often in my favorites -wine and cheese. I love spending time outdoors hiking, biking and just adventure-ing!!
I'm 23. I'm married to the best guy in town. I enjoy sunsets and long walks to the fridge. The gracious owner of The Busy Nothings, Heidi, has asked me to be a regular contributor on her blog, and I am so happy to be a part of such an amazing group! Bear with me as I grow into this 'writing' business. For now, you'll get a little laughter, a little wit, and a whole lot of heart from me.
TheBusyNothings Tweets
In Harrisburg for a few more days- learning a lot about eggs- I had no idea how much there was to learn about eggs!!!

2013/05/22 10:05

Studying in my room listening to the Imagine Dragons. Somewhere my college self is laughing at me.

2013/05/21 18:55

Thought of you @courtneyA13! ;))
http://t.co/LM3gebd5qs

2013/05/21 12:44
Wordless Wednesday: Safety FAIL
Published
February 22, 2012
|
By
Heidi
The heart-stopping moment during an impromptu photo session when you see your child doing something life threatening and you see it through the view finder of your camera as you click away. STOP!!!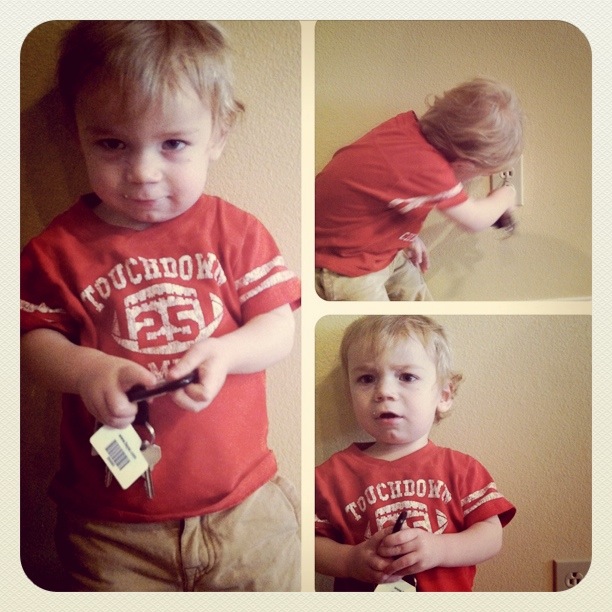 Oh, and this is the face.

Sweet little mischief maker…