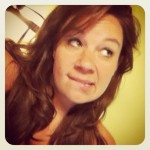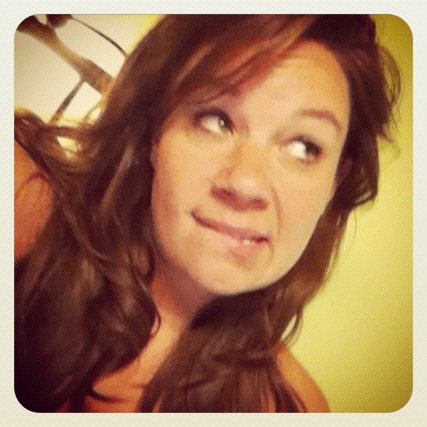 Moving from the North to the South was quite a transition, but nothing, I mean NOTHING prepares you for Hog Fans!!  If you have never heard the Hogs being called, you are really missing out!  They do it EVERYWHERE!  I am not kidding!  I have witnessed them doing it at an Allen Jackson concert at the AMP, a Brian Regan show at the Walton Art Center, and I even participated once at a Women of Faith conference, with over 10,000 women in attendance!  When we went to our family reunion in Colorado a couple years ago, my cousin said that he and his wife were on a cruise and there was a group of people at a table yelling "Woo Pie Sooie, RAZORBACKS!"  We just cracked up (and then called the Hogs for him of course!)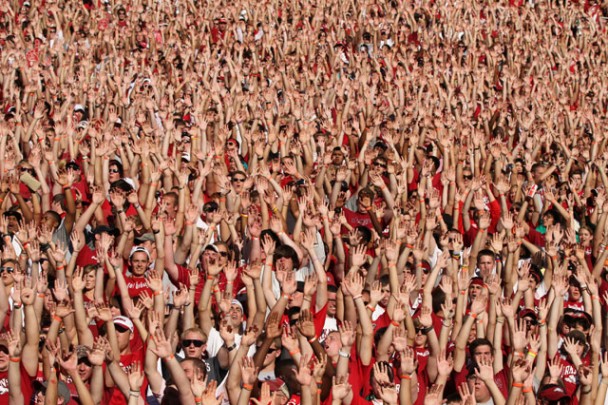 This weekend was Homecoming, and so we wanted to make sure that we were ready for the BIG GAME!  I love that the kids are as excited about sports as I am!  When we were at Walmart  Madison and I stopped in the hat aisle and were picking which ones we liked the best… They really have some cute ball caps!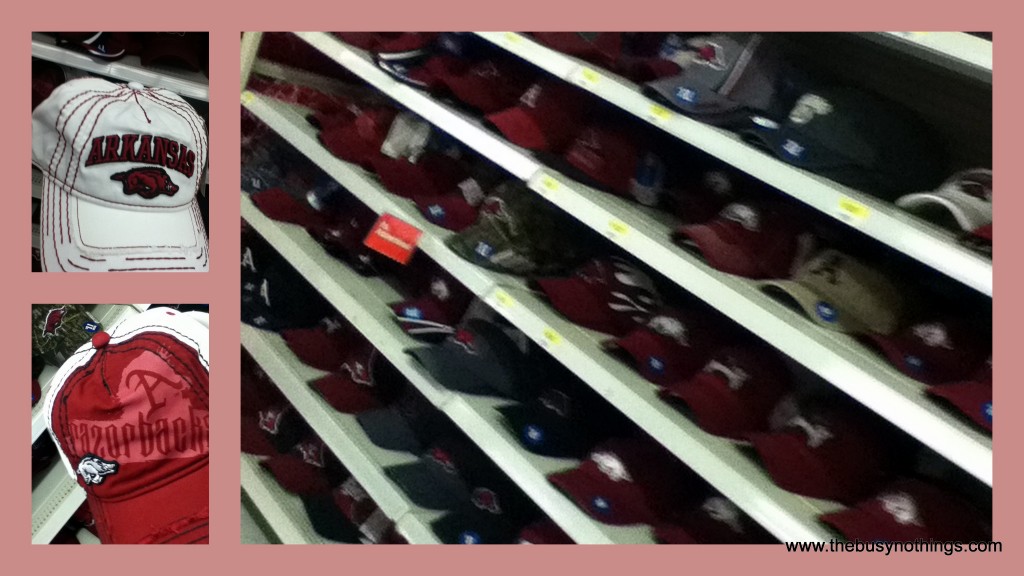 You can see our entire shopping trip HERE in my Google+ album. Some people get really peeved when you wear something that has the college logo, but is NOT the right color. (I know this because I have a pink Razorback ball cap and catch a little bit of flack every time I wear it!)  So, I got a new 'politically correct' cap for the game, what do you think?  Good choice?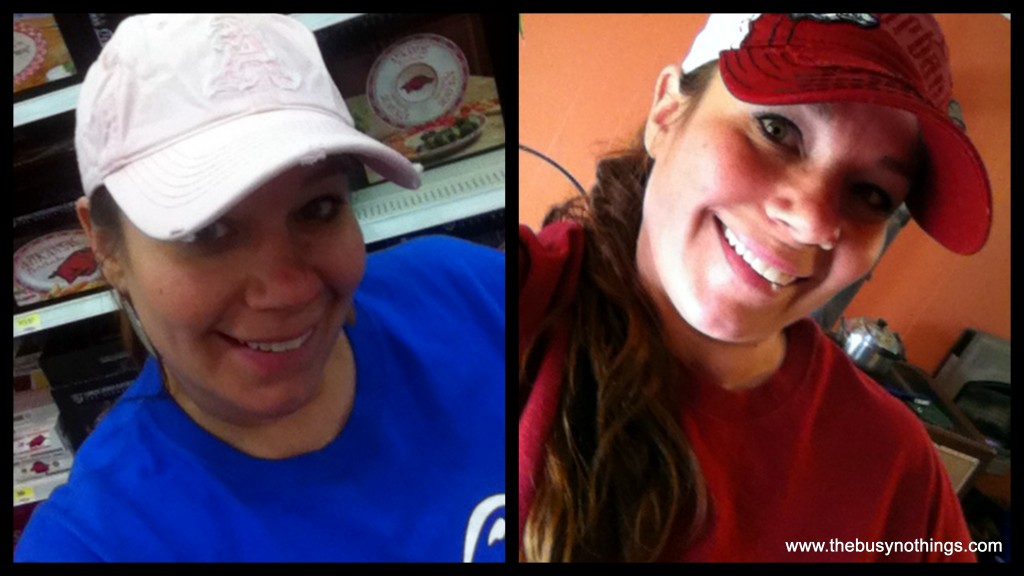 They had ALL sorts of things to choose from…seriously, they logo everything now!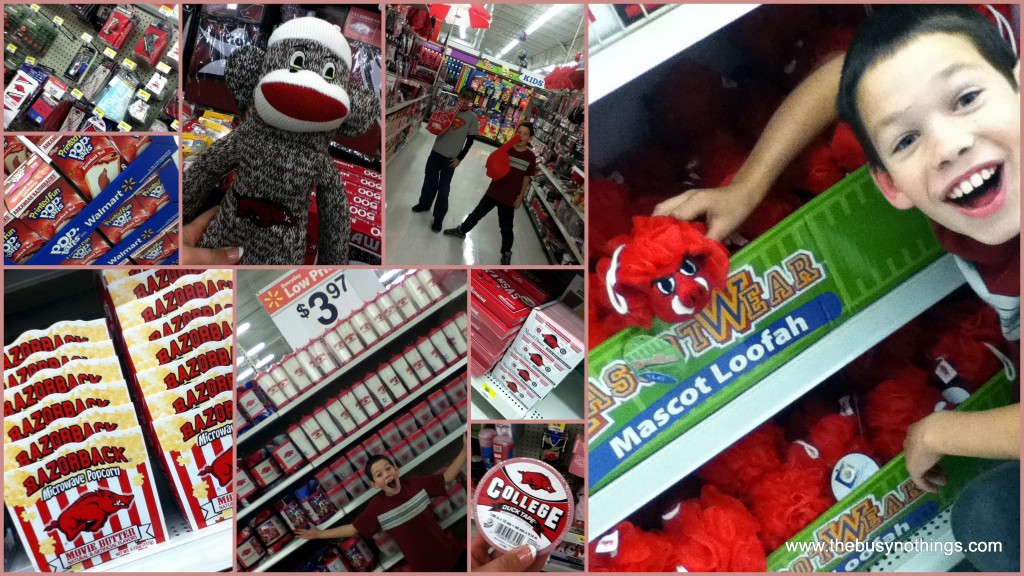 I couldn't pass up the Huggable Hoodies!  I am big on stuffed animals and warm soft blankets, talk about a two-fer!  The kids were pumped to get this, when I told Ethan to 'put it on', he stuck it on his head and then cracked up!  Finally he put it on the correct way and  looked pretty darn adorable in my opinion!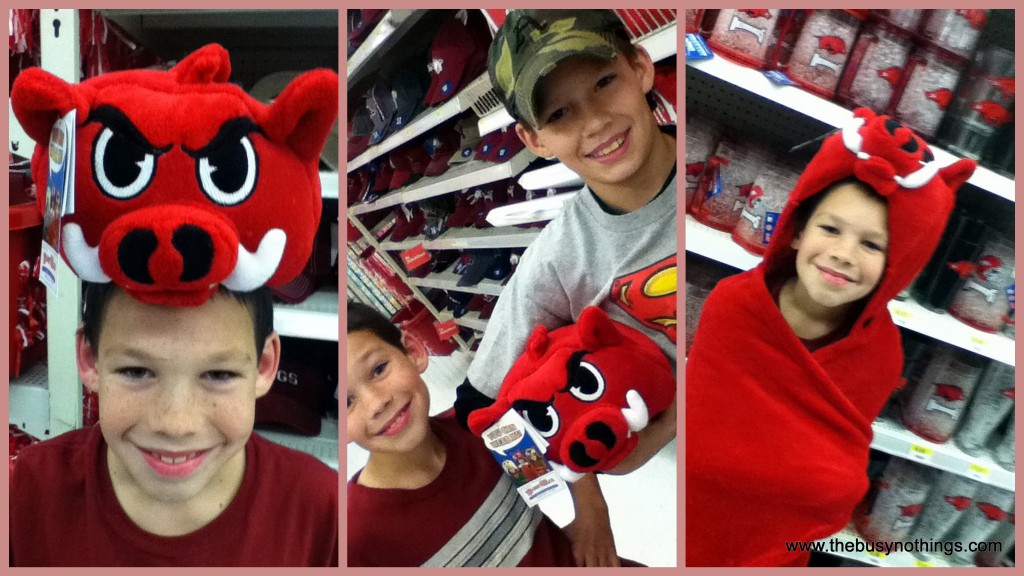 We almost always 'homegate' and gather at my sister and brother in laws to watch the games!  We don't have cable at my house (Netflix only for us), besides it is more fun to watch the game with other people anyway! It's a huge bonus for me, because it is just right up the hill, and close enough that we can even walk!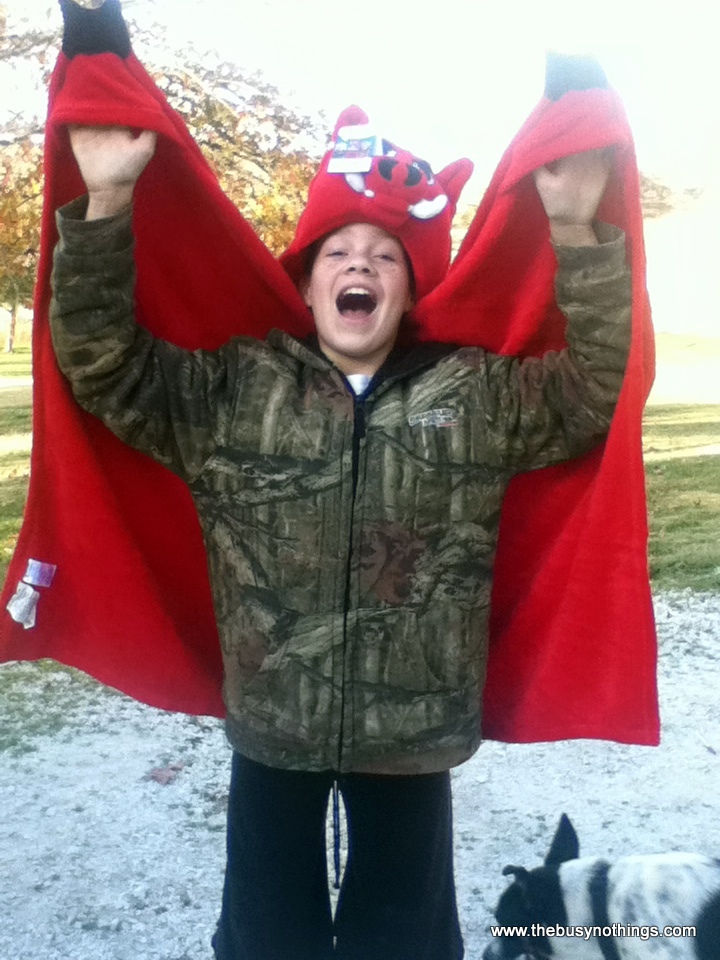 Alas, things did NOT go as planned… This was the kids weekend to be at their dad's, AND it  is hunting season too!  Brian and Harmony had made other plans so, needless to say, I was home by myself on the hill watching the Arkansas Razorbacks play some football on this gorgeous day via the internet on ESPN.com.  I was still feeling festive and wanting to celebrate, even if it was just me, so…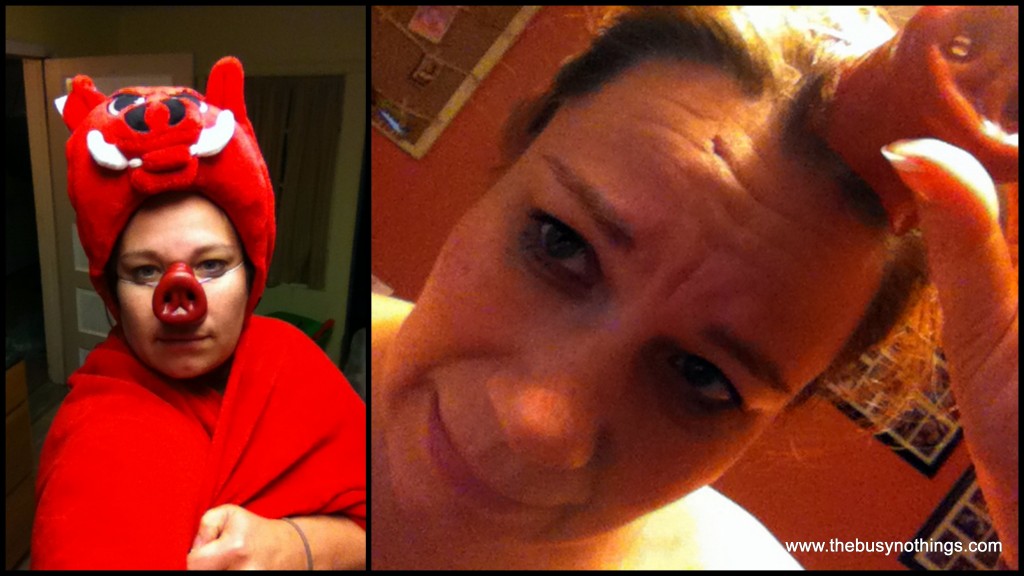 Thankfully the blanket is a one size fits all!  It kept me nice and warm while I watched the game on the couch!  The second picture is of my poor dented forehead after placing the Hog nose up there so I could watch the game without the nose blocking any play action! I totally forgot about it and left it up there until it started hurting!  LOL  No worries, I am fine and there is no permanent damage to speak of!
I did pick today as my 'cheat day' for obvious reasons!  Salty and sweet…can't be beat! The popcorn was delicious, but the chocolate was a little disappointing.  I am wondering if the sugar just isn't tasting as good since I haven't been eating it…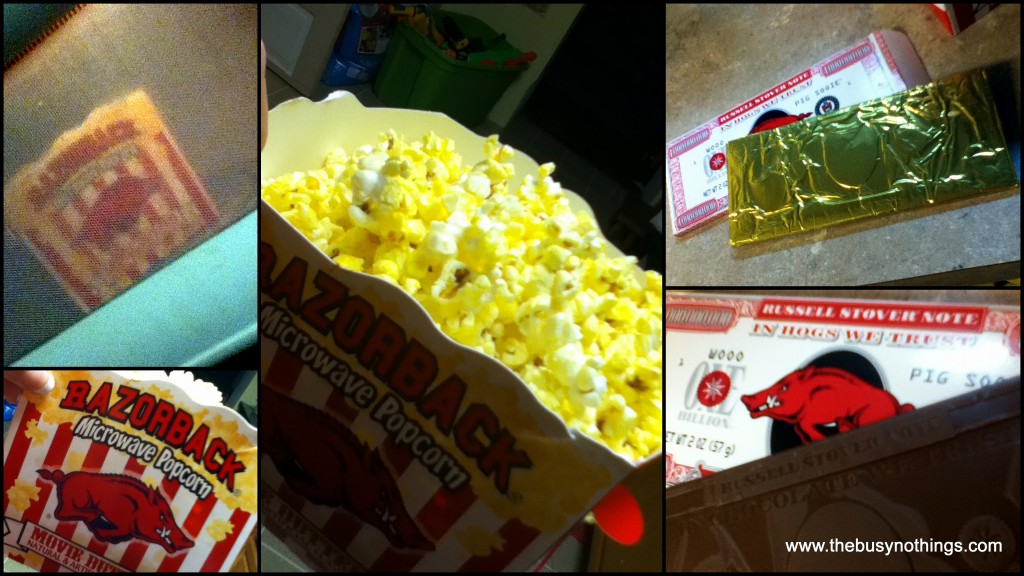 We normally like to toss the football around during half time and see who can get the perfect spiral, and to just get some fresh air and get moving a bit.  Obviously I couldn't throw a football to myself, so I settled for hanging with the dog outside.  The weather has turned chilly here, and the Huggable Hoodie was a HUGE hit with me (and Fuzzy)!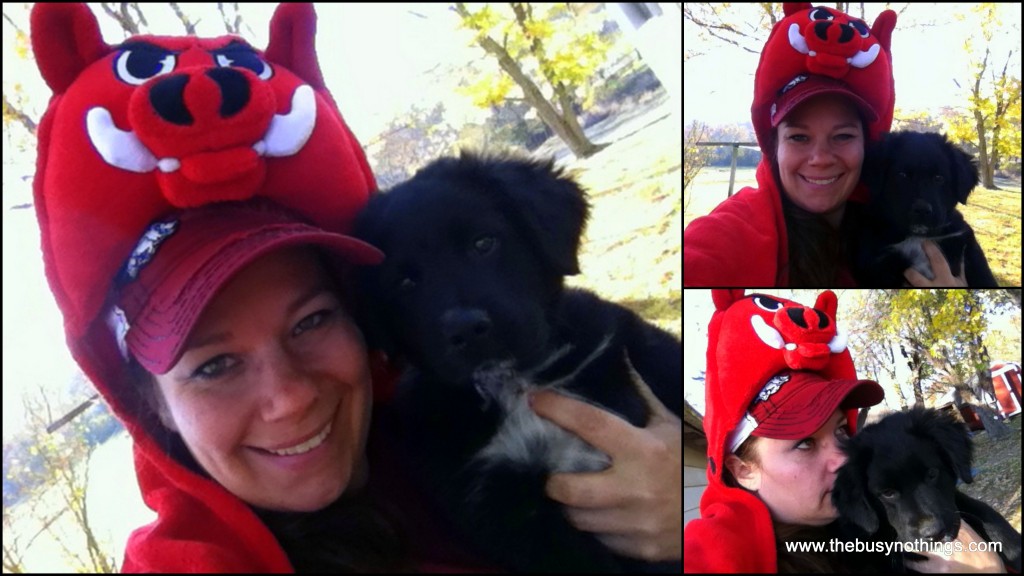 Guess What?????????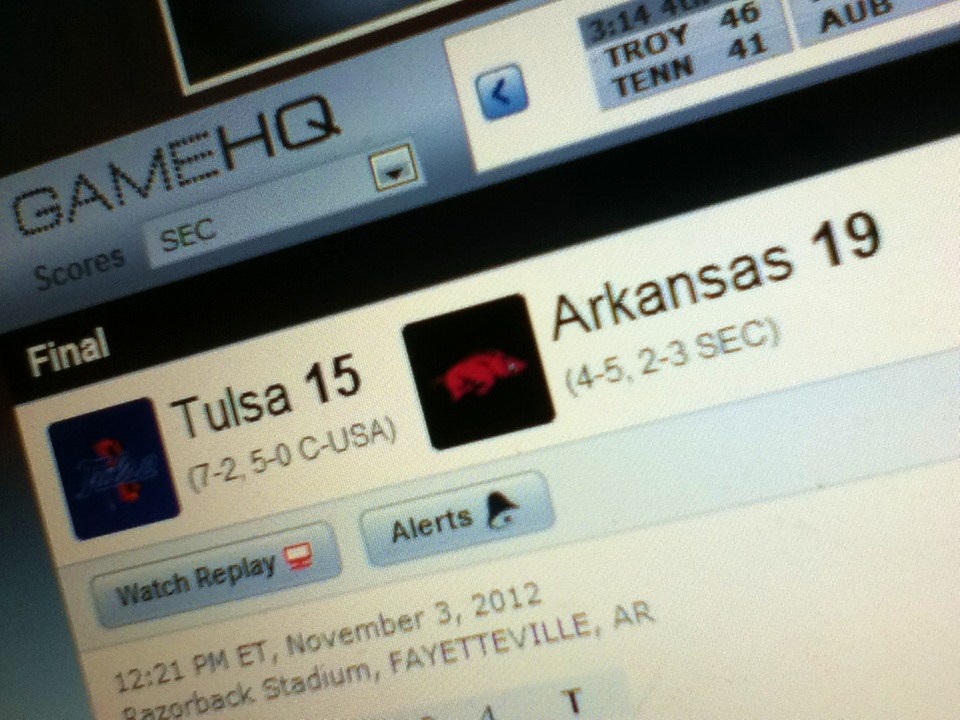 WE WON!
DISCLOSURE: I am a member of the Collective Bias™ Social Fabric® Community. This content has been compensated as part of a social shopper insights study for Collective Bias and Infinity Headwear and Apparel. #CBias #SocialFabric.  However, those of you who know me, know that I love doing things like this!  Never fear, you will always 'hear it like it is' from Sarea! –