Heidi
Hi! I'm the owner of TheBusyNothings.com. I've been married to my college sweetheart Ben for 10 years and I'm passionate about my 2 little boys- one of whom has special needs. I love being real about my life and struggles and seek to understand God and chase his beauty. I enjoy cooking healthy/gluten-free, fashion from thrift stores and exercise to keep my sanity. I work from home, freelance writing and social media consulting with bloggers and small businesses. I am slowly figuring out how to balance family life and work. I love connecting with people, contact me at TheBusyNothings@gmail.com
Sarea
Hi, I'm Sarea, contributor at the TheBusyNothings.com. I home-school my three kids, dabble in photography, quilt, know how to change the oil in my car and love baseball #GoNaturals. I volunteer at the local Arts Center. I am an instructor of Life-guarding/CPR/First Aid with the local Red Cross. I like finding new music. I have a love for records and have quite a collection, but currently no way to play them. I have a fetish for office supplies, I am a great listener, love roller coasters, I am WAY behind in scrapbooking and can't wait till my oldest turns 18 so we can skydive together for the first time! Follow Sarea below!
Sherry
Hi, I'm Sherry, a writer for at the TheBusyNothings.com. I am passionate about helping people with disabilities learn life skills and am fortunate enough to be able to do it full time! I love doing Wordless Wednesdays, capturing life at the Camp I work at as well as sharing bits of my life. I work a lot and come and post when I can!
Katy
Currently living "The Rockies Life" in Fort Collins, CO but a southern girl at heart! In love and married almost 5 years. No kids yet...just a few furry friends. I am a Social Worker who spends most of her days in jails, foster and group homes, connecting with and advocating for at risk kids. I love eating healthy but indulge way too often in my favorites -wine and cheese. I love spending time outdoors hiking, biking and just adventure-ing!!
I'm 23. I'm married to the best guy in town. I enjoy sunsets and long walks to the fridge. The gracious owner of The Busy Nothings, Heidi, has asked me to be a regular contributor on her blog, and I am so happy to be a part of such an amazing group! Bear with me as I grow into this 'writing' business. For now, you'll get a little laughter, a little wit, and a whole lot of heart from me.
TheBusyNothings Tweets
Just overheard in the Harrisburg, PA airport, "you look like an Amish girl in that shirt." Insulted reply, "I do NOT!"

2013/05/24 10:52

Congrats Clarkie!!!! @ShaddygetNatty I feel OLD! ;)) (@mariettamcclure @SpenceShad @treyshaddy)

2013/05/24 09:38

Morning comes early when you've been out too late. I'm ready to get home and see my family!

2013/05/24 05:37
Published
February 9, 2013
|
By
Sarea
Package of moustaches: $1
Pride: Gone
Memories Made:  PRICELESS!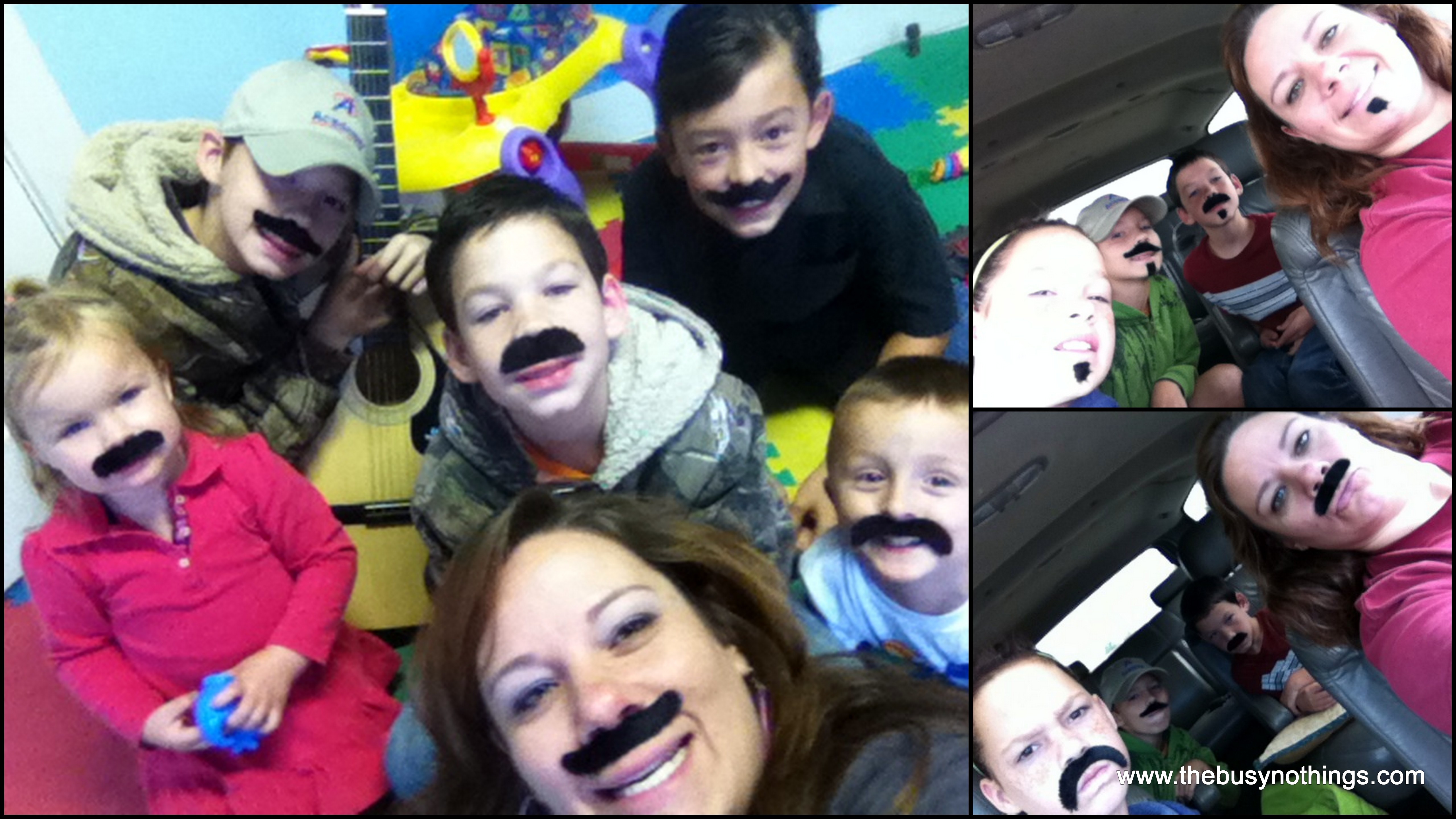 Corrupting your youth, one at a time!
Notice in the bottom right hand corner that I come by it honestly!  ;-)
Oh, and I love that Bug (4 top left photos) is so eager to participate!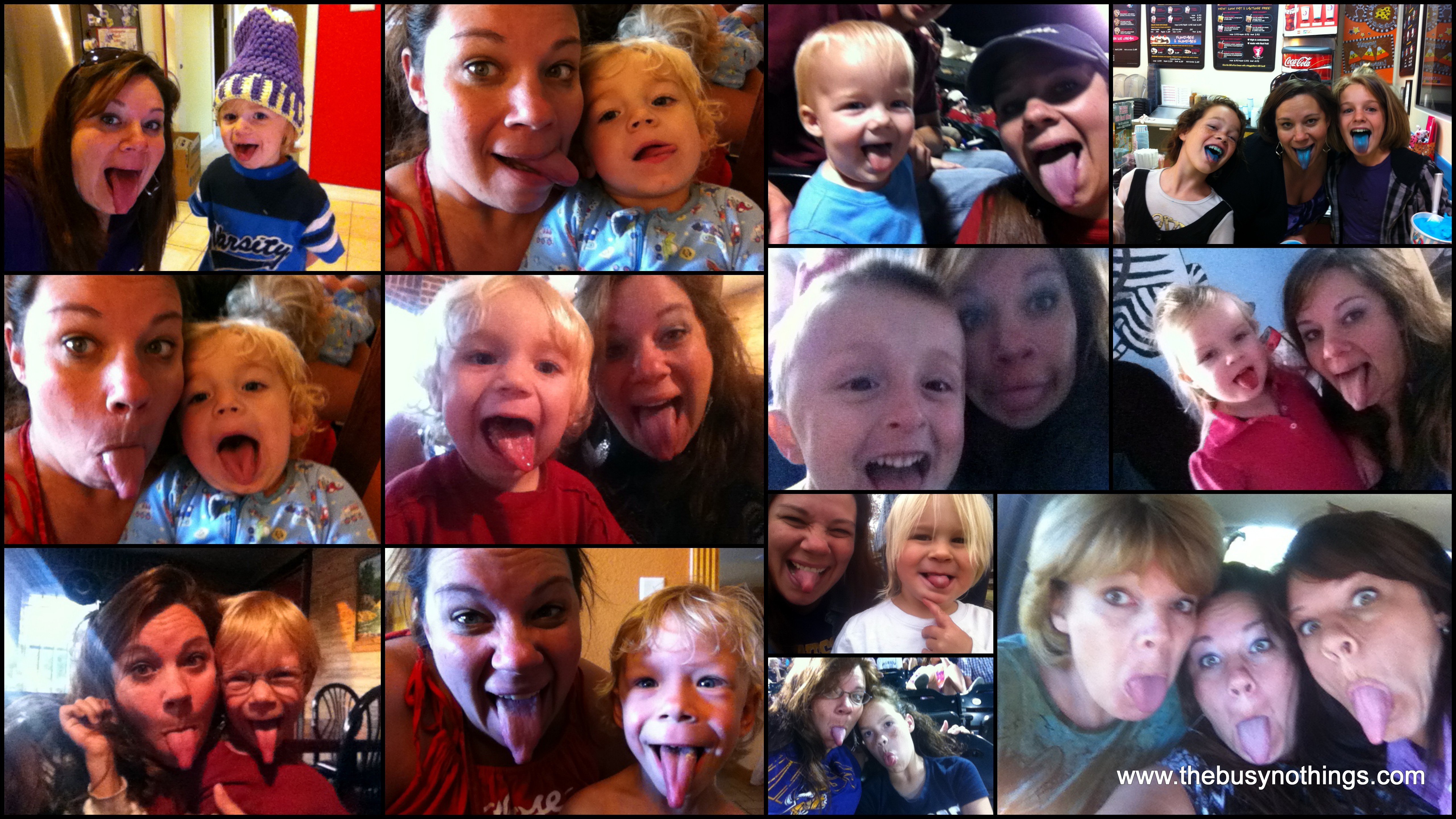 P.S.  I had to look through a TON of photos to find all of these (no really, I promise!)
Find a kid, yours or someone elses (with permission of course) and BE SILLY!  It will keep you young!