My last post was all about my return from lingering in the dark ages for a few weeks with out any internet access and the great return I would have in my writing journey following the grand internet restoration.  Well… that return has proven it's self to be an epic fail.
I have been racking my brain for weeks about things to write and the truth is that I just have nothing… I mean nothing.  Even witting this post about having nothing was difficult to sit and write.  I sat last week with my computer in front of my for like four hours and got no where.
In light of all of this I began really thinking about what is happening to me and in my life that could possibly be causing such a block in expressing my thoughts to flow out in written word then I looked around at my desk…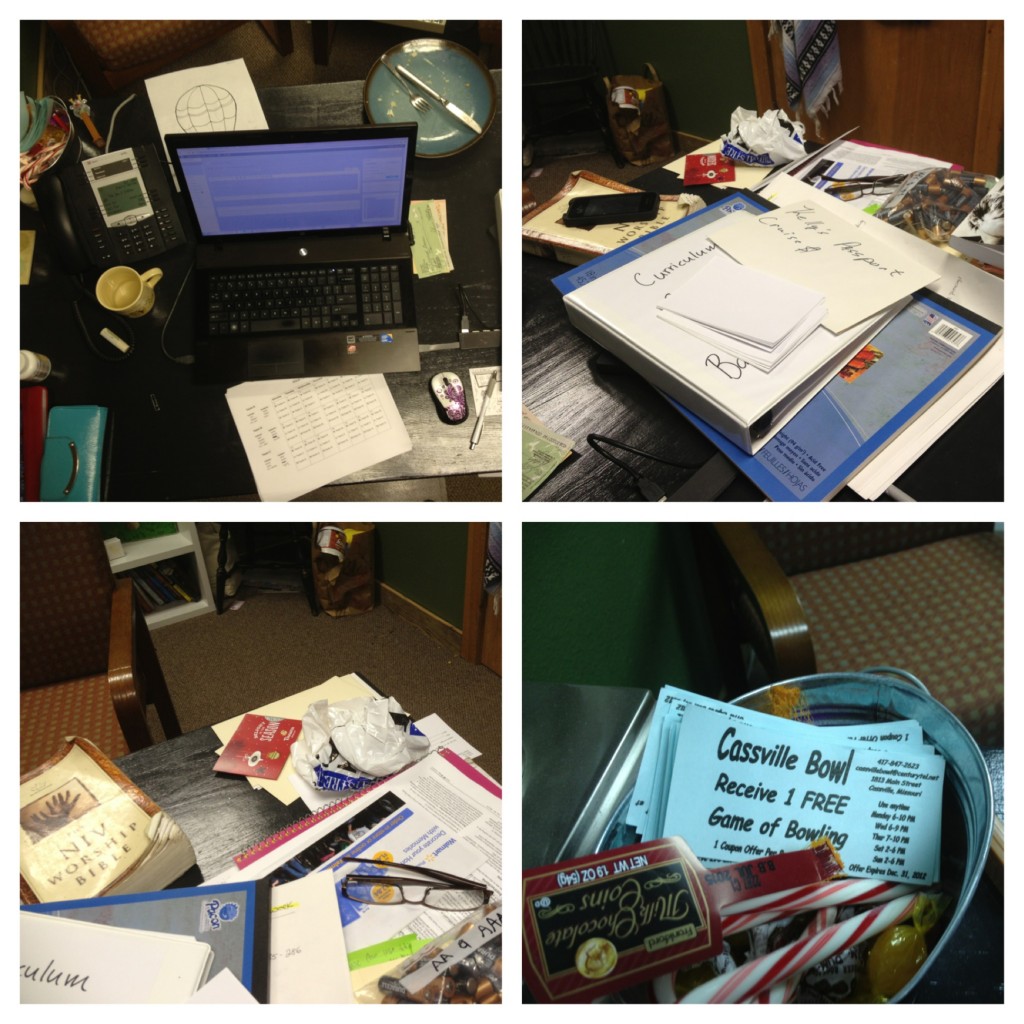 As you can see there is a lot happening here!
I just returned from a 2 and a half week much needed break from work.  Now, don't get me wrong I love my job and what I do every day but it is A LOT every day all the time.  I knew it would be when I signed on for it but my desk is always a testimony to how much is truly going on.  If you can believe this or not it was clean when I returned on Saturday and this is what has happened in just two full days.
As you can see…
- There is my computer which is always beckoning me to hours of work
- Why yes… there is a crusty plate on my desk because meals tend to have to happen in my office at times… don't judge me…
- There is a pile to my right and each thing in that pile is as important as the next in terms of completion and priority levels
- There is a bible there which is also another part of my day to be with Jesus and I have to work hard at not making it be just another task but something that brings relief and fresh life in all of this business.
- Then we have a tin with Christmas candy but there are certificates for free bowling which lends to another task of planning an outing for 25 people to go bowling in the near future because they expire soon.
As I looked around my desk I realized why it has been so difficult to write anything over the past weeks.  When the students and staff here left for their break I spent several more days working on things and then once I was done and decided to leave myself I was really really done.  I truly stopped thinking about work in almost every aspect for nearly 3 weeks.  I suddenly realized that this was the answer to my struggle with writing  my brain takes in so much each day and puts out so much each day that when I took a break so did my brain.  It had to… it was it's survival mode.  So here I am again hoping that my brain can find it's way to turning back on not just in terms of my job, (which whether my brain likes it or not it has to turn on for that), and in terms of being creative in my thoughts and abilities.
So the next few weeks will be my journey of returning to a place where my brain can not just think but that it can bring about some creative touches in my life.
Sometimes I just have to laugh.
After weeks and weeks of Ben not working nearly enough hours and being at home a lot, I began to wonder if this is how a retired couple felt. We watched each other too much… not necessarily in a "come hither" kind of way… but with helpful eyes. Suggestions such as, "well, if you did it THAT way it may work better" from him and "So, since you are here all the time do you THINK you may cook a little more or AT ALL?" from me. We are sweet like that sometimes.
It's not all bad, we sincerely enjoyed our time together and got a lot of things done around the house that had been needing attention. I think it was the under currant, the prickling that occasionally came in the middle of a day when the reality that he needed a job became almost physical. The oddness, the strangeness and the situation was like a rain cloud on a sunny day.
But, when it finally rained, it poured. He was able to pick up a lot of part time work and then was offered a full time position around the times he worked contract labor. I went from seeing him seven days a week to seeing him briefly while I struggled to stay awake in the late evening. He has worked the last 6 days straight and will be gone tomorrow, and for the next 5 days after that.
and I miss him.