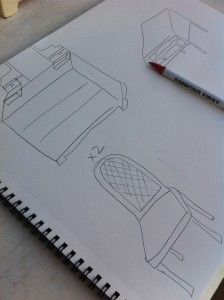 Ben is laughing at me. I have pulled out three pieces on furniture from the garage and have been cleaning brushes, organizing and taking inventory. This is what I do- it's all or nothing! I'm so excited about my projects and am determined to get some things done while it is still nice outside. I am hoping to go ahead and sell most of these pieces at one of my friend's booth's at a local flea market… but if they turn out SUPER cute I may just keep them… HAH! (Ben is telling me that I will not be keeping any of them… we will see, my friend…)
I love to doodle and a  lot of times it helps me get an idea of what I want to do and where I want to go with a piece of furniture. Occasionally I'll "see" something once I've drawn it that I wouldn't have seen otherwise. I love to dream big and I have a lot of opportunity with the fun pieces of furniture I have right now! Here are the projects- which one do you like the best?
1. I have 2 old chairs. I got them both for $1 at a garage sale and with a little stabilization & wood glue, spray paint and some fabric, I'm confident that these chairs will cause "Oooooooo's" & "Ahhhhhhh's". I'm thinking of mustard yellow, greys, and navy.
Here are my chairs: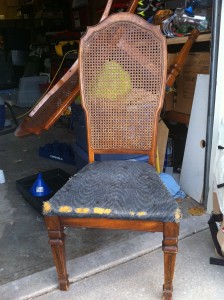 This is my inspiration: (www.centsationalgirl.com 's chairs look just like mine!- I love her after but I want a brighter color.)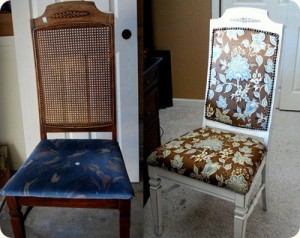 Or this: (From the Nate Berkus show last week. Not a great quality picture but you can see the brightness of the yellow and the intensity of the blue silk cover. I'd rather use a grey/cream brocade with the blue)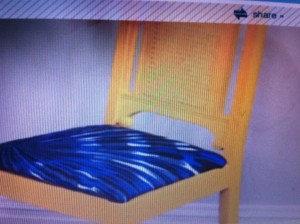 2. I have an antique dresser that belonged to my Great-Grandmother. I had it growing up and over the years and many moves, it's fallen apart a little. I primed it white, am thinking of doing a coat of white and want to make it a WOW piece with a large, painted on flower on the front and wrapped around the side.
Here is my dresser: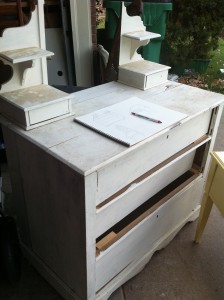 This is my inspiration: (from www.twicelovely.blogspot.com )
3. Finally I have a side table that Ben got at a garage sale for a few bucks. I've been meaning to paint and re-sell it for awhile but never have. I'll need to get new hardware and paint it again. I am thinking of doing perhaps a mustard yellow or bright, cobalt blue and then use a stencil I already own to paint on a brocade detail in a pattern. I'm thinking of getting a color just a little off from the one painted on the table so it's a very subtle pattern.
This is my side-table: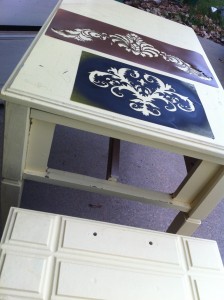 This is my inspiration: This pattern, through stenciling, repeated in a subtle color (I can't find the source of this photo, from Pinterest)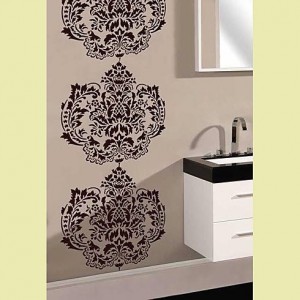 Like this: (from www.lilyfieldlife.blogspot.com )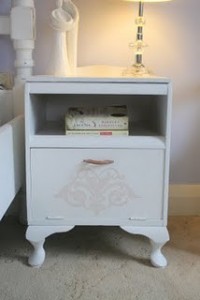 What projects are you working on? I'd love to feature some good before/afters on here- comment or e-mail me if you have a fun project that you'd like to share!
Stay tuned for updates and how-to's on my projects!