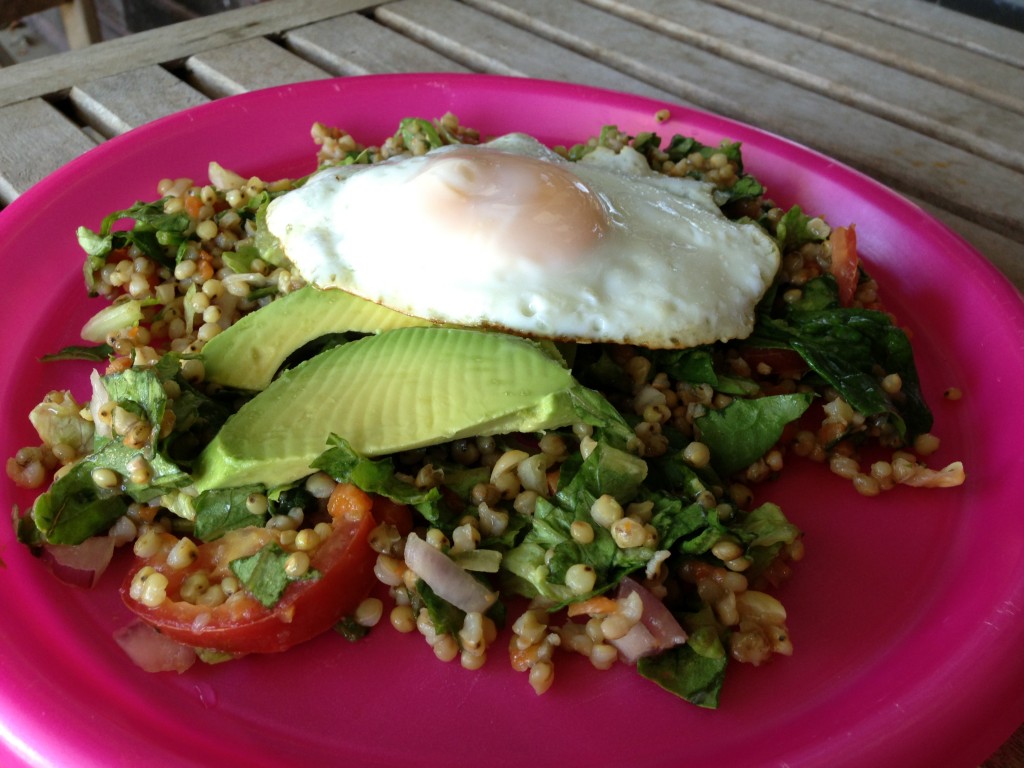 disclosure: Bob's Red Mill sent me several different types of grains to experiment with a write recipes for- thoughts and opinions are 100% my own.
This salad is end of summer, transition into fall perfection. It still has many of the late seasonal produce available (at least in the south where I live) and with the warm sorghum, it's good for the cooler nights that are finally happening. This weekend I'm at the International Food Blogger Conference in Seattle so I'll have a few fun recap posts coming up next week. For now- being that I'm at a FOOD CONFERENCE and all- here's a recipe for your weekend. 😉 OH- and if you are one of the bloggers from #IFBC- Welcome! Hope that our paths cross!
About this time last year when I was at #IFCB in Portland, I was hugging Bob from Bob's Red Mill and pretending he was my grandfather. I kind of felt like he was family to a certain degree- he was passionate about grains and encouraged all of us there on a private tour to eat healthy and to be informed about food choices. He also made my life delicious after we became gluten free.  Ohhh Grandfather Bob.
When I received a package from Bob's Red Mill last month, full of grains of  discovery, I felt like Santa had come. I LOVE trying new grains and foods from different parts of the world and the fact that Bob's Red Mill now sells them gave me the peace I wouldn't have otherwise have purchasing them in bulk from our local natural foods store. I can acknowlege here that they probably are from the same place, however the Bob's Red Mill packaging assures me that I'm getting a quality product that has been inspected and certified to be what it is. Oh and these grains have been certified gluten free…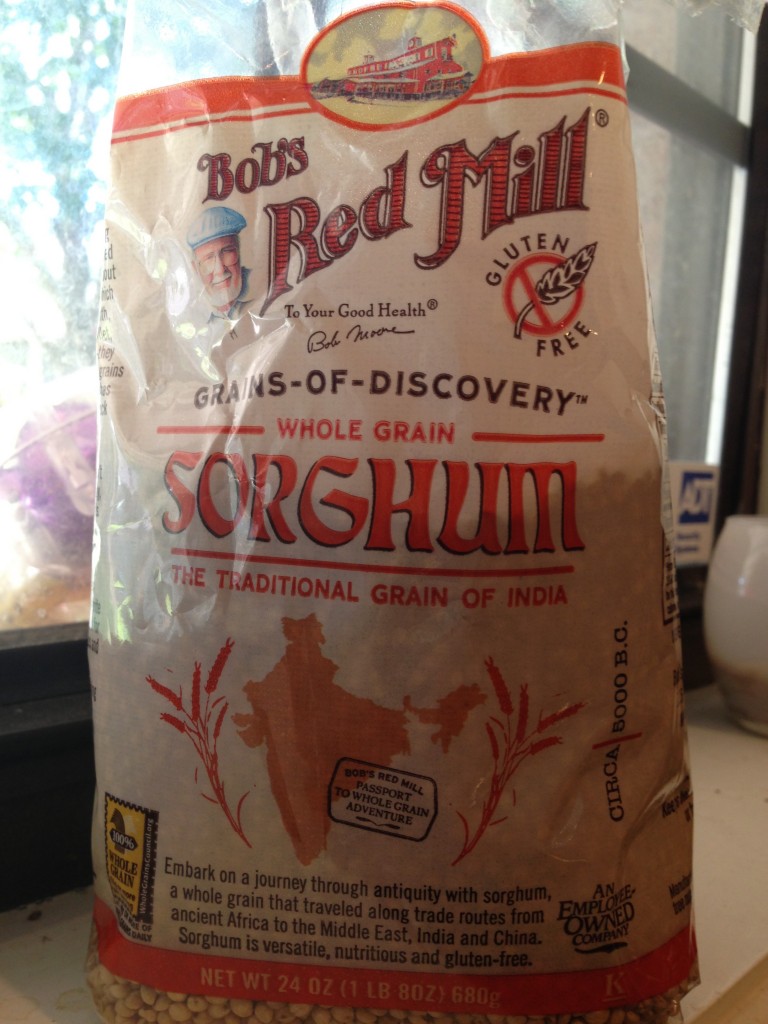 Sorghum is an Indian grain that has been around for a long time and as far as I know I had never tried it. When I traveled in SE Asia before Bear was born, we tried a number of unique dishes but they were still rice based. When I lived in Ukraine we had a few different grains like Millet but with all the strange foods I've tried, I was surprised that in the variety box Bob sent me (I'm sure he lovingly had packed it himself of course) I had not tried most of them.
One of the first things that I decided was to create one ethnic dish with the grain from that region and then one dish using familiar ingredients that I frequently eat.. As most of my friends (and family) who I regularly spend time with are pretty basic food eaters, I have fun introducing them to new things from time to time, but in a way where they still feel comfortable and eat what I prepare.
Recently I  had a dinner party where the other family was bringing some chicken to grill. Wanting to come up with a unique side that was still healthy and PRETTY I came up with this SUPER SIMPLE RECIPE. In fact- it's so simple I almost didn't do a food post on this– but it's too good not to inspire you to make your own version. I really think this side is hearty enough to be a main dish as well actually.
Sorghum Salad with Fried Egg & Avocado*
– 2 cups cooked Bob's Red Mill Sorghum (follow package directions) I cooked it in my favorite savory vegan broth so the sorghum would have a rich flavor. I used a "not beef" broth, but you can use your favorite broth.
Salad –in this order!
-thinly sliced romaine, 2 cups
– 3-4 thinly sliced Roma Tomatoes
-minced cilantro (optional), 1/4 bunch
-purple onion, diced, 1/8 cup
-thinly sliced spinach, 2 cups
-1 lime, squeezed
Topping
– Fry as many eggs as needed for each plate. I think this recipe is best when the eggs are still a little runny but cook yours to your own preference. (I covered them as they were done so they would retain their heat.)
– 3-4 sliced avocados
Preparation
When the sorghum is done cooking (about a hour) let it sit for 5 minutes as you prepare the eggs. Evenly spread over the salad and let it sit another 5 minutes so the spinach is a little wilted,  then add the juice of 1 lime, cover with a lid and shake vigorously. Top with an egg and several slices of avocado. Salt and pepper to taste.
EASY.
* probably technically this recipe title should have the word "wilted" in it- but I know that any of my personal friends would never try a recipe with the word "wilted" in it- but for full disclosure- this is indeed a WILTED SALAD.