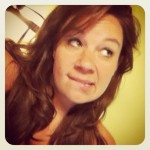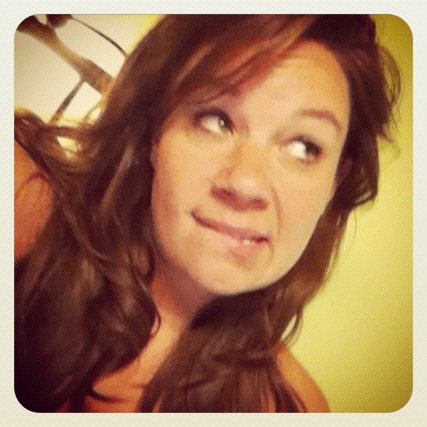 My sister Harmony is one of my closest friends.  I am very blessed with this friendship, and I know that.  Shoot, she has been with me for 36 years and knows everything about me, the good, the bad and the 'needs makeup applied' (aka the ugly)…With that being said, we live about 300 yards apart but don't see each other much.  I decided to 'kidnap' her for Friday and Saturday this last weekend (I had hubby's permission and consent of course).
Friday evening we stayed up until like 3 am watching movies.  Saturday we got up, ran some fun errands in town (one being to drop off food at the Canned Food Camp Out that Heidi blogged about.)  We hit the craft store, the mall, and TJ Maxx (it was about her this weekend, not me obviously. LOL) Our last stop was Walmart to grab some snacks for the rest of the evening and the next morning.  Yes, we DO enjoy each other's company!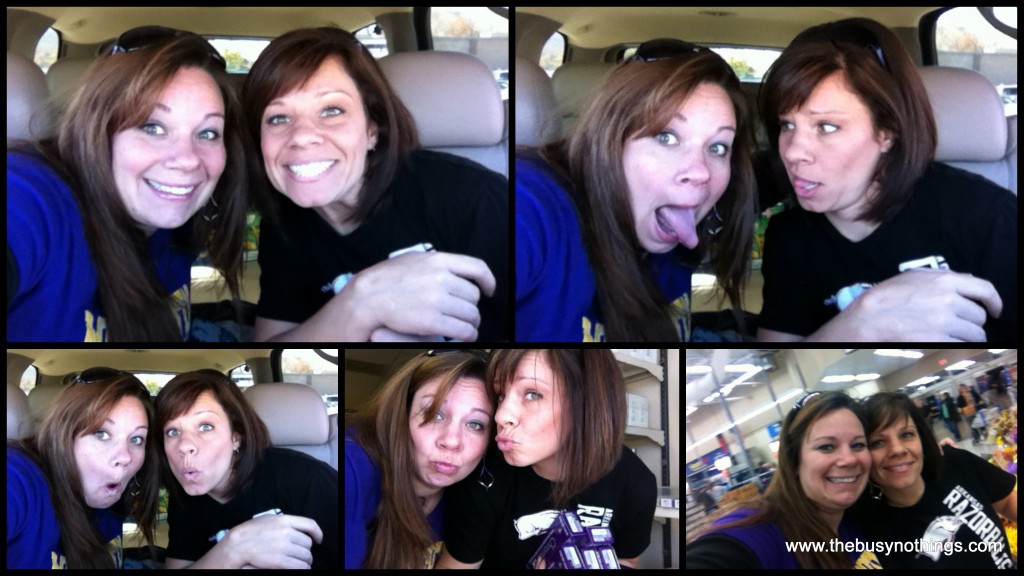 We always talk about going to Starbucks, but we usually pass on going because of the cost.  I was excited that I could purchase their coffee at Walmart, and even MORE excited that it was affordable!  We picked up the Starbucks Breakfast Blend Coffee. It made sense since we were having it for breakfast, but there were a ton of choices available. They had it already grounded, and whole bean too! I wouldn't be exaggerating if I said there was 'something for everyone'!  Unless of course you don't like coffee…but surely THOSE kind of people don't exist!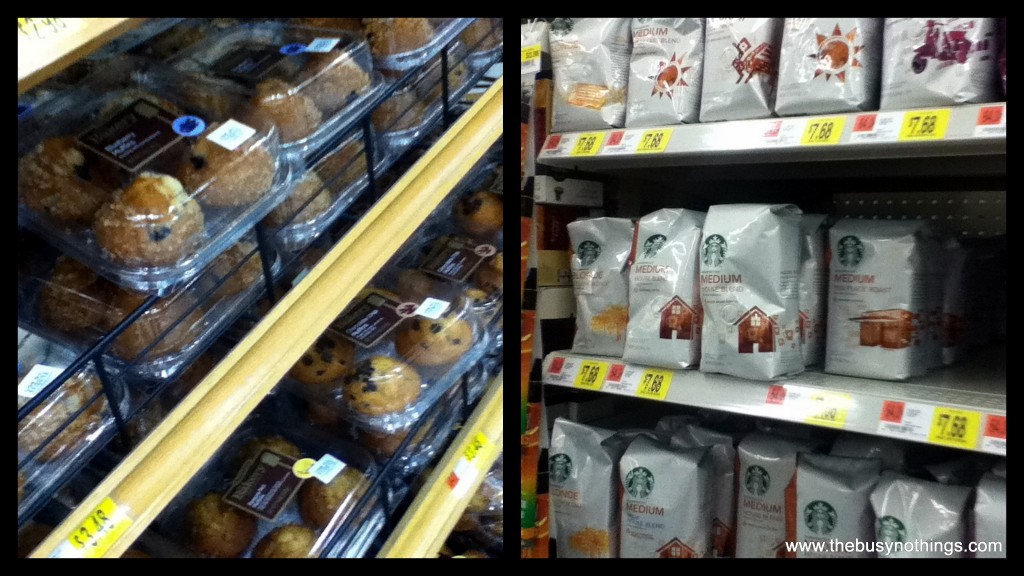 We then headed to the bakery…we both liked the look of the Blueberry Muffins, so we went with those!  There was supposed to be a "Delicious Pairings" display, but we couldn't find it.  Check out YOUR local Walmart to see what they have to offer.  After a quick stop at the Red Box to pick up some movies, we headed to the house for a sleepover!  Here is our little set up…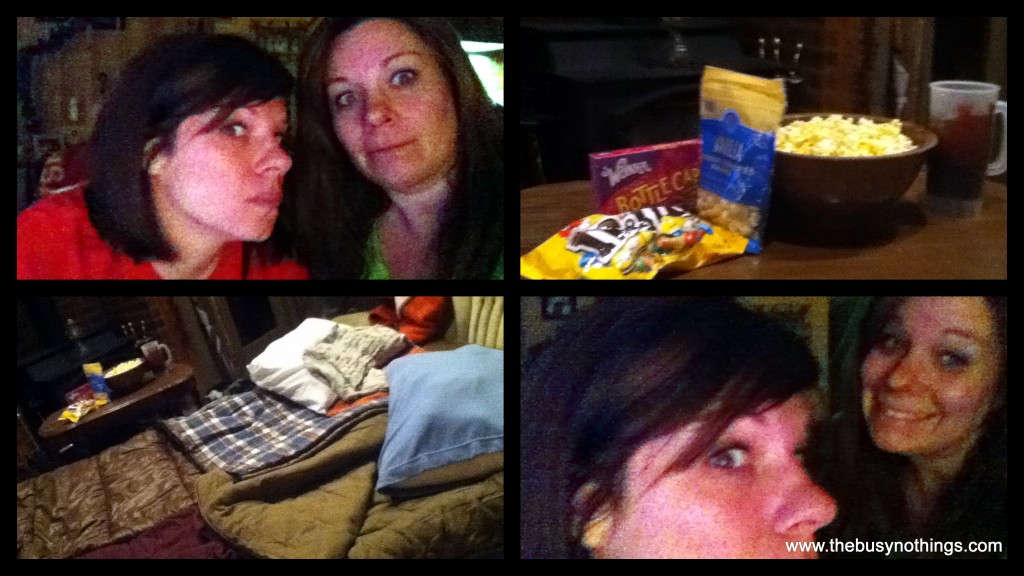 We watched several movies and fell asleep on the gigantic air mattress we had set up in the living room.  We even had to rearrange furniture to make it fit!  Her husband got it at a yard sale pretty cheap, and we only had to air it up 3 times during the night!  😉  It was so much fun.  The first thing both of us think when we wake up is COFFEE!  Since we were at Harmony's house, she was up and brewing the coffee before I could even blink!  We sat around staring at the muffins and coffee waiting for it to finish brewing so we could dig in!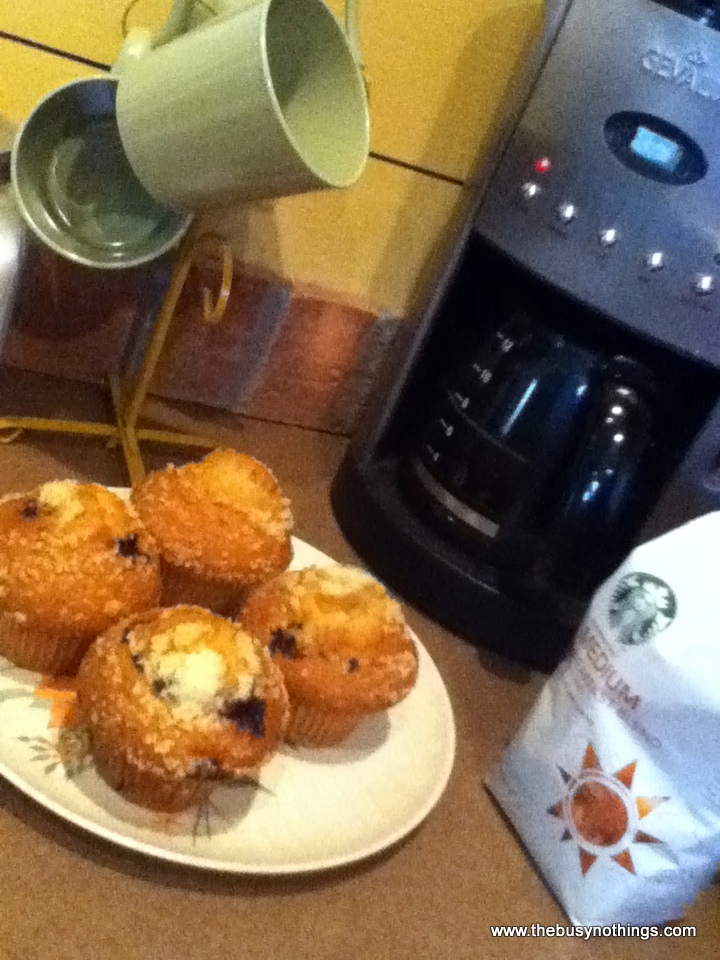 Let me tell you, it really put out an aroma and I was itching to get a cup of that liquid gold!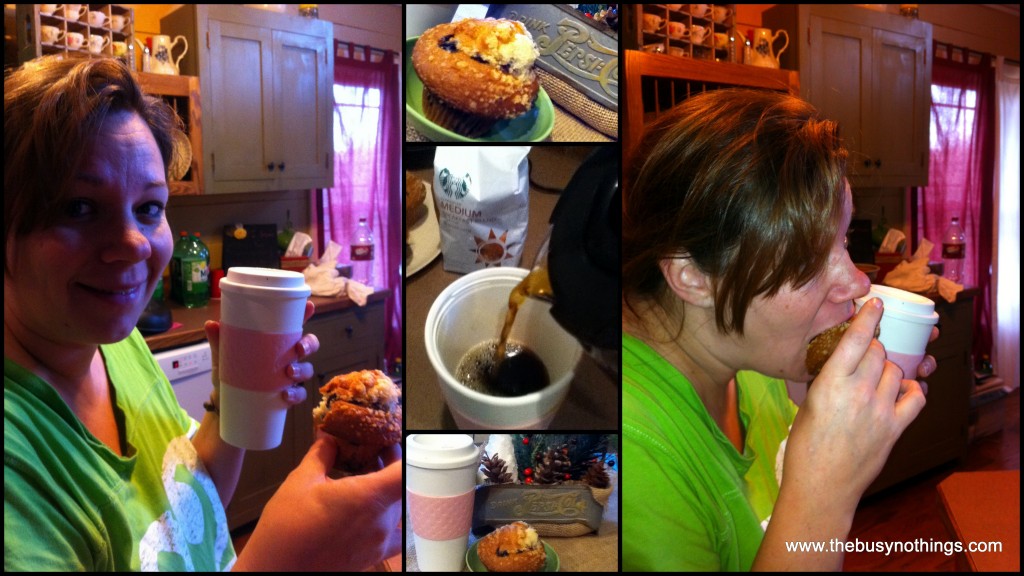 I thought the coffee had a delicious, almost woodsy taste.  It wasn't bitter at all.  Harmony contaminated hers with creamer right off the bat. Her hubby (who wasn't interested in his picture being taken first thing in the morning, or anytime for that matter) said this about the coffee, "I don't like it, it is too strong and it has a weird after taste. It tastes like a McDonalds coffee."  Harmony made it a little bit stronger than normal on accident, due to the fact that you need LESS grounds when it is good quality coffee.  😉
When I took a bite of the blueberry muffin, I am pretty sure that I made a small noise.  I say that because my brother in law looked at me weird.  I loved the crumbles on top!  The blueberry muffin took the woodsy taste and turned it more into a nutty taste.  I have never purchased Starbucks coffee to use at home before, but I will most definitely be checking out some of the other blends as well and find something equally delicious from the Walmart Bakery to pair with it!
Normally we go a little crazy on Black Friday with some great friends of ours, and it is mostly for the social fun of it. (I know, we are crazy).  However, this year I will be enjoying time at home with the family while drinking some Starbucks coffee, eating some blueberry muffins, and SAVING MONEY!  Ya'll have fun out there!
"I am a member of the Collective Bias® Social Fabric® Community. This shop has been compensated as part of a social shopper insights study for Collective Bias™. #CBias #SocialFabric However, those of you who know me, know that I love doing things like this!  Never fear, you will always 'hear it like it is' from Sarea!