If you haven't read the Introduction to this series, I recommend that you do. We are sharing Real Love stories. Stories that have hurt, pain but maturity and ultimately, JOY. In a culture that is so fast paced, self-focused and all about the falling in love part of our story with no concept of afterwards, we here at the Busy Nothings are striving to sit back and share from our own experiences what we feel true, pure, sacrificial love is. When you choose it even though it hurts or is hard work. The beauty, PASSION and true love that comes from this are better than any fairy tale. ~Heidi
*Note, today's post contains some mature themes. As Gracie said in her eloquent post, this isn't about shocking you, it's about inviting you into a non-judgmental place of healing and growth. Not all love stories are the same and Sarea takes us down a different path today as we dig deeper into our theme of the month. Love is unselfish, putting others ahead of ourselves first and Sarea's story is one that fits that perfectly and needs to be heard by today's "me-first" culture.
***************
If you missed Part One,  GO HERE.
Now, my pregnancy:  It was perfect.  Since I had decided so early on to give the baby up for adoption (it was  never 'my' baby) so I didn't get attached.  I was carrying a child for Husband and Wife, and that was that.  I was working at a place that printed T-shirts and the doctors thought it would be best if I quit there due to the fumes, so I started working for a temp service.
Here is the God part. . . 
The first place I worked was an agency that handled rental property.  I only worked there for 3 days answering phones, but I was totally surprised when a man walked in to get his messages.  Before I had started dating Robert, I was attending a church called "Life Change" with my parents.  It was full of such great, authentic, on fire for the Lord individuals, but I had stopped going when I started seeing Robert (see how the missionary dating thing wasn't my most intelligent decision?).  One of those people walked in the door of the office where I was working.  His face lit up and he said "I was just praying for you and your situation this morning." . . .talk about bizarre.  It did however bring me comfort and peace.  I don't think I ever thanked him for that…
My next assignment was at the local Campus Bookstore for the book buying rush that takes place before each semester.  They hire 10 extra clerks during this time.  Imagine my disbelief when they went to introduce me to my co-worker for the next three days and it was another "Life Change" member (a friend of the family).  I broke down crying on the spot.  It was like the Lord was reaching out to me from everywhere.  She cried too, and then we started laughing.  Those were the most encouraging and fun days I had ever had at a job!
My final job before I had the baby was working for a dermatologist who had a small warehouse and shipped out special creams.  They were changing the name of the company and my job was to have one of the guys bring me a box of product and then put stickers with the new company name over the old name.  A very mind numbing and boring job, but I was 8 ½ months pregnant, so I was content to sit and do it.  I worked with two guys in the warehouse.  I can't remember their names, but one was loud and rude and the other was the most down to earth and humble person I had ever met.  One of my last days at work, I was sitting there doing my job and this lady walks in with tears streaming down her face, gets on her knees, puts her arms around me with her head in my lap and continued to cry.  I don't have very much personal space, but I was a tad freaked out.  I looked up at my co-worker with a question in my eyes and he mouthed the words "bosses wife" . . . Huh?  What the heck?  She looks up at me and says "I just got off the phone with my best friend and she said you were the one that is giving her a baby!"  They had been best friends since college and she recognized my name when Wife said it because she turned in my hours to the temp service that morning.  I was feeling so confident and loved by the Lord at that point. I knew that I was in His will, EVEN THOUGH I HAD MADE SO MANY MISTAKES!
Here are a couple of other 'coincidences' . . .also known as God-incidences :
1)      My dad was getting his teeth cleaned at the dentist office (he and the dentist were also friends, we live in a small town) and the dentist was telling dad that one of the couples in their small group at church finally were getting to adopt a baby.  Dad asked what the couple's name was and he said "Husband and Wife".  My dad about jumped out of the chair!  Keep in mind that they attended church at a place so large that it had a Friday night service, a Saturday night service, and 3 Sunday morning services!  Plus, they were in the same small group!!
God is GOOD!
(This is an insert from my dad, who needed to correct me on some of my details!)
ACTUALLY ON THIS,  I WAS MEETING DR. B.  FOR M2M EACH WEEK AND HE ASKED ME HOW YOU WERE DOING. I TOLD HIM YOU SEEMED TO BE HANDLING THE PREGNANCY PRETTY WELL BUT WE WERE DISAPPOINTED THAT YOU HAD CHOSEN PARENTS WITHOUT LETTING US BE PART OF THE DECISION.  HE ASKED ME WHO IT WAS AND ALL I COULD REMEMBER IS THE GUY WORKED AT SOME PLASTICS FACTORY.  DR. B.  SAID, IS HIS NAME "HUSBAND" AND I SAID YES,"HUSBAND AND WIFE".  THAT'S WHEN HE TOLD ME THAT THEY WERE IN HIS SMALL GROUP AND THAT JUST RECENTLY AFTER 12 YEARS OF PRAYING THEY HAD TOLD THE GROUP THEY COULD QUIT PRAYING. THAT THEY HAD DECIDED THEY HAD BUGGED GOD LONG ENOUGH AND TRIED EVERYTHING POSSIBLE AND THAT IF GOD WANTED THEM TO HAVE A BABY HE WOULD NOW HAVE TO BRING IT TO THEM…THEY WERE DONE PRAYING AND TRYING! DO YOU REMEMBER YOUR RESPONSE WHEN I TOLD YOU ABOUT THIS?  AS I REMEMBER YOU SAID,
"HA!  I MADE A PRETTY GOOD DECISION THEN DIDN'T I!"
2)      Mom and Dad, along with another couple, used to take a group skiing every winter in Colorado. One night on the drive over there Dad and Mr. L.  were talking and Dad was telling him about how God was working on him and all the amazing things that had occurred around my being pregnant and then he mentioned Husband and Wife and Mr. L. almost drove off the road!  Mr. L.  and Husband had been prayer partners since college, and they had just met for coffee the week before and Husband had told them that they were going to adopt a baby, but he didn't say a name!!
(More clarifications from my dad.)
MR. L.  HAD JUST MOVED BACK TO NWA AND HAD MET HUSBAND FOR LUNCH AT THE OLD POST OFFICE.  AFTER A FEW PLEASANTRIES RENEWING THEIR FRIENDSHIP THEY SAT DOWN AT A TABLE. WHEN HUSBAND STARTED TO TELL MR. L.,  BEFORE HE GOT A WORD OUT HE STARTED TO CRY.  MR. L.  SAID HE CRIED FOR SEVERAL MINUTES UNTIL FINALLY HE WAS CRYING TOO.(BOTH MAKING A SCENE)  FINALLY WHEN THEY WERE ABLE TO STOP MR. L.  ASKED WHAT THEY WERE CRYING ABOUT AND THAT'S WHEN HUSBAND TOLD HIM THE STORY.
My fiance and I got engaged when I was 8 months pregnant.  I gave birth to a baby girl on August 4th and we got married on October 21st.   Every time that I got mad at him, I just remembered him holding my hand while I was having contractions.  Not many guys would do that!  When I had the baby, I got to hand her to Husband and Wife.  They held her up and said "What do you think, does she look like a *Miss J.*?", and she did . . .  Husband then prayed with all of us again and presented me with a little box and said "Wife and I can never repay you for the gift that you have given us today, but we wanted to give you a token.  We would have adopted you  if your parents would have let us, thank you so much".
In the box was a red ceramic rose with a small rosebud behind it (I still have it).  It is a great reminder to me and I am so thankful to them for saving me and that little baby!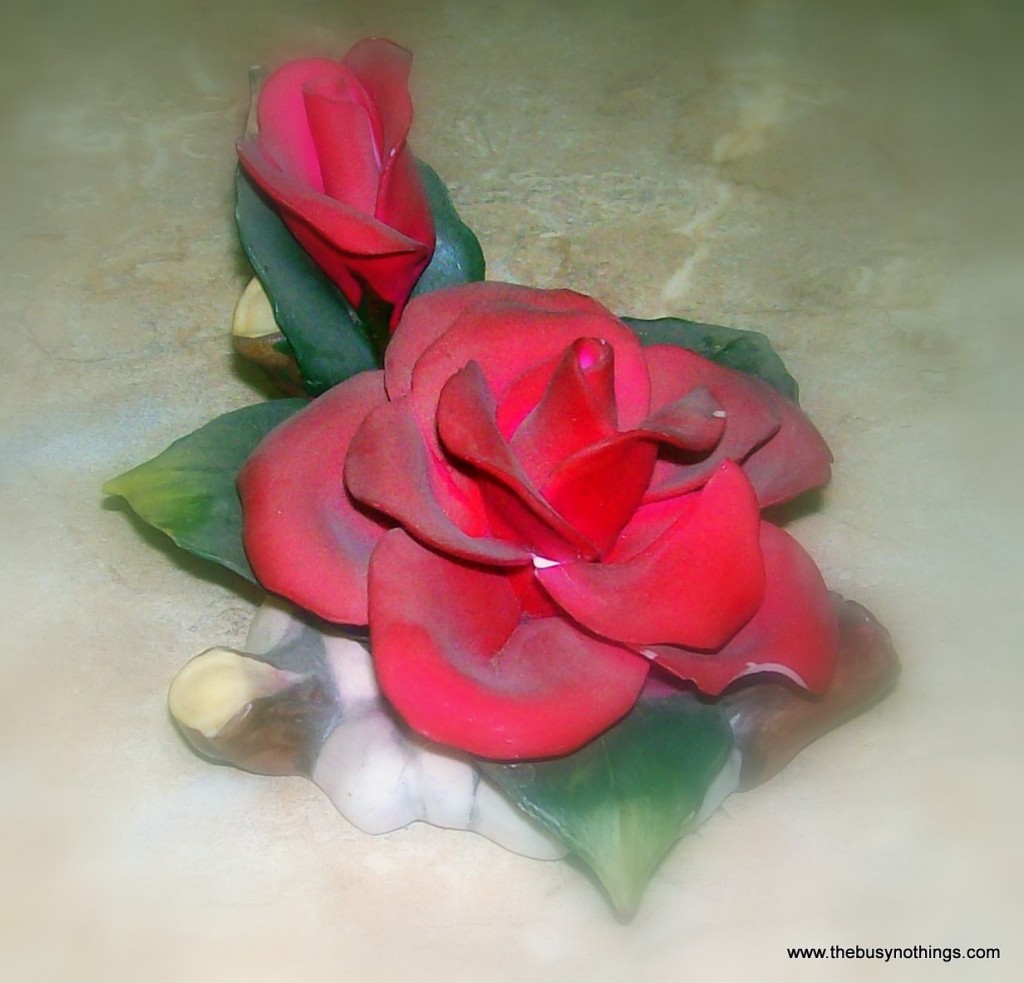 About six months later, my mom told me that she had been praying that they would be able to adopt another child so that *Miss J.* wouldn't be an only child . . .do you want to know how big my God is . . . ?
Wife got pregnant when *Miss J.* was 1 ½ years old!  She had a little boy,  and has had another boy since then!!  I got two pictures and I told them that I don't need to meet her for my purposes, but if she wanted to contact me (after age 16 or so) I would be happy to meet with her and answer any questions on her terms.
Part Three Next…