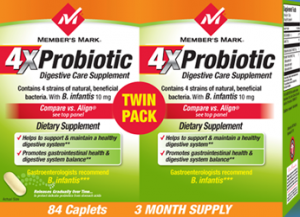 As I mentioned in my Part 1, I was a little skeptical about trying the probiotics at first. It's not that I'm against the probiotics at all, I've taken them several times this year, (while I was on an antibiotic or when I had stomach problems which happened a few times this year,) BUT I'm also very all-natural and prefer organic, whole food vitamins from a local health food store. I don't like synthetic ingredients in any supplement that I take because they are SYNTHETIC- not real.

That being said, I decided to give the Member's Mark 4x Probiotics a chance to see if I noticed any difference in how I felt. I honestly didn't have any expectations because I'm already "regular" from eating a diet full of fruits, veggies, lean meats and whole grains, (AND DR.PEPPER & M&M's!!!) so I somewhat snobbily said to myself, "Meh, it can't hurt, I'll give the cheaper supplements a chance…"
And now? All I have to say is WOW!
I *did* notice a difference, it took about a week to get the full effect, but I'm impressed! I'm still regular, but everything is, ahhhh, how does a lady say this? … a bit cleaner! Less toilet paper use! So, I'm SAVING money too! I had just got back from a vacation the week I started the probiotics so I think that I'm seeing a more dramatic change in my body because it wasn't possible to eat as healthy as I liked while on the road and staying in hotels. I'm so impressed that I have started Ben on it too and will probably post again on his results in the next few weeks. Considering how expensive vitamins are in general, I felt it was more than reasonable to pay $28.88 for a three month supply at Sam's Club! This way we can feel good and stay on our very small budget!
Disclosure: This shop has been compensated as part of a social shopper insights study for Collective Bias. Thoughts and opinions are MY OWN though. I only do shops I'm already passionate about!