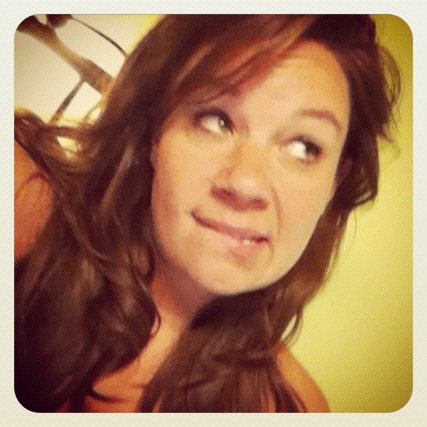 Late 2011 I started thinking about what I wanted to do for a vacation with the kids this year…Not the 'my parents are paying for it' vacation, but the 'I've got this' vacation!  We all love the water and so I thought we should get a cabin by the lake or something like that.
In my Google search, house-boating came up.  Most of what I could find was out of our price range, but I finally decided to just call one of the places and discuss what might work for us.  The lady was very helpful and mailed me some information.  Due to the fact that we are a home schooling family, we had some more flexibility and could save $800 by booking the first week of 'off season' which happened to fall the last weekend of September 2012.  I booked the trip and paid for the deposit in February, after getting my tax refund back.  Being a single mom with three kids, it felt really good to do this by myself and gave me quite the sense of accomplishment!  I ended up renting this boat!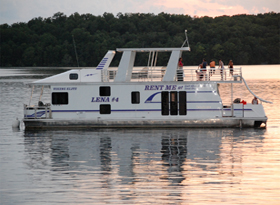 I love making lists…Seriously, I make them ALL the time! (Don't ask me if I get stuff on the lists DONE, that's not the point).
Making lists for this trip was great!  I used my Cozi App! If you don't have it, it is AWESOME!  I made shopping lists, grocery lists, lists of what to bring from home (and I didn't forget anything!)
My parents and my sister and her husband joined us for Monday/Tuesday/Wed. AM. The road trip to the lake was fun, but then again, we ALWAYS have fun on the road!
ROAD TRIPPIN'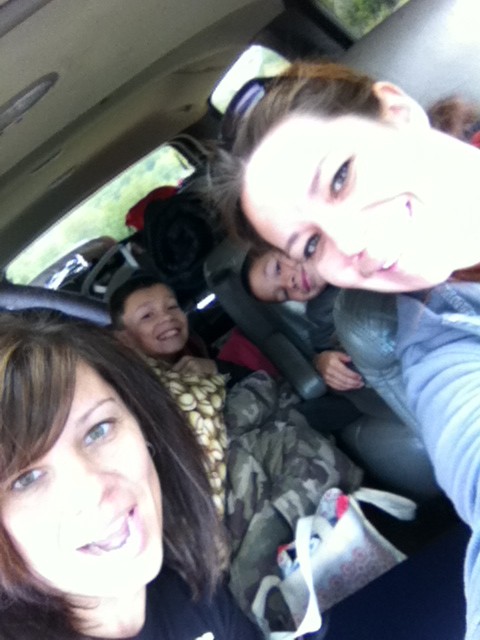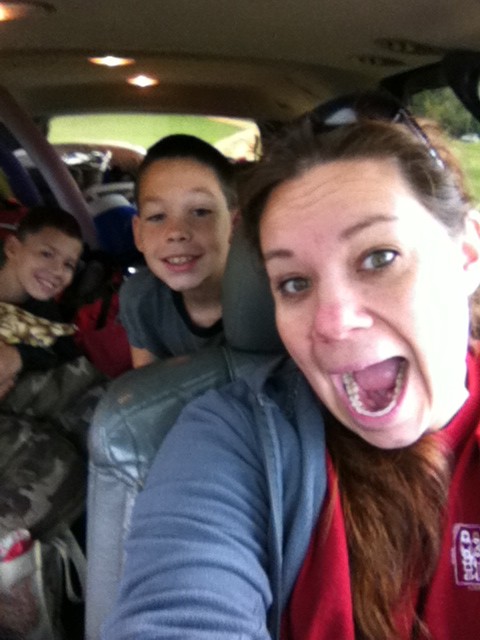 Our First Morning…Sigh.  I want to go back!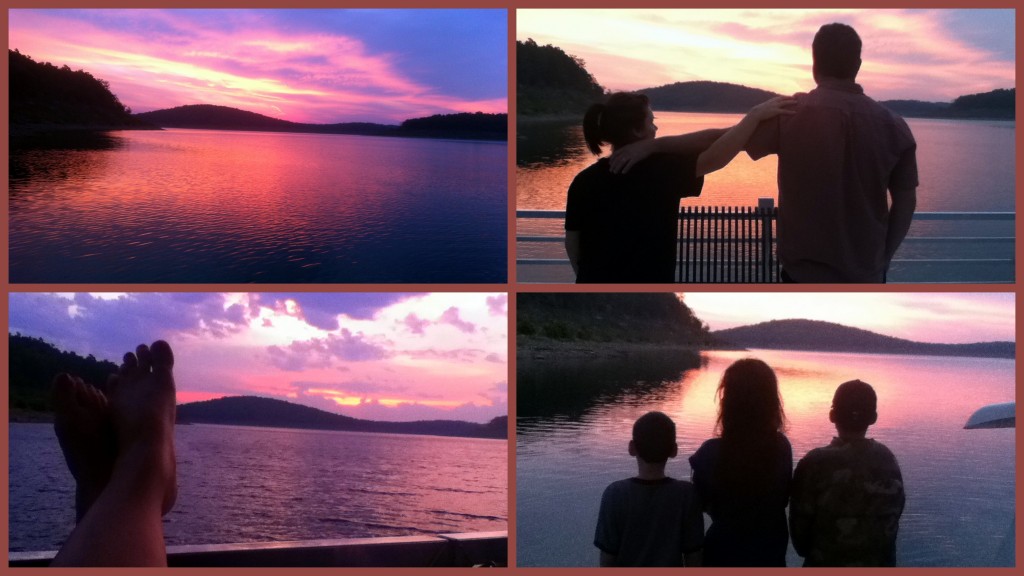 Some of the most beautiful sunrises I have ever seen.  Harmony and Brian in the top right photo, my kiddos on the bottom, and my feet bottom left.  I just really love the water and was so glad that I had family and friends around to enjoy it with me!
 We had ducks visit, and the boys went out on the boat with Pa-paw several times with only a little bit of luck.  However, when the kids fashioned a hook on a string attached to a roll of paper towel, they hit the JACKPOT!  The were catching fish left and right at that point!  They had so much fun!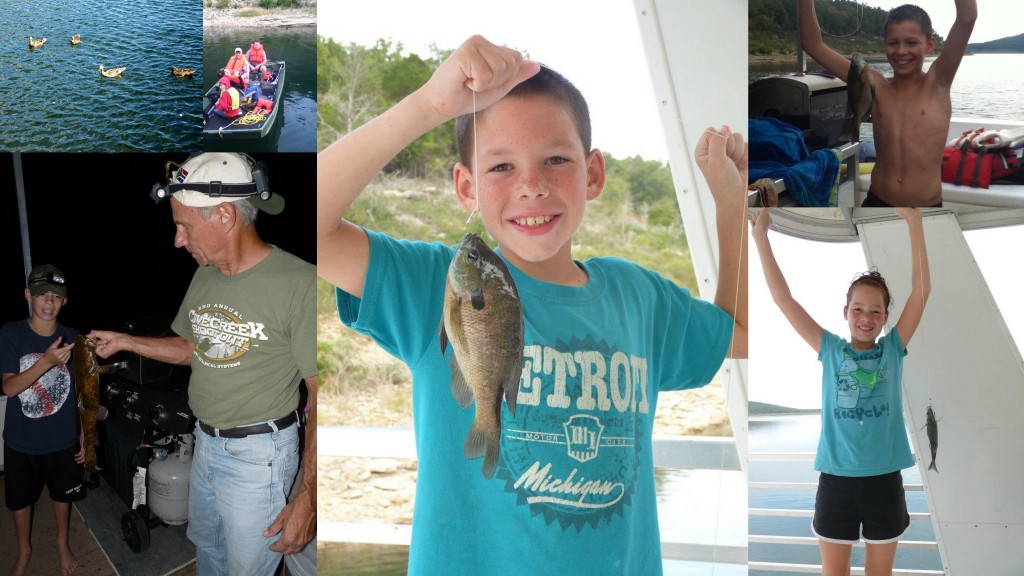 We also had some great food while we were on this trip!  (No fresh fish though, I was too lazy.)  We had some leftover Epplant Parm from the night Ellen and I cooked, so we added some noodles and salad and called it good!  The plate with the obvious burnt edges was a small hazard due to the fact that I am used to cooking on an electric stove and not a gas stove…Darn the open flame!  The top right photo was dubbed a tragedy. I set the container of homemade chocolate chip cookies on top of one of the wagons we loaded to head to the boat, only to have them topple over.  Thank goodness my dad wasn't around at the time, he would have PICKED THEM UP, DUSTED THEM OFF and PROCLAIMED THEM EATABLE!  We took this trip BEFORE we decided to change our eating habits, as you can plainly see…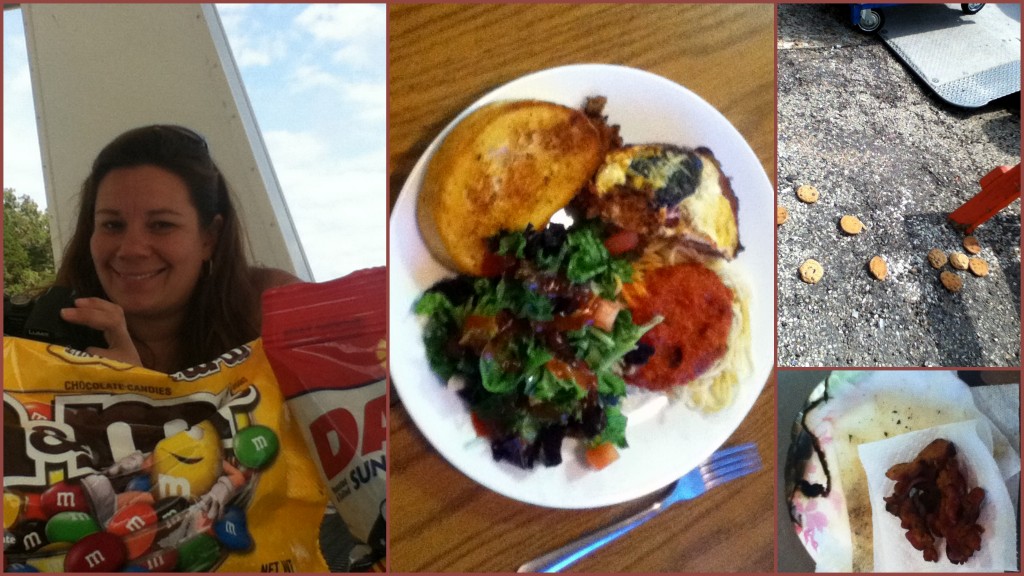 We did actually swim in the water too!  It was a tad chilly for the first 5 minutes, but after that, it was perfect!  Ellen even joined us by DIVING off the back of the boat!  I was so proud of her, but disappointed that we didn't get video of it!  It was a perfect dive and she said she hadn't done one in about 40 years!  Oh, and yes, that is me washing my hair in the lake…I'm a country girl, what can I say?  We buoyed up and stayed in the cove the entire week.  It was really nice because the kids could float/swim to shore if they wanted and we were still really close to them.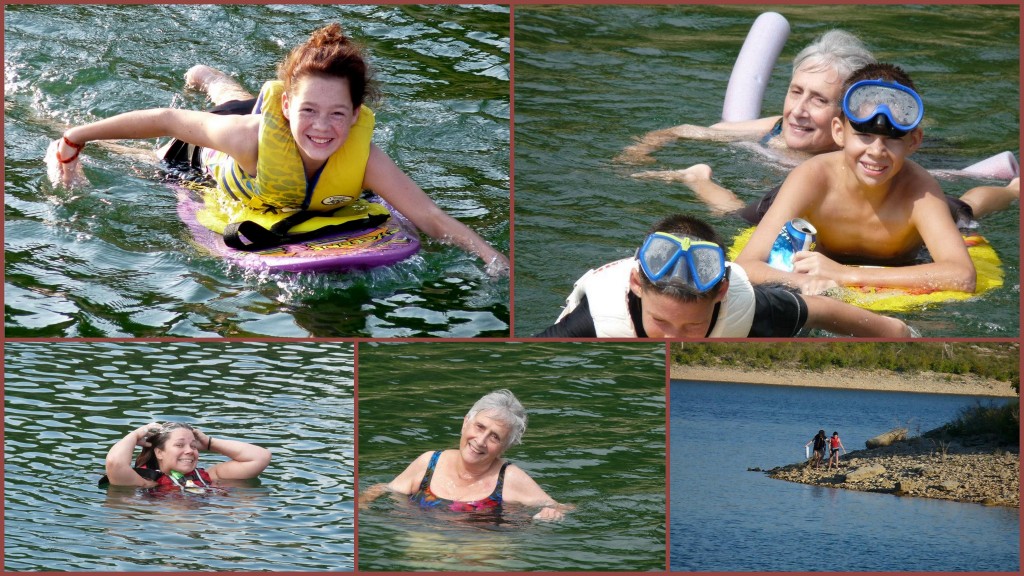 Now just a bunch of pictures of us goofing off and making memories!  My mom hates getting her picture taken, but she humors me for the most part…I love that lady!  After my parents and sister left (thus the sad faces on the bottom), Ellen and I enjoyed just hanging out on the top deck and reading while the kids swam and had fun collecting seashells (or are they called lake shells?).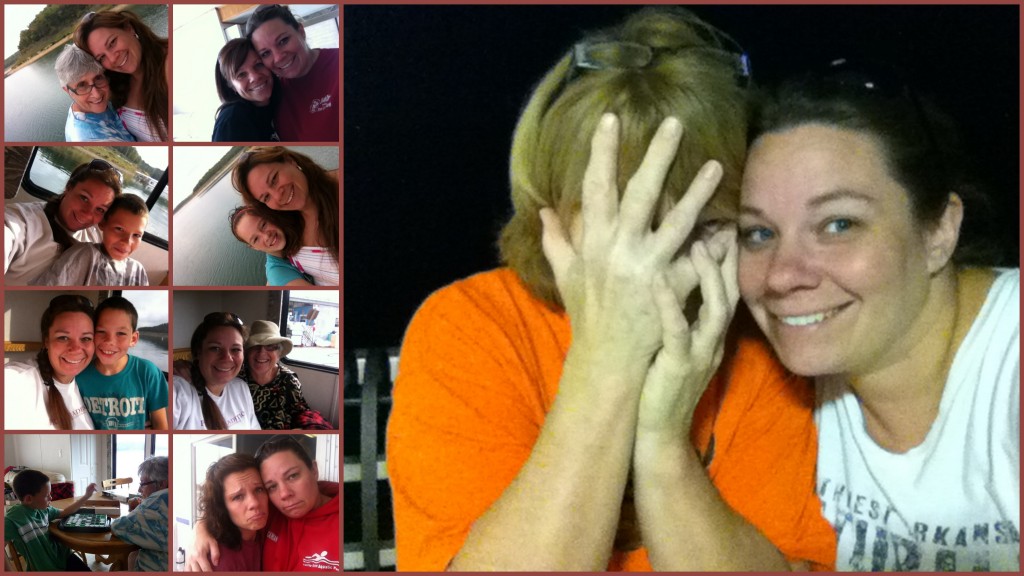 How cool is this next collage??  Ellen took some picture on rapid action mode while the kids jumped off the top deck of the boat into the lake.  Lexi first, then Garrett, Madison and finally Ethan!  They did this several times and screamed the whole way down!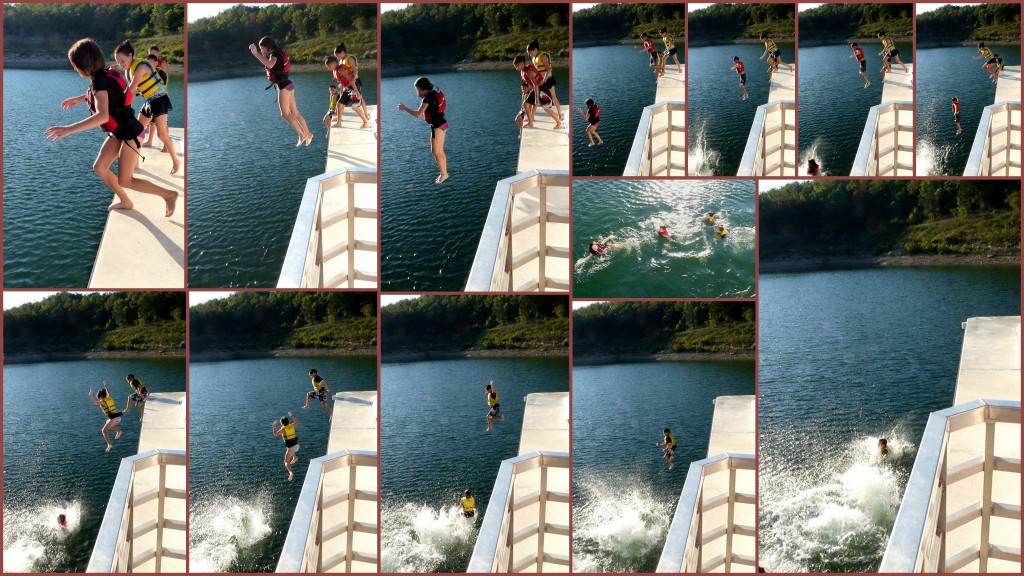 Headed back to the dock Friday morning…none of us wanted to leave.  I was VERY nervous to drive the 60′ boat back by myself, but the guys on the dock talked me through it and said I did PERFECT!  Who needs a man? LOL  Unloading the boat and getting everything packed back into the car was the least fun of the whole trip.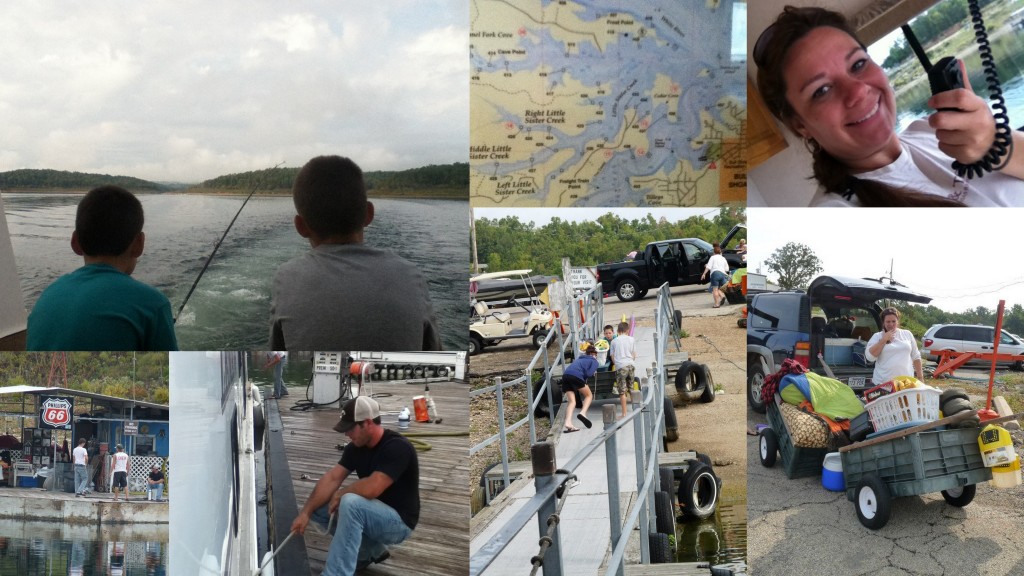 Here are just a few misc. shots we took while on the boat…we took a TON of photos!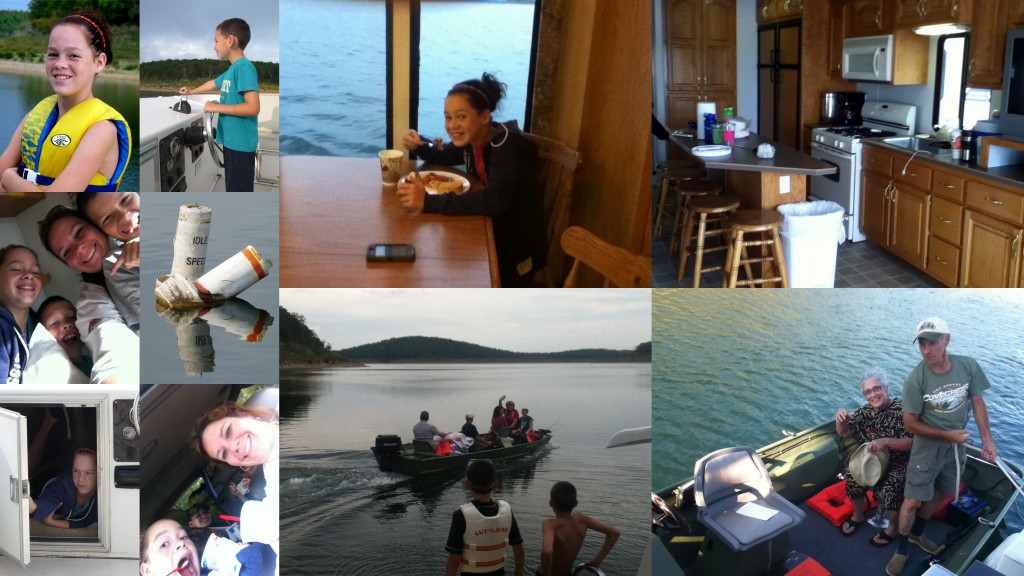 All it all, it was one of the best trips we have ever done!  I already have our trip booked for next year!  The guys at Bull Shoals Lake Dock were AMAZING, so helpful and very friendly!  I would recommend them to anyone!
I will leave you with one last photo…It makes me smile.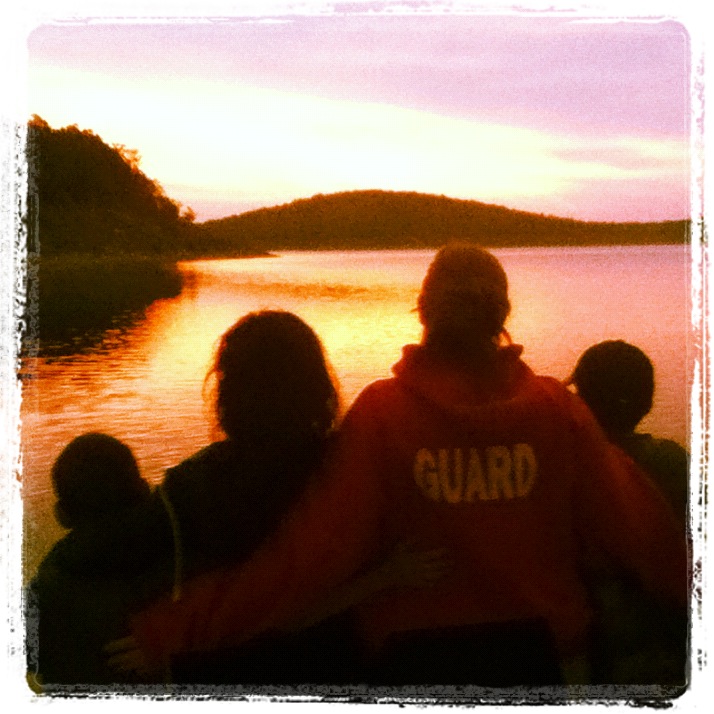 What is the best family trip you guys have taken?