I got to spend the weekend with a pretty amazing group of ladies at the Arkansas Women Bloggers Unplugged 2013.  A great big THANKS to Great Day Farms for sponsoring me for this event and serving up some pretty amazing breakfast as well.
At a conference I attended several years ago, one of the speakers said this: "Make this more than a jaccuzi experience."  That idea stuck with me for several reasons, but mostly because it needs to be 'more than a feeling'.  The speaker followed it up with something along the lines of "…How many of you have been to a conference before? (All hands raised) How many of you took notes and wrote down great ideas that you wanted to implement?  (Most hands raised) How many of you actually implemented them? (Considerably LESS hands raised) Okay, my talk today is 'Go home and do those things'…I'm done here, see ya!"
It is so easy to ride the emotional high from a conference and then after a week just slip back into your old routine and muddle through life until the next conference comes along. (Incidentally this is VERY similar to the Sunday Church high a lot of people experience as well, but that is a different story for a different time.)
Let me share with you something that I learned, that I fully intend to implement and better my life with:
TEAM SEVEN!  These ladies and I participated in the "Foodie Friday" Pre conference and let me tell you…we had fun!
We learned a lot of great things on cooking/baking and blogging about those things, (Dr. B. was AMAZING and I wanted to put her in my pocket and bring her home with me.  She is onto something and I think it is a good thing!) but the practical thing I will be taking with me and implementing is cooking with wanton wrappers….Yep, that's it.  A ton of information, advice and other things, but cooking with wanton wrappers is what I am taking away from that day!  I had never worked with them in the kitchen (or anywhere else for that matter) before, but due to a default I was put in charge of cooking them.  I was nervous as all get out, but because my team needed me and supported me, I did it and we managed to earn Second Place with our creation. The idea of having a team behind you and yelling "TEAM SEVEN", "SAREA" or anything else that they deemed appropriate at any given time while you are elbow deep in the hot grease of life, put a smile on my face.
This one is apples, walnuts, honey and Hot Tamale candies sauted in butter and then fried.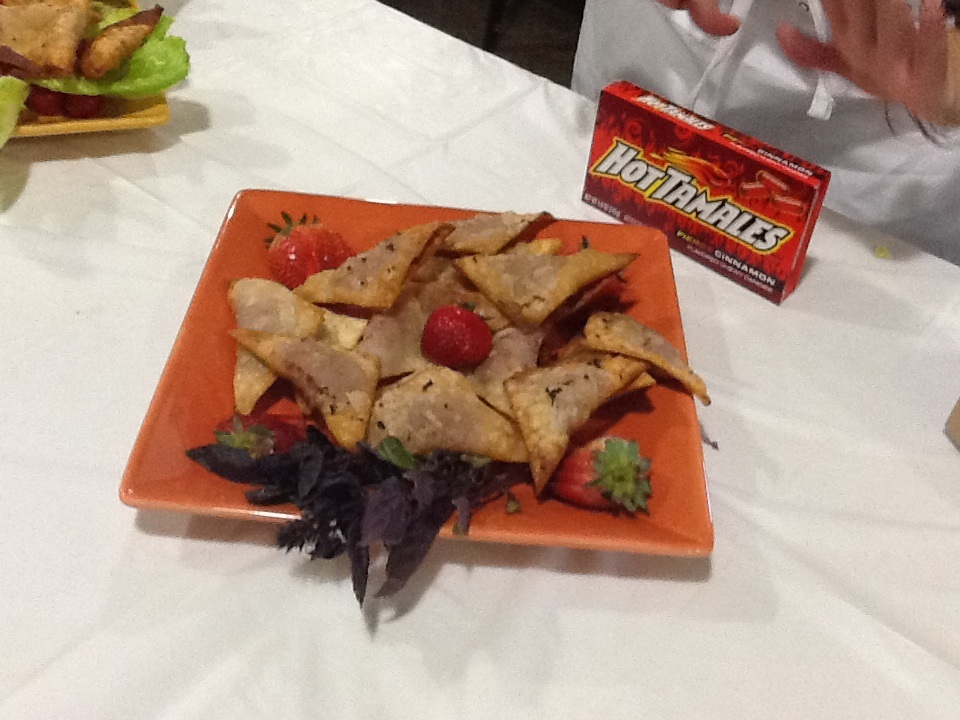 Then for savory, we did a version of a BLT using bacon, onions and tomatoes sauted in olive oil and then fried.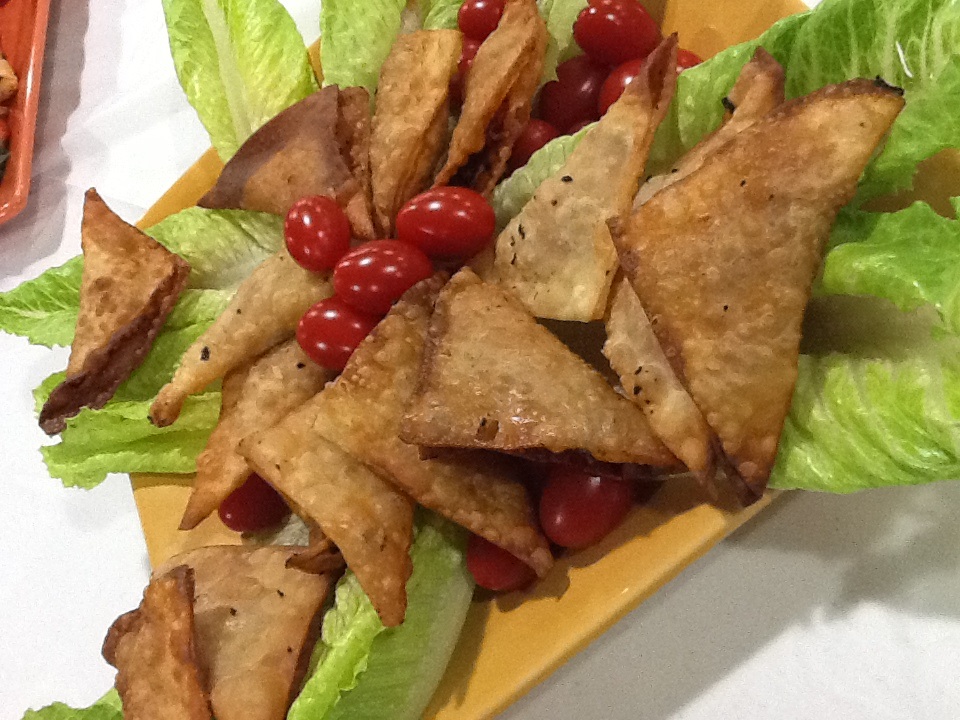 So tell me…What one thing have you heard before, thought it was great and never implemented it?  Do it now, and tell us so that you have accountability!
P.S. I learned a couple other things too, and I will share them soon!