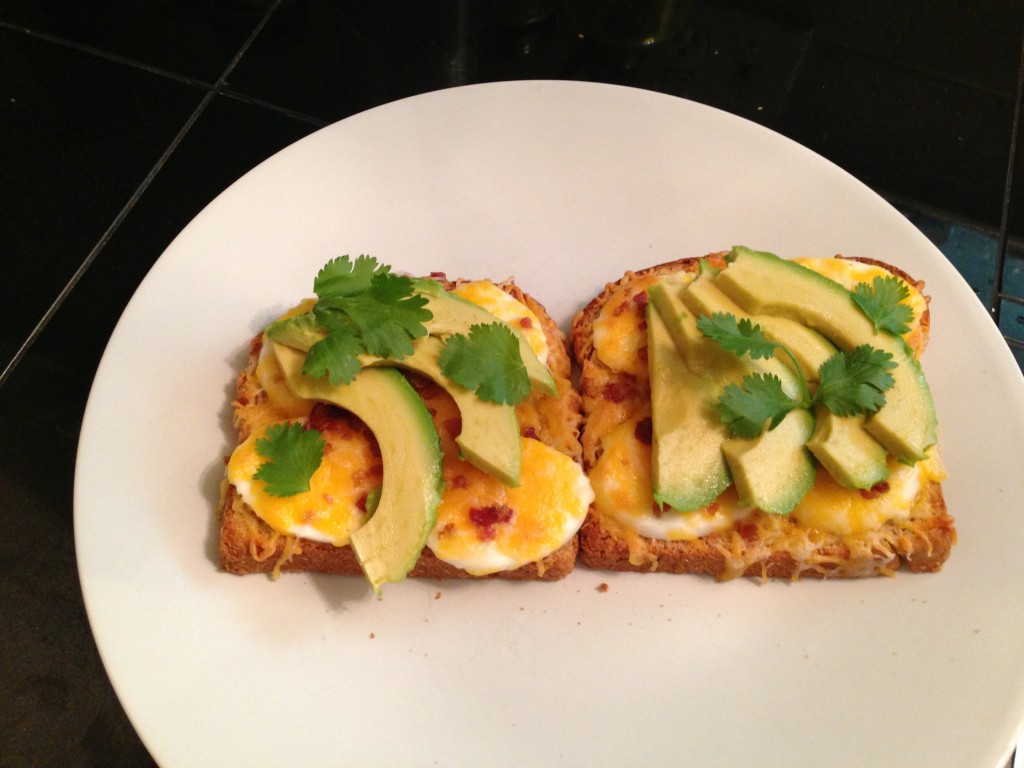 Disclosure: I work for Great Day Farms, however I purchased the ingredients for this post myself and this post is done on my personal blog without payment for the love of good foods.

My boys are really into super heroes.
"I'm Ironman, ba ba ba ba!" shrieks the 3 year old, jumping off the edge of the couch and landing like a cat, clearly getting his coordination from Ben, not I.
the 6 year old too gets in on the fun, running, jumping with a serious expression as he imagines flying through the air on a space mission. I watch him a bit more closely as he got his coordination from me.
I loooooove it.
So, this toast is inspired by all the super heroes- the BAM, POW, WHAM, the exaggerations and fun in my life.
Mega Stacked Toast
-2  Great Day Farm Hardboiled Eggs (in the deli at Walmart- coupon for 75¢ off their 2 or 6 pack on their FB page!)
– pieces of bread (I used Spelt)
– shredded cheese (I used a fiesta cheese blend)
– bacon bits
– 1/2 avocado
– fresh cilantro
– salt/pepper to taste
(This can be done easier with a toaster oven but since I don't have one this is for a typical oven.)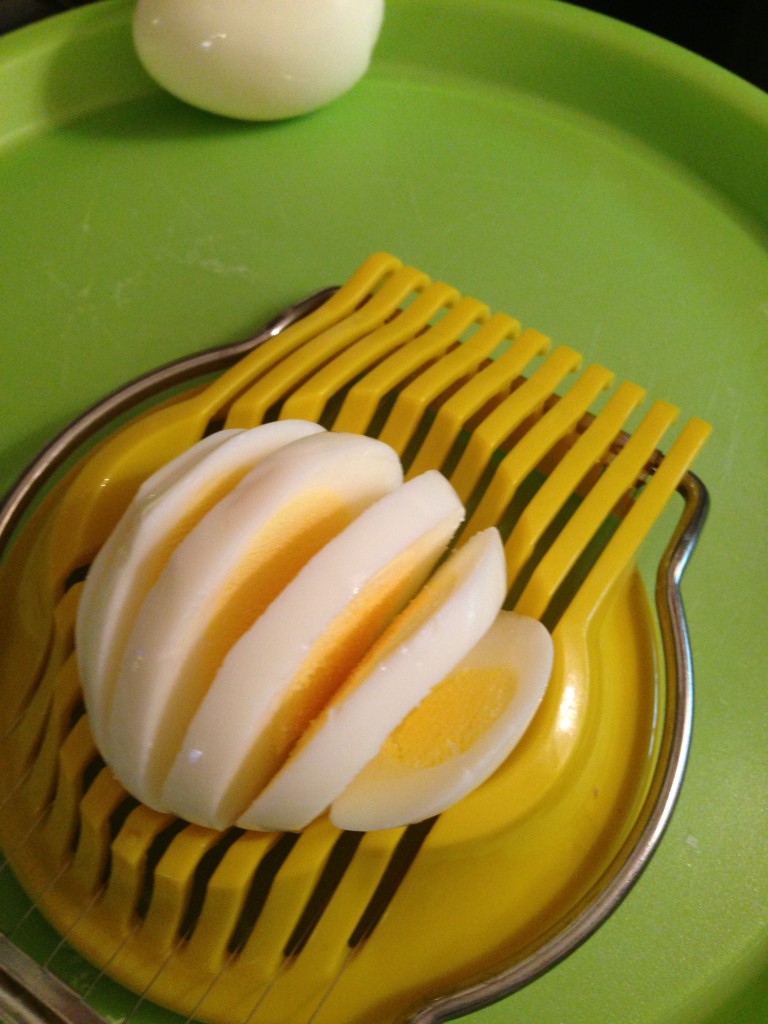 Set your oven to broil and then line a cookie sheet with foil. Pace your bread in the middle. With an egg slicer, slice two egg and place the pieces on the bread. You might have more egg than needed but you can stack it. (*I didn't butter my bread and it was fine but the next time I make this I will try it with buttered bread.) Sprinkled desired amount of shredded cheese. Add bacon bits.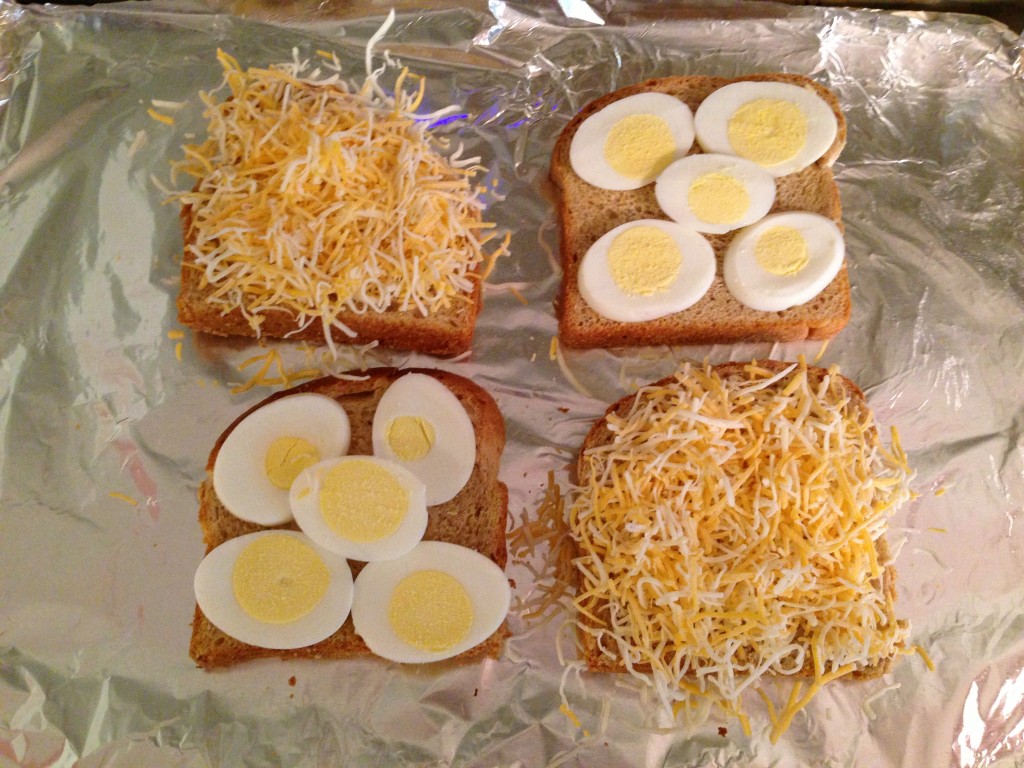 Broil for around 5-10 minutes… I didn't wait until my oven completely heated so it took longer than usual. While it is toasting, slice the avocado on the egg slicer and wash some cilantro leaves. When it comes out, let it sit for a few minutes, stack on the avocado and cilantro. Salt & pepper to taste.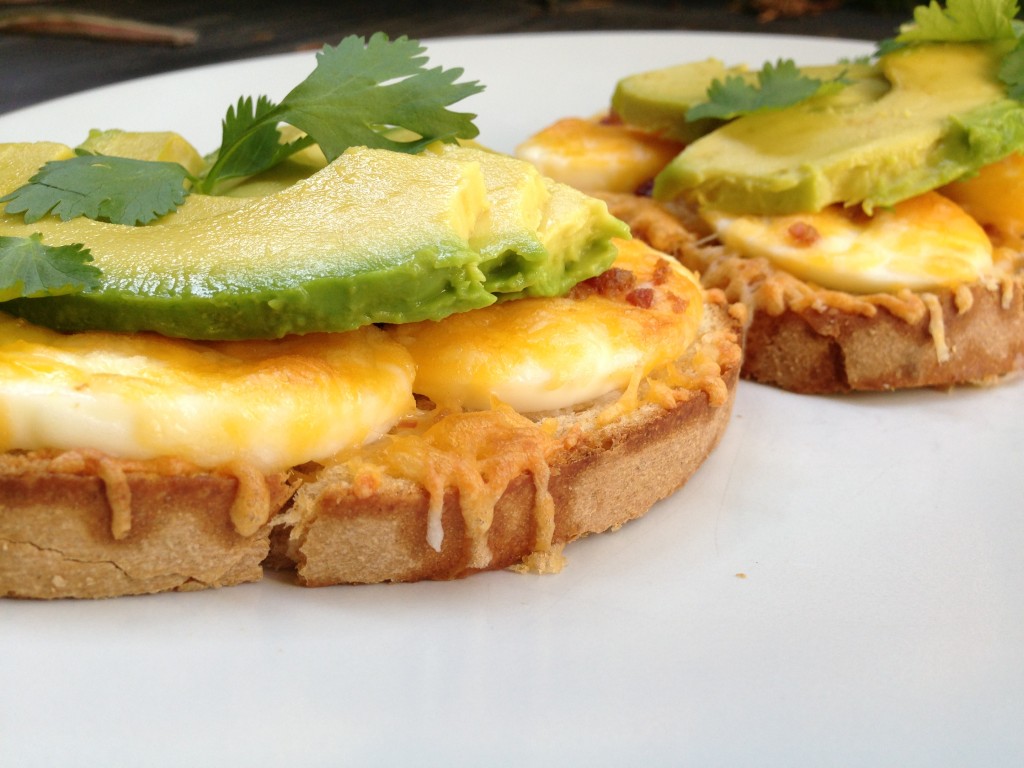 EAT AND ENJOY. I know I did. Simple pleasures, whole foods, stacked high and delicious. Goodness.