I love to gather my family and my friends around the table and cook for them. I genuinely enjoy to take the care and time to craft something delicious to serve them! The love of cooking wasn't something I grew up having, it was only after I had children with allergies that I began the process to discover not only how I could get them to eat healthier and within the confines of their food allergies,  but how it could taste amazing as well. This unlocked a journey of self discovery where I grew to find a I had a passion for cooking- a complete surprise! Now, most weekends, you will find me experimenting in the kitchen from complex and healthy recipes to simple and junk food recipes. Clearly this one is the latter.

Click here to look at more of my recipes!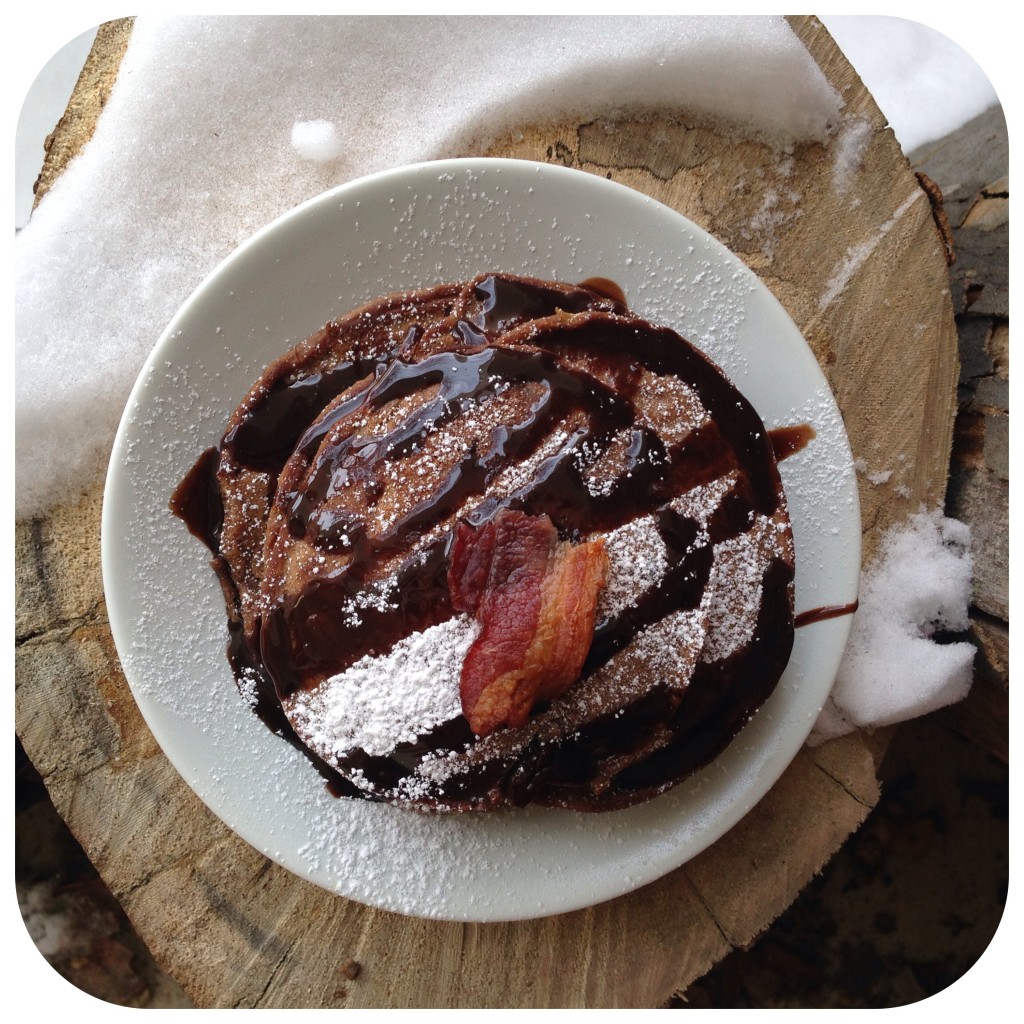 It's for the kids… I tell myself .
But these pancakes are very much for the adults too.
Sometimes the recipes I make are so easy that it's almost embarrassing to be all like "hey guys, check out my amazing recipe I made from a box!" but all the same these are pretty much my new favorite thing to make the boys. and my "new favorite" I mean I discovered this today and it will be a new regular. Why?
no sticky syrup to clean off the table, chairs, walls, counters, floor, ceiling, hands, arms, legs, FACES…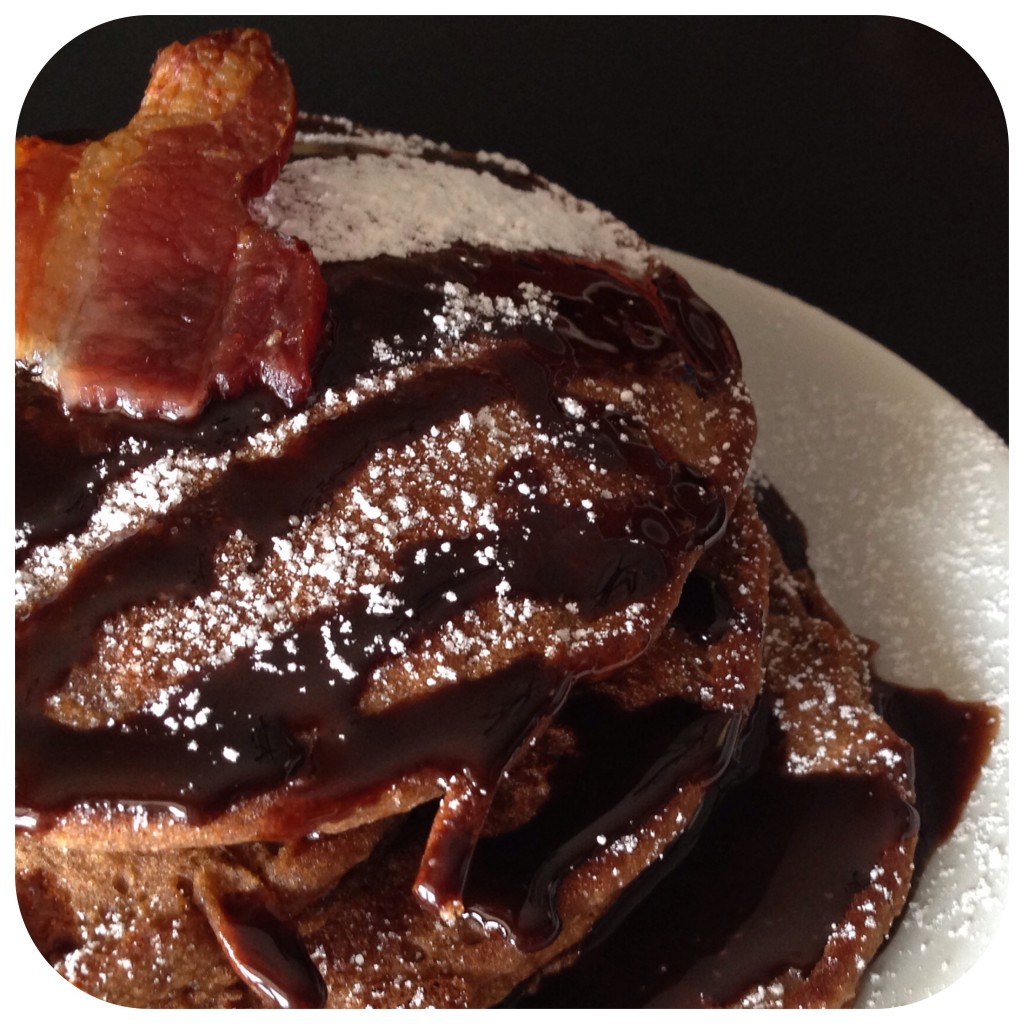 This recipe  all started with a conflict like any good story. I was going to make some biscuits and chocolate gravy- something I've never done before. But then- Ben said we were having problems with the plumbing and to not use any water. As I pondered the dishes that would be dirtied making biscuits and the possibility of not being able to wash them or my hands– conflict one. Ben said he didn't want gluten free biscuits and I realized that I didn't have regular mix– conflict two. At this point I decided to try something quick and easy and decided to make pancakes so we could eat SOMETHING. However, after I mixed up the batter and it sat next to my large skillet as it heated up, I felt sad. I mean, I had wanted chocolate for breakfast. Something fun and different. and there I was with some basic boring pancakes.
Inspiration came in 2 packets of hot chocolate left out on my counter.
and the results are amazing, something that is not too sweet, but sweet enough that my kids happily ate them without demanding syrup. Perfect!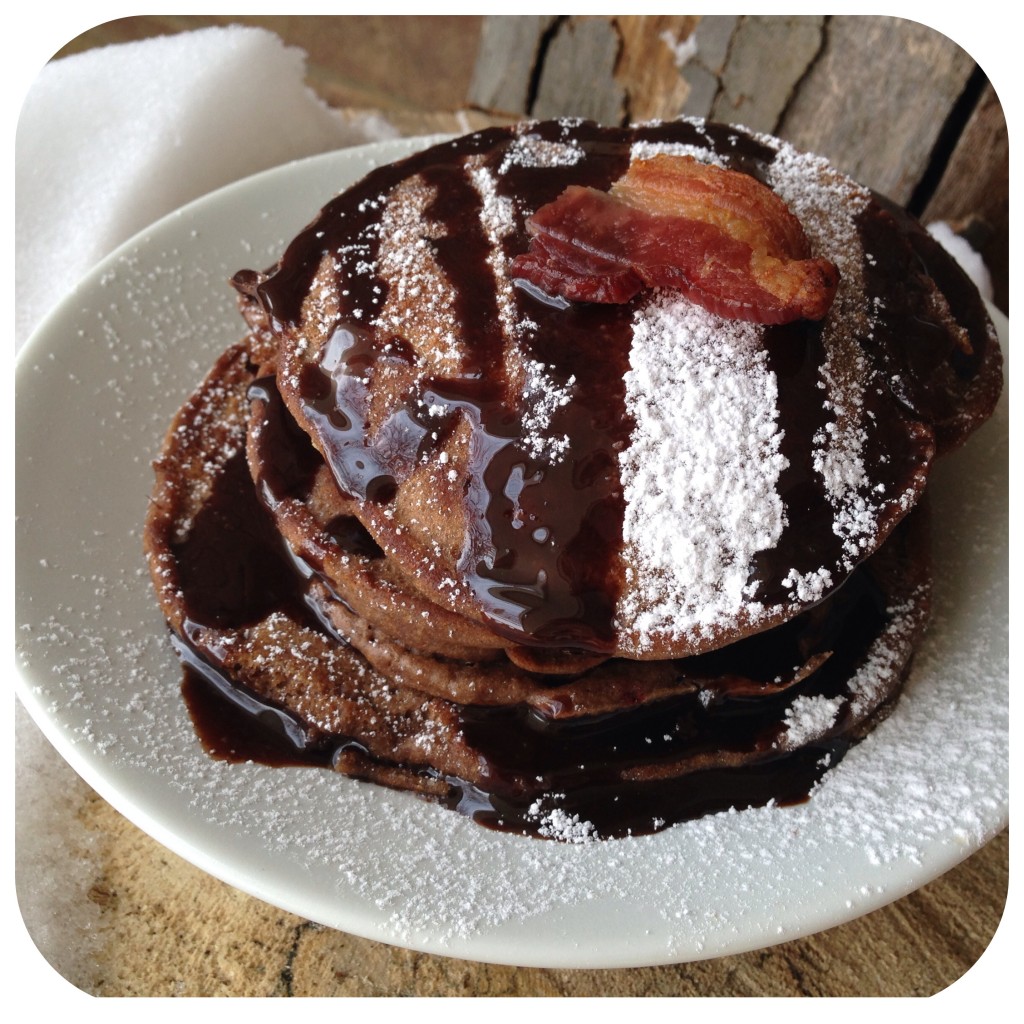 Hot Chocolate Pancakes
Bob's Red Mill Gluten Free Pancake Mix (or your favorite mix) 
2 Packets Hot Chocolate
Mix pancake batter according to the package directions, then add the packets of hot chocolate. I prefer a thinner pancake so I added an additional 1/2 cup milk to thin it out. Start with just a little milk then add more until the consistency is to your liking. I put some butter in the skillet and poured the batter in. BAM. It's really that easy! Now for the fun…
Toppings:
chocolate syrup (for the adults, not the kids. Unless you don't mind the mess…)
powdered sugar
whipped cream
marshmallows (I had them out for the photos but FORGOT to add them! sheesh)
**You're Welcome