I've said it before, I feel like I'm kinda a boring cook. I make a lot of the same things over and over partly because it makes my grocery budget stay lower and partly because I'm always running around crazy, so it makes my meal planning easier…
Tonight, I noticed that I had a lot of veggies in that stage right before they go bad and I hate to waste food so I just started chopping. I decided to get out the brown rice… and then went searching in my cabinets to plump up the meal a bit. I had some leftover fajita grilled chicken and decided to bring it out too. Threw everything together, etc. and here I am again, with an easy, left-over using meal, yet still savory and full of protein, fiber and veggies (and quick clean up dirtying only one pan!) It's easy to eat healthy when it tastes good!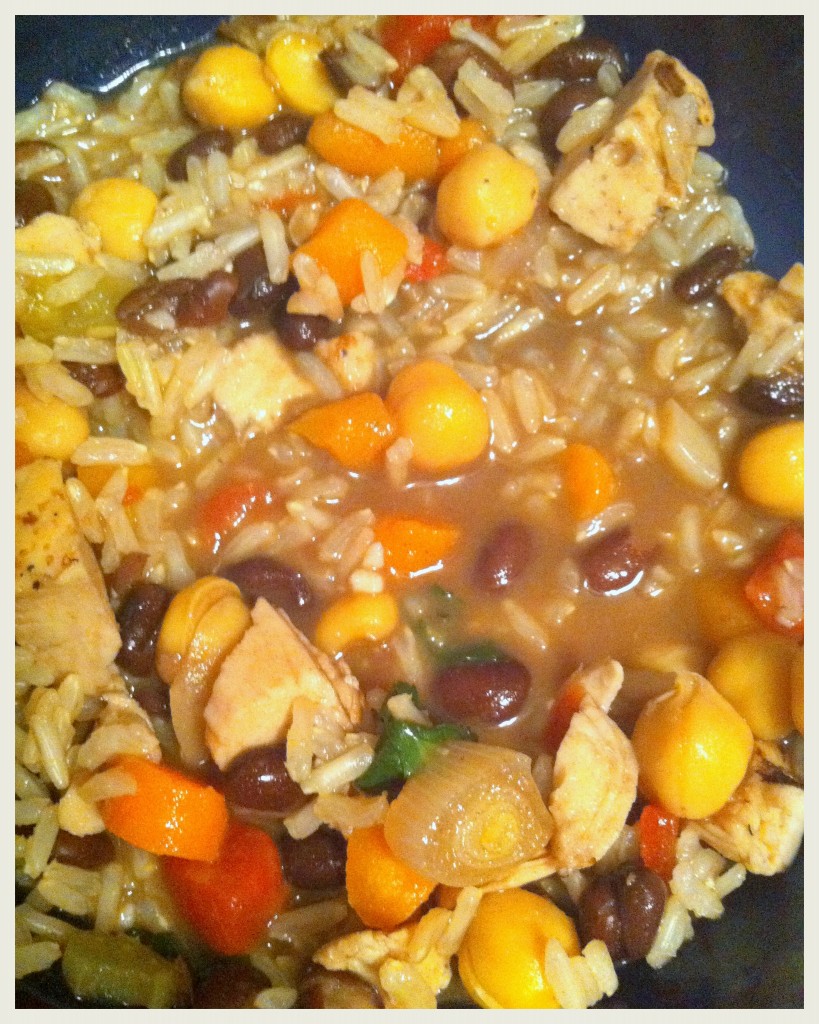 Heidi's Mexican Beans & Rice with VEGGIES!
In a large skillet:
2 cups carrots, finely chopped
1/2 onion, finely chopped
2 cloves garlic, minced
2 stalks celery, chopped
1 1/2 cups brown rice
2 Tbsp coconut oil
*****
4-5 cups chicken stock (or veggie stock for a vegetarian/vegan option)
1 can black beans
1 can garbanzo beans
1 small can tomatoes with green chilis
1 cup cilantro leaves
2 cups chopped chicken- fajita seasoned (leave out to be vegetarian/vegan)
Saute for a few minutes until the rice starts to brown just a little and the veggies are just beginning to soften. Add 4-5 cups water, (or chicken or veggie stock) bring to a boil. At this point I put in a few vegan bullion cubes I swear by because I don' t have time to season to taste these days…  and covered for 25 minutes. When the rice was getting soft I added 2 cups chopped chicken and dumped a can of black beans, garbanzo beans and a can of diced tomatoes with green chilies and added a little garlic salt. Because I LOVE garlic! I let it simmer until the rice was completely done and then stirred in cilantro off the heat. I let it sit for about 10 minutes before I ate it. OHMYGOODNESS.
Great with tortilla chips!
**note- I like my rice really moist so I always use plenty of water. If you like a drier rice and beans, use less stock.