I love quinoa– it is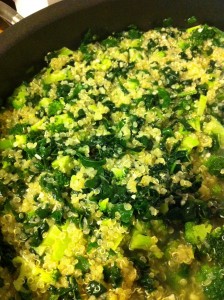 amazing. The cool thing about quinoa is that it's like oatmeal. You can make it with sugar; raisins & milk or cook it like rice and put in in a salad… or you can be like me and make a sort of quinoa pilaf. Pilaf meaning a grain cooked in a broth or seasoning. This is my favorite way to cook it because it re-heats so well and is actually pretty good cold.
I like to use at least 3 different greens for this meal. My favorites are broccoli, spinach and kale because they are so high in nutrients! (kale can be bitter sometimes so don't use a whole lot if you don't like the taste)
Green Quinoa Pilaf

2 cups quinoa
6 cups broth (I use bouillon cubes from a health food store that are vegan and organic- it makes it SO MUCH EASIER TO SEASON and honestly I don't always have the time to sit around and season to taste…)
4 cups copped greens of your choice.

1-2 cloves minced garlic
In a pot or large skillet, bring the quinoa and water to a boil and add the cubes. Cover, reduce heat and simmer for the directed amount of time. During the last minute or so, dump in all the veggies, stir well. Cook long enough for the veggies to get a little soft, yet as little as possible so you have the benefits of raw vegetables. I mince the veggie a lot so I only have to cook for about a minute. And you are done.