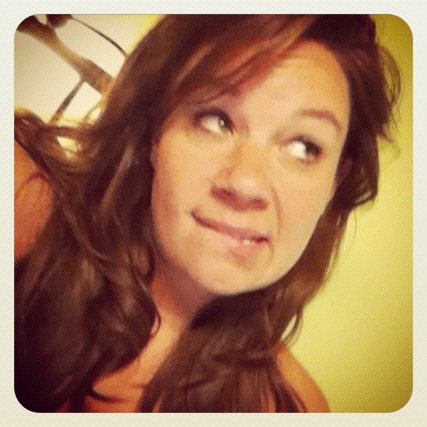 Have I got a recipe for YOU!  A friend of mine from many years ago is a chef. (A pretty great one at that!)  When I visited Detroit last September, Aaron allowed me to help him in the kitchen one day.  We created Eggplant Parmesan:
It was amazing… It took me a year to get it together and re-create this dish.  I decided to share it with you for two reasons:
1)      I like to blog with pictures, and if you have a picture process to go along with the recipe I think it makes it less intimidating.
2)      I want the single guys out there to realize what a catch I am!  😉  Totally kidding…I want you to try this, or another recipe and do the same thing with pictures so I am not so scared to try more recipes!
I headed to Wal-Mart to purchase the ingredients and a few extra things and then headed to my friend Ellen's house to prepare the Eggplant Parmesan. That is the link to the actual recipe, so if you need a shopping list, go there.
Here is what we used to make the sauce:
Doesn't it look good!  We sauteed the onions and garlic, then added the red pepper flakes.  After a minute we added the roasted red peppers and then the tomatoes.  After cooking the sauce for about 30 min, we pureed it and then put it back in the stock pot and added the fresh herbs.
We then prepared the flour dredge, egg wash and Panko breading .  After slicing the eggplant into ½ inch slices, we dredged it in flour, dipped it in the egg wash and finally the breading before putting it in the oil to fry. (See below for the Gluten Free Options!)  
I will give you a few tips right here:  Use one hand to dredge in the flour, the OTHER hand to do the egg wash, and back to the 'dry' hand to bread the eggplant.  Much less messy this way!  Also, make sure that you have a thermometer for the oil; ensuring that the oil stays at the right temperature gives you crunchy eggplant instead of soggy eggplant!
After the sauce was done and the eggplant was fried, we were ready to put the dish together.  First put a thin layer of sauce on the bottom of the pan.  Place a layer of eggplant and cover each slice in sauce.  Top with cheeses.  Repeat two more times.  3 Layers of Eggplant total. (Last September when making this dish with Aaron, we used sliced tomato as the middle layer YUM!)
On the top, layer with the fresh mozzarella and a basil leaf.
Bake at 350 for 30 min.  Serve and enjoy!
Here is my Google+ album where you can see the whole thing from start to finish.  Including the shopping trip. Having someone to cook with in the kitchen always makes it more fun as well.  Many thanks to Ellen for letting me mess up her kitchen and helping with the preparation and eating of this delicious dish!
For an easy Gluten Free option, use almond flour and instead of Panko Bread Crumbs, you can use rice krispies crunched up, cornmeal, or in a pinch, crushed gluten-free cornflakes/other gf cereal or crushed gf crackers
Now, YOU go try a new recipe and take pictures…share it back here with us, because we want to see what you do!