Since we are headed back tomorrow, it is safe for me to finally post this…(My parents tend to get a little anxious if we post anything on line stating we are ALL away from 'the hill'.)  The plan was for all of us to spend the week in Branson. We are pretty infamous for not leaving or arriving on time, so when I heard, "We are leaving at 9:30 am" I didn't take it too seriously.  All 10 of us were going to only take 2 vehicles to save on gas, so needless to say we were loaded down!  Approximately around 10:15 am we pulled out from the house…that put us in the Sam's Club parking lot at 11 am.  We bought groceries to take with us and since it was so close to lunch time, we decided to go ahead and grab a bite to eat. . .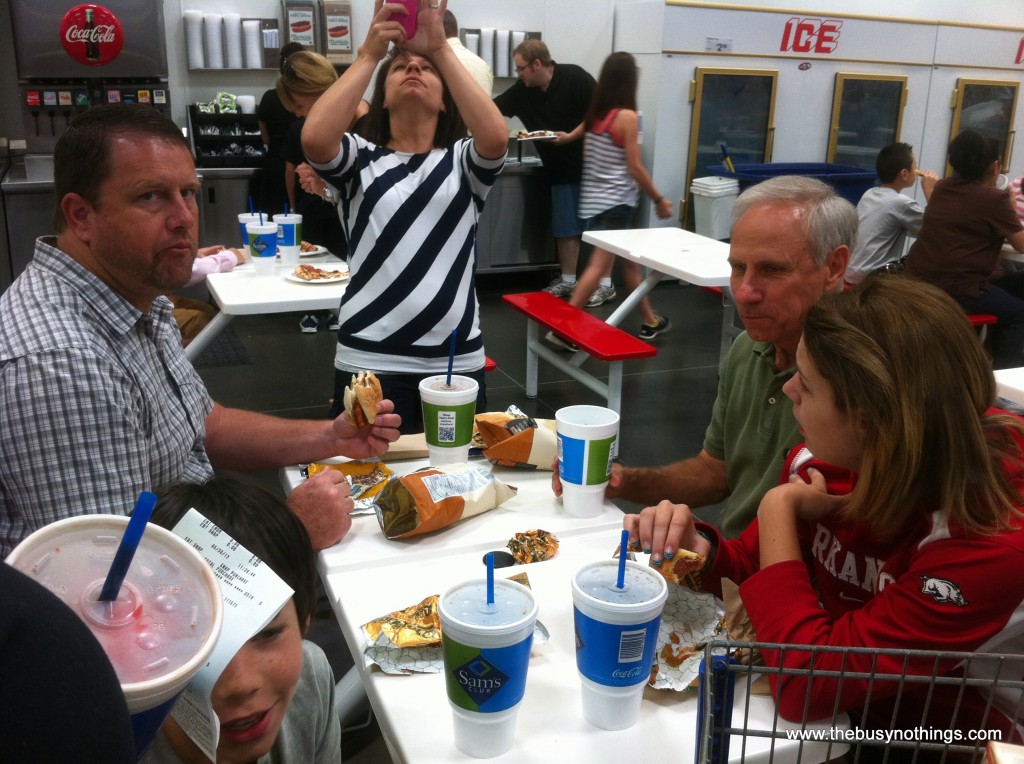 A little bit crazy considering that we just filled up our carts with groceries, but seriously, who can pass up a $1.50 hot dog deal?
Back out to the parking lot to finish loading up and get on the road.  (The time was now about 11:45 am, just to give you an idea.)  Dad went and pulled his car around to us so that if we needed to move things around we could.  He turned off the car and got out to help.  When he went back to start the car, it wouldn't even click…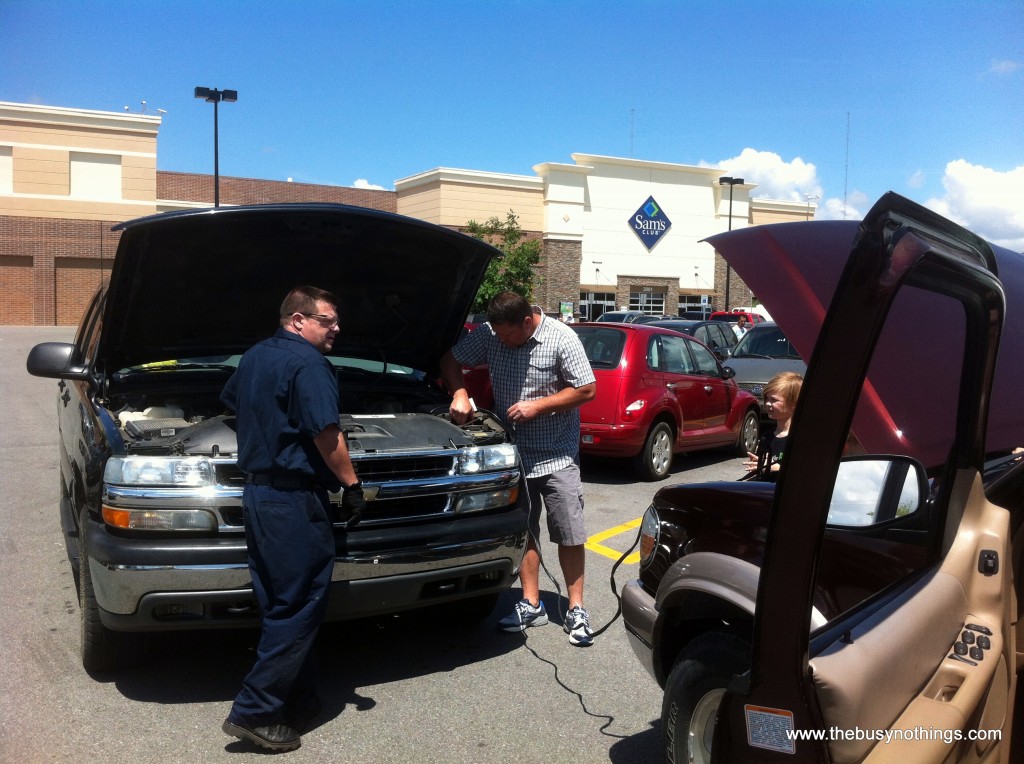 First thing we tried to do was jump the battery… Not so much… Then, because we were blocking traffic, we pushed Dad's car into a parking spot and proceeded to figure out the problem.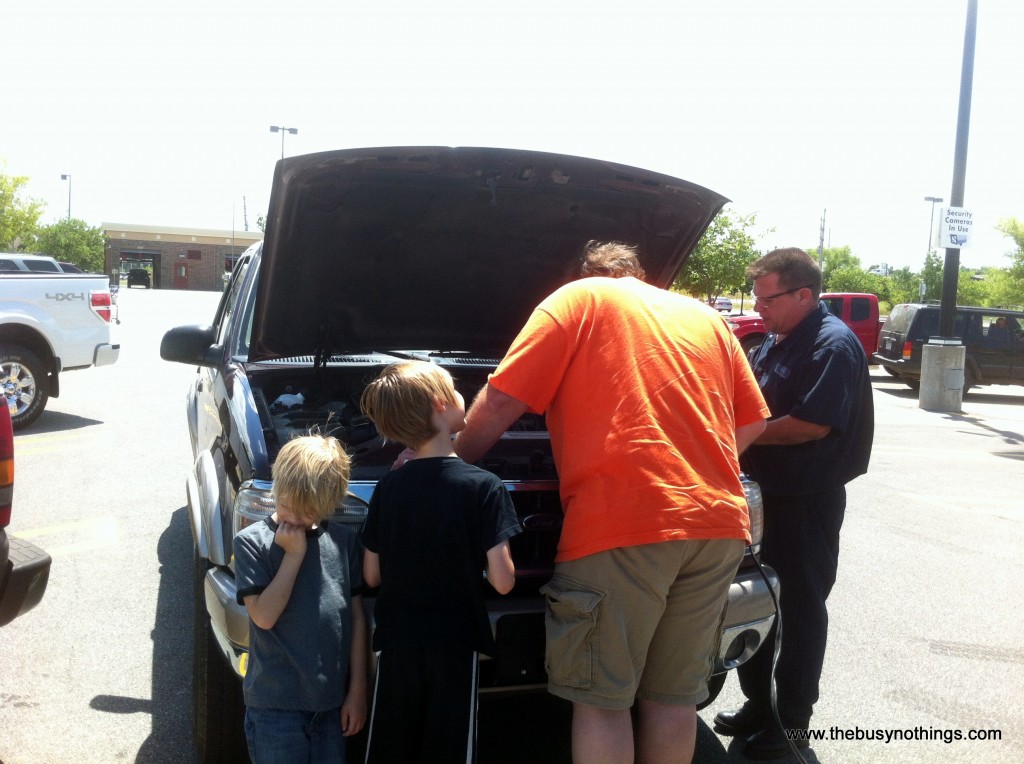 A really nice guy and his boys stopped to assist us in figuring out the problem.  The service guy from Sam's Club, Robert, brought out a battery tester and the battery was good…alternator was good…we deduced that it was the starter that was the problem.  We sent the other car to pick up a new starter and then Ben was on his way to help us get the old one off and replace it.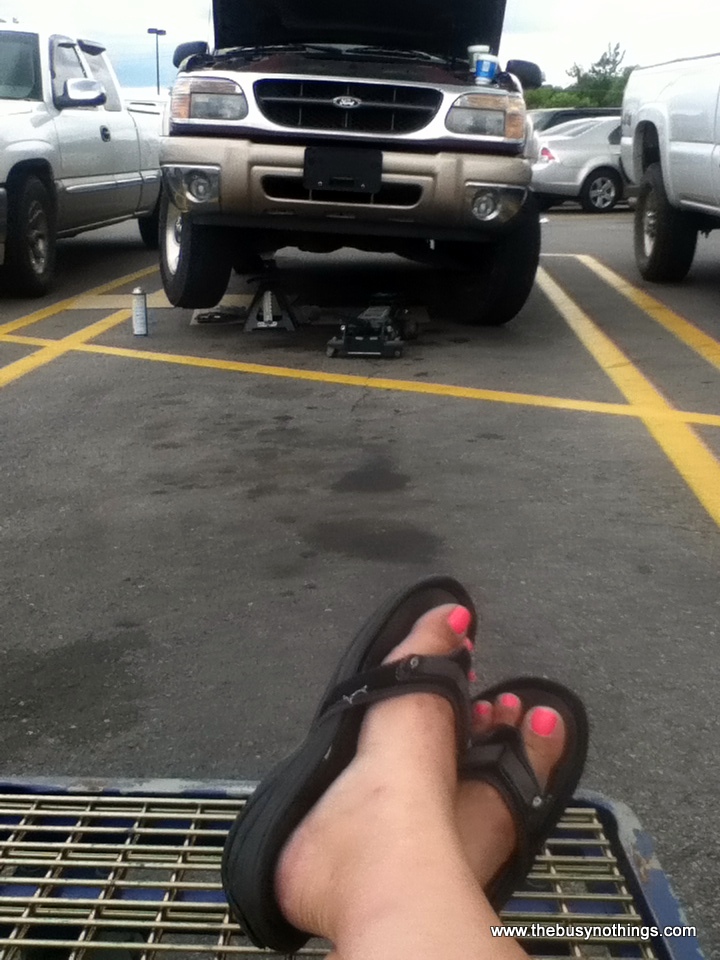 This was NOT the poolside view I was hoping to be enjoying by this time…(it was now 2:30 pm)!  Ben had arrived and realized that he didn't have the right tools to remove the starter, so he left us some entertainment and headed to Walmart while the rest of them were headed back from Auto Zone.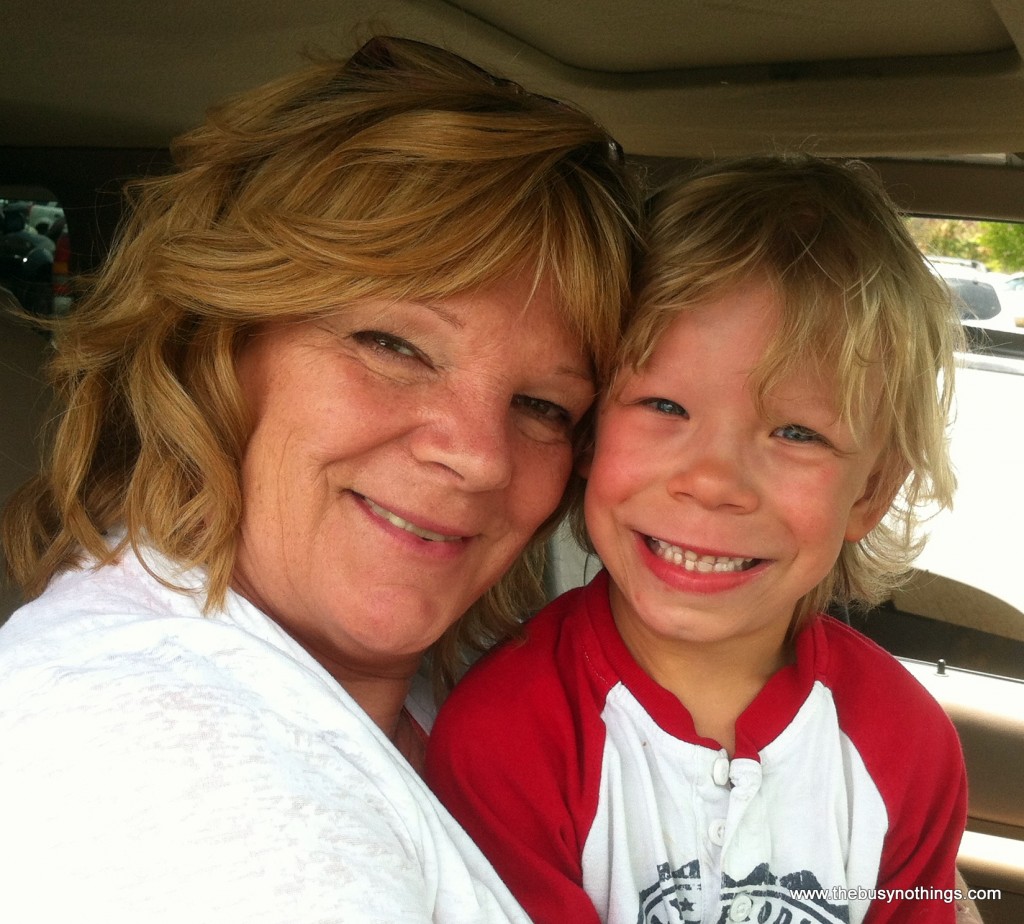 P.S.  Best entertainment EVER!
After they all got back,  Ben started taking the old starter off, and we collectively decided that someone should give dad a ride BACK to the house to grab the other vehicle, just in case the starter wasn't the problem…off they went.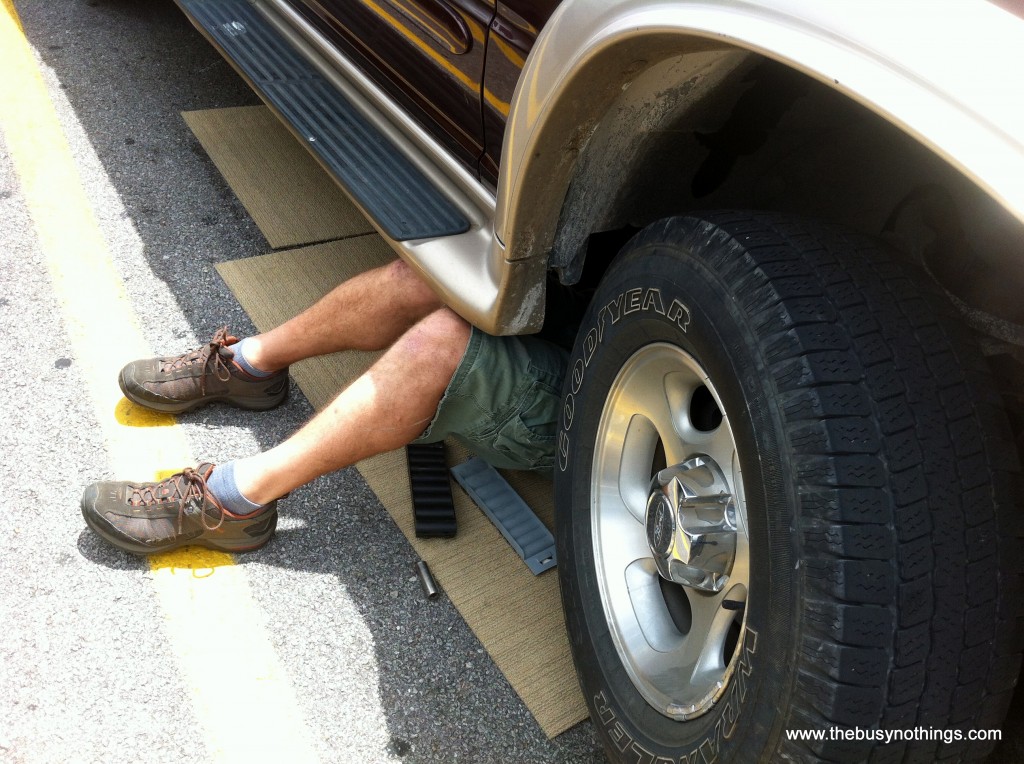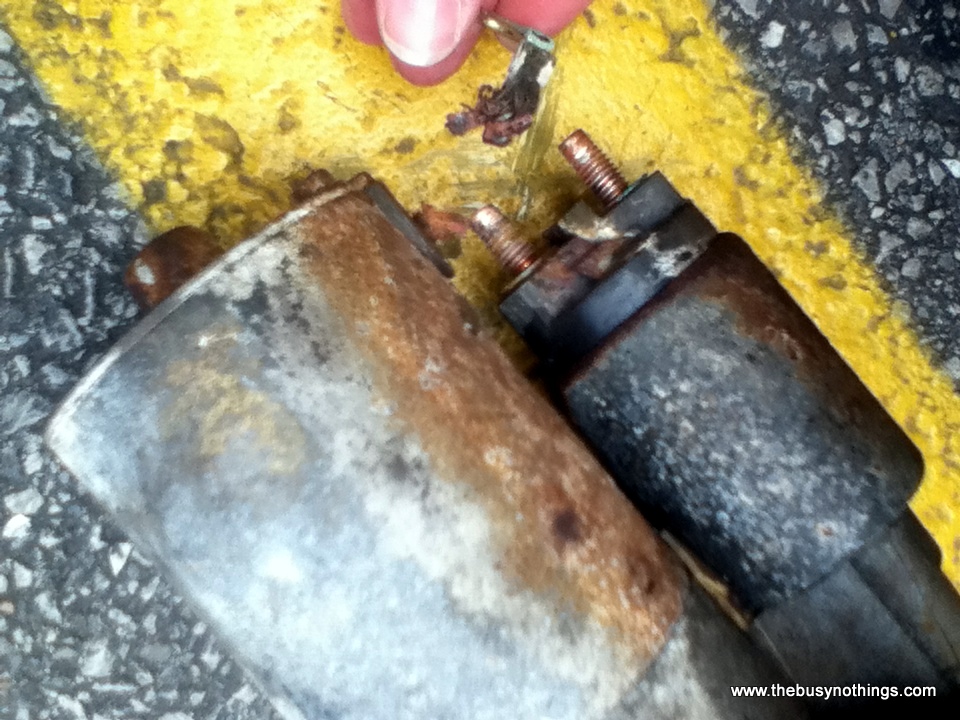 EUREKA!  Ben got the old one off and proceeded to put the new one on.
Ben called  the others to inform them that the new starter was cracked and they needed to pick up another one…So, by this time we were all hungry again, and pizza was the vote!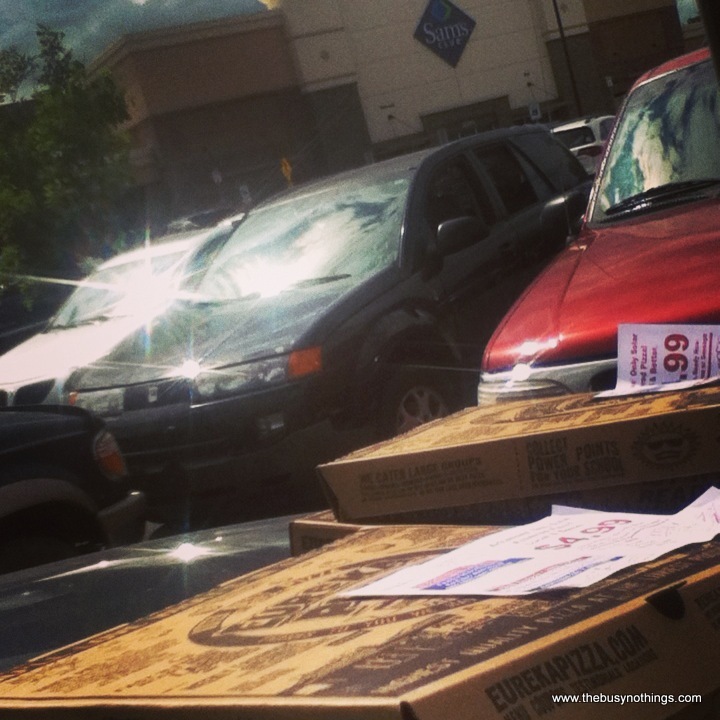 Not going to lie…People started to look at us weird, and the door greeters at Sam's got to know us pretty well as we kept coming in for drinks and then consequently to use the restroom facilities as well.  4.5 hours later, we were excited to be on the road (with no  need for the extra vehicle, which we left at Ben's house).
So, to put this in perspective, we left the house at 10:15 am and got to Branson at 7:15 pm.  Normally this is only a 2.5 hour trip…
ANYONE ELSE READY FOR VACATION AFTER THAT?
I will say that we were extremely blessed that it wasn't a more costly problem, that no one was injured,  and that this didn't happen last month when all of us women took the vehicle to MN for a wedding!  More fun photos and possibly a vlog about our time here in the "Show me state"…
P.S.  It also happened that it was Dad's birthday, and thankfully my sister thought ahead, so the first thing we did after getting to Branson and unpacking the bags was to celebrate by singing Happy Birthday to him and having his favorite…Carrot cake!