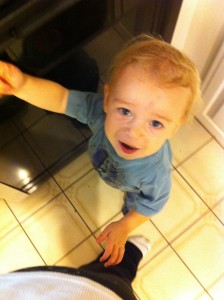 Sometimes when I cook I think Martha Stewart should come knocking on my door. I twirl around my kitchen, making deliciousness magically, pouring pre-measured bowls of ingredients like a pro and singing to the forest animals gathered at my windows….
Then other days my snotty-nosed, molar cutting 16-month-old clings to my leg, making walking impossible.  I  throw my Sunbutter into the microwave  to soften it a little and almost blow up my microwave because I forgot about the foil rim. In an effort to save time I used my blender and made almond flour instead of just chopping them.  I didn't realize how low on Sunbutter I was so I had to add a little almond butter to have enough.  I haphazardly threw coconut oil into a bowl and then forgot about it in the microwave until it was liquid and knocked over the child rushing over to get it … it didn't want to cook right and I'm pretty sure that I put too much coconut oil in it *and* I forgot to grease the pan.
Whatever the day you have had, smile. Life, in it's messy ways, is beautiful even in the sweaty, dirty trenches. I will rejoice and be glad in it.

…and the bars turned out perfect…
**********
As any one who has been to my blog recently knows, a lot has been going on in our lives.  One of the easiest  ways to save money is to make things myself and not buy them pre-packaged. Gluten-free can be expensive so I researched several recipes and combined a bunch until I had a recipe that I was happy with. (Also, since Bug has dairy and egg  allergies, these were a nice snack for him too!)  Actually- 2 recipes I was happy with. Here they are: ( I modified mine to my tastes but this was my base recipe- Thanks to The Smitten Kitchen)
Chewy Cranberry Almond Bars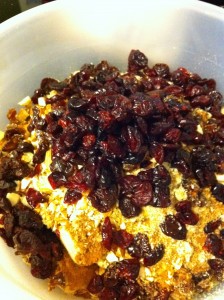 1 2/3 cup oatmeal (I use Bob's Red Mill oatmeal but be sure to get certified gluten-free oats if your body is sensitive!)
1/2 cup brown sugar (you can add more if you want a sweeter bar)
1/3 cup oat flour ( I use ground flax seed & almond flour)
1/2 tsp cinnamon
2-3 cups dried fruits & nuts (I used almonds, craisins, dried cherries, raisins & chopped dates- add whatever dried fruits & nuts)
1/3 cup peanut butter (I used Sunbutter- it's allergy friendly and OK for schools and kids under 2)
1 tsp vanilla
6 Tbsp. melted butter (I used an equal amount of coconut oil because of Bug's allergies)
1/4 cup pure maple syrup, heaping (honey is another healthy  option- I just preferred maple syrup for this one)
OR
Chewy Peanut Butter Chocolate Bars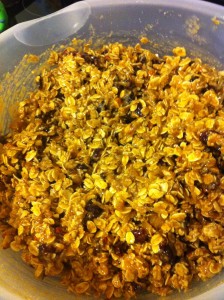 1 2/3 cup oatmeal
1/2-3/4 cup brown sugar
1/3 cup flour (I use ground flax seed- but oat flour would work)
1/4 tsp. cinnamon
2-3 cups white chocolate chips, semi-sweet chocolate chips, chopped dates  & almonds or whatever you want)
1/3 cup peanut butter
1 tsp. vanilla
6 Tbsp. melted butter
1/4 cup  Honey, heaping (or maple syrup)
DIRECTIONS:
Oven at 350
Line a 8×8 pan with foil or parchment paper & grease it.
Stir dry ingredients together then whisk the  liquid ingredients together (vanilla, coconut oil, maple syrup, peanut butter (or sunbutter) & tiny bit of water if it's too dry).  Add it together and press it VERY FIRMLY into the pan. Bake for 25-35 minutes. They will be browned on the edges and a little on top but seem soft, let them cool completely before cutting.
TIP- let them sit in the fridge for about 30 minutes before cutting. Wrap individually & freeze. Great for a busy morning or a kid's lunch!
**********