If you haven't read the Introduction to this series, I recommend that you do. We are sharing Real Love stories. Stories that have hurt, pain but maturity and ultimately, JOY. In a culture that is so fast paced, self-focused and all about the falling in love part of our story with no concept of afterwards, we here at the Busy Nothings are striving to sit back and share from our own experiences what we feel true, pure, sacrificial love is. When you choose it even though it hurts or is hard work. The beauty, PASSION and true love that comes from this are better than any fairy tale. ~Heidi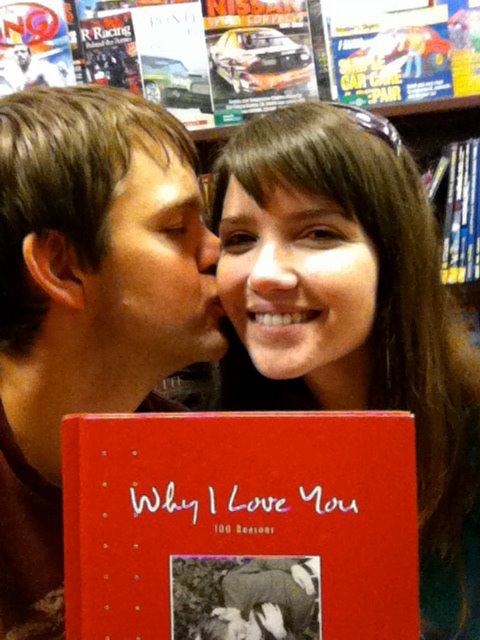 Titus was a great guy. We had a number of conversations in the past that developed in me a deep and genuine respect for him. Titus was surrendered to God, kind to people, and the same person in public as in private (I saw it every day because I worked for him as part of my school work-study program). He had integrity, self-control and always had encouragement for whomever he was working with or talking to. I thought he was an amazing man, but beyond that, I never considered him to be anything but a boss and friend.
Little did I know, Titus had been praying for me. For over a year, He had been interested in me, even while I dated someone else. In that season of hurt and healing God took me through, Titus was praying for me. I formed a friendship with him. It was very different than any other guy/girl relationship I had experienced. There was mutual respect. There was no co-dependency or the need for me to save anyone. There was something wholesome about it. I felt like I was walking into something ordained, something much bigger than I could understand. I began to love Titus; in fact, I cared so deeply about him that I sincerely felt that even if I couldn't have him, I wanted someone very special to marry him. Titus deserved an equal in his life.
Our connection point was missions (surprise, surprise). Titus has been leading outreaches all over the world for years, and had a huge burden for the unreached people groups of Bhutan and the Tibetan Buddhist world. As we talked about missions, strategy, people groups and nations, I realized that God too had planted a seed in him, the same seed He had planted in me: the call to die and live for Christ's Kingdom. When I realized that God has placed us at the same school, with the same passion and calling, I understood that the voice I had heard a year ago telling me that Titus was man I was to marry was truly the Lord. But what could I do? God had specifically told me not to pursue anyone, not to do anything but wait on Him to bring the one He had for me. So I waited, and prayed a lot. At one point, I mourned because I truly thought that Titus was falling in love with one of my good friends. I was confused and miserable watching their friendship, but I obeyed God, letting my desires pass from my hands into His, knowing that My Beloved loved me, and knew what was best.
And then, out of nowhere, it happened. Titus secretly spoke to my Dad to get his permission to date me, and then (glory!) he asked me. I could not believe it! It was like Christmas. After the waiting, the prayers, the letting go, and constant dying to myself, God lovingly placed Titus into my hands. The first 3 months we dated we spent apart. I worked that summer on staff at a camp for people with special needs. We wrote letters back and forth, and had very little contact over the phone. It was agonizing and wonderful. Those letters we wrote back and forth to each other are still the greatest treasure I own.
We dated six months, got engaged, and married just over a year after we had started dating. It was heavenly. I had to pinch myself sometimes because it was so good.
God is specific and His plans are perfectly formed to the tiniest detail. He orchestrated everything, down to the place where Titus asked me to marry him.  Titus surprised me with a beautiful ring on the top of Sugarloaf Mountain back in my hometown. I had never told Titus this, but years before, I used to climb Sugarloaf every week with my backpack, lunch and my Bible. I would sit on this ledge with God and pray for my future husband. That very ledge is where he proposed to me, the very spot. Titus did not know, but God knew. It was a sacred moment where the confirmation of Heaven descended over my whole heart, and I knew in every part of me that the Lord was pleased.
If you have not read the introduction to this months theme I would encourage you to do so.  The intro was written by Heidi and it is such an amazing post and a beautiful story to be heard. 
I work for Camp Barnabas specifically as the director of Barnabas Prep. Barnabas Prep is a live-in teaching program for young adults with special needs, and with this there is a lot of work everyday.  Class time, work time and so much social teaching and learning that we as a whole are constantly working on.
In all of this work we are sure to make time for some fun things that not only provide a great time together but also truly celebrate are students abilities and personalities. There are two recent events that we have attended and both give a great example of what some of the real beauties there are to behold in this world.  I will be sharing on both of these events in two separate post because they each have their own story to be told.
The Missouri Ms. Amazing pageant was an event that myself, the students and staff in my program attended in mid- March in St. Louis MO and it truly stood up to it's name… it was absolutely amazing.
The Ms. Amazing pageant is a pageant that is specifically for ladies of all ages with special needs and give them the opportunity to experience the excitement of a pageant.   It is a true "Beauty Pageant" in which all of the ladies learn how to walk on stage, they go to interviews with the judges, and then they are escorted onto stage by great guys ( who this year many of the guys not only were very attractive but had hunky European accents… which was a lovely bonus of all of us who were chaperons to all of the ladies).
The difference however about this pageant is the way that all of the girls are not only treated but the lessons they learn. They are treated incredible all day with people pampering them doing makeup and hair.
 One can see as the day goes on that the participants  begin to see in of themselves more and more that they are confident and special women and by the end of the night when they walk across the stage they are truly walking in that new found identity.
They are treated like princess and they learn that they ARE princesses. 
Each girl walks away with a trophy and a crown on their head.
Did we all hear that?…. Each one is crowned and has their moment to shine simply because they were created to do so!  They were created beautiful. 
 Along with the awards they receive and being escorted by guys they get professionals to do their hair and makeup, they get a girl buddy to be with them all day and become their new bestie and then they get to wear fancy evening gowns when they do the stage portion.  In the interviews they are asked about things in their lives that actually matter to them such as; "Do you have a pet, and why do you love your pet?  What is your favorite color?  If you could go anywhere where would it be?"
Each one of our girls were so encouraged not only in feeling beautiful but they were encouraged in the fact that they matter.  This is the element that made this pageant different from all the rest.
This is what not only sets this pageant apart but is what sets the girls apart… that they alone matter because of what is inside of their hearts and those things are the very things that make them beautiful. 
They saw something that all of us who are with them each day and those who love them already know.
They are worth not only knowing but celebrating.  
Our boys also escorted the girls onto the stage and were recognized for their chivalry and value as men.  Often in the world men with special needs are not seen as grown men, they are seen as men with special needs, which can set them apart as not real men.   At this pageant the guys with special needs were seen as men who could valiantly escort lovely ladies onto the stage and help them feel as beautiful as they truly are. 
While this pageant had all of the elements of a typical outward beauty pageant there was so much more.  The beauty of the girls faces and confidences as the day went on was only something that could shine because of something that was happening from within.
I loved everything about this pageant for so many reason but the main reason was that this pageant not only saw the beauty of the girls physical person as being women but they looked past that in every element of the pageant and every part of it and looked into who each girl was inside.  They looked beyond the beauty on the outside and searched for the beauty on the inside of these lovely ladies. 
Those who began this program saw that all girls have a longing to know that they were created beautifully and in light of that each women desires so much to feel beautiful inside and out.
What we saw as we watched this pageant was that these girls were made by the God of beauty and that it wasn't enough to simply tell them about their beauty but that it was vitally important to show them and help them believe it as solid truth within all their hearts.  
This is the mission that God has called me and so many others to in this life, helping these truths become real truths to those who may struggle finding them or holding on to them when they do. 
This pageant was a reminder to this mission and to this truth and I am so grateful for it, not that I had forgotten it but simply a reminder of how important of a calling it truly is in this world.