Seattle!!!! I'm in Seattle, Washington this week for my third International Food Bloggers Conference. I keep coming back to this conference because each time I've left I've implemented what I learned and it helped me GROW- both as a brand manager and as a blogger always at heart. From learning how to photograph food well, recapturing the joy of writing about foods, discovering new foods and trends on the move to so much more this is a conference I look forward to each year. Oh and the location? The fact it's in one of my favorite cities in the country doesn't hurt.

Since I'm at a FOOD Bloggers conference this year and I haven 't posted a FOOD post in awhile I thought I should find one from last year that I loved.  I do love to cook, it's my stress reliever and I feel such joy slicing vegetables and meats for a healthy dinner. After this conference,  I hope to be re-inspired to cook more this fall first of all but secondly, to photograph the recipes I create every day and take the time to write them down.
So for today… reposted from last year and well timed for the beginning of fall…
Black and White Chicken Chili
This recipe was inspired completely by the fact that I had two bags of dry beans sitting out on my counter one morning; one of black beans, one of white beans and it was just so pretty.  I love being visually inspired, seeing beauty in the simple things and then watching my recipe draw itself out for me.
A formal chili, I decided. How fun. I love a good pot of chili. I am a southern girl at heart and as we are slowly creeping out of winter time I am finding ways to extend out my chili season and feel this lighter, healthier version just might make it through the summer.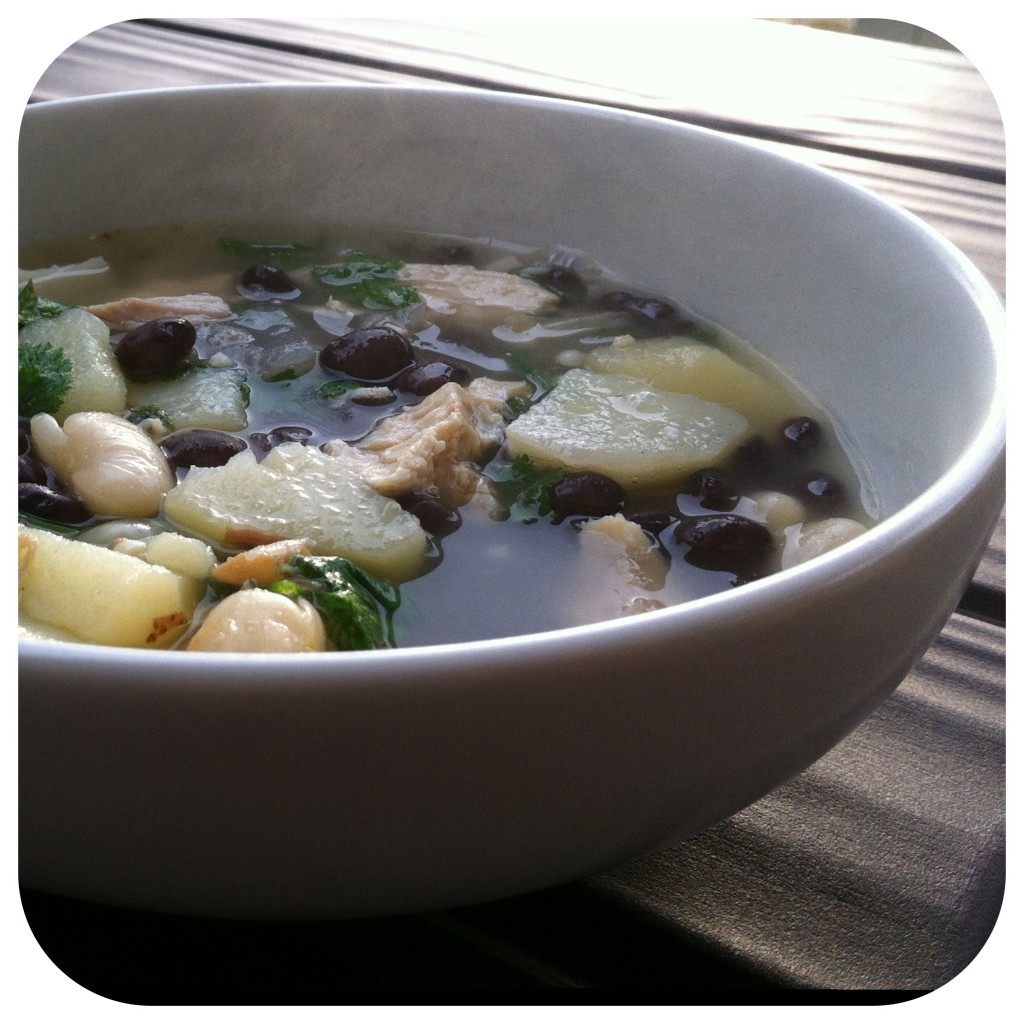 This recipe turned out perfect for me. I felt my heart pounding with excitement as I finished and tasted it. I looked and tasted just exactly as I wanted it to which is, regardless of your cooking ability, is an amazing feeling. I like savory, well seasoned foods and this one is no exception.
I am trying to use less and less meat when I cook and perhaps eventually this will be chicken free.

I have a confession… Dry Beans have always frightened me a bit. I know, a good southern woman should know how to make beans and corn bread but my heritage, although living in the south, is not southern. I regularly eat beans but always get them from a can.
This year, I decided to confront the fear head on and attempt to create several bean based recipes. Beans are so healthy and good for you and my friends over at Bob's Red Mill sent me some to play and experiment with.
Black & White Chicken Chili
What you will need: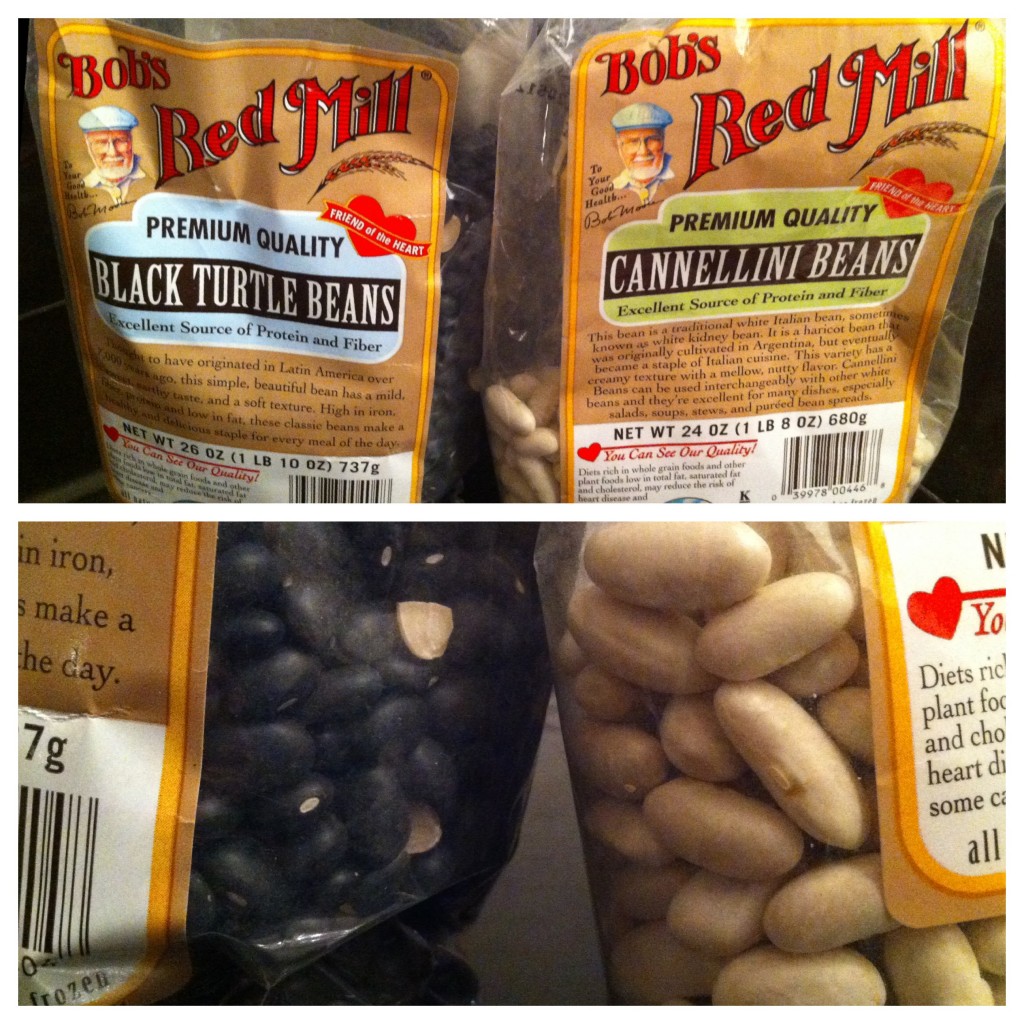 Bob's Red Mill beans, soaked over-night in separate containers then cooked according to the package, seasoning with salt while cooking.
-1 1/2 cup dry black
-1 1/2 cup dry white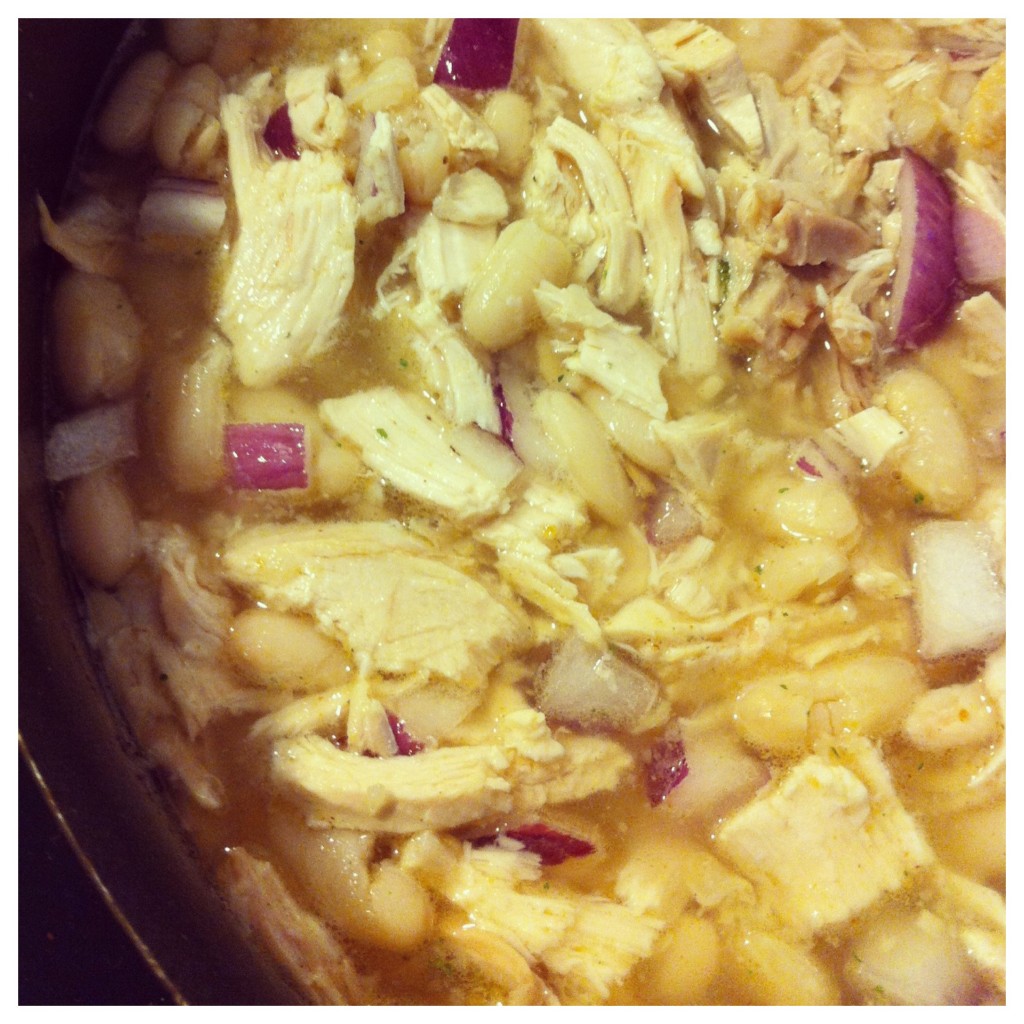 In a large pot or skillet, add the ingredients (excluding the black beans and cilantro). Bring to a boil then lower and simmer for about 30 -45 minutes.
-White beans
-3 cups cooked, shredded chicken
-6 cups chicken broth (I used vegan bouillon cubes without MSG)
-6 garlic cloves, minced
-1/4 onion, cut into small pieces
-4-6 small red potatoes, peeled and sliced
-2 tsp Cumin
-3 Tbsp  Garlic Salt
-1/2 a bunch Fresh Cilantro, leaves only (set aside for later)
– (Optional) 1 minced jalepeno for some heat. I am a wimp and prefer a mild chili!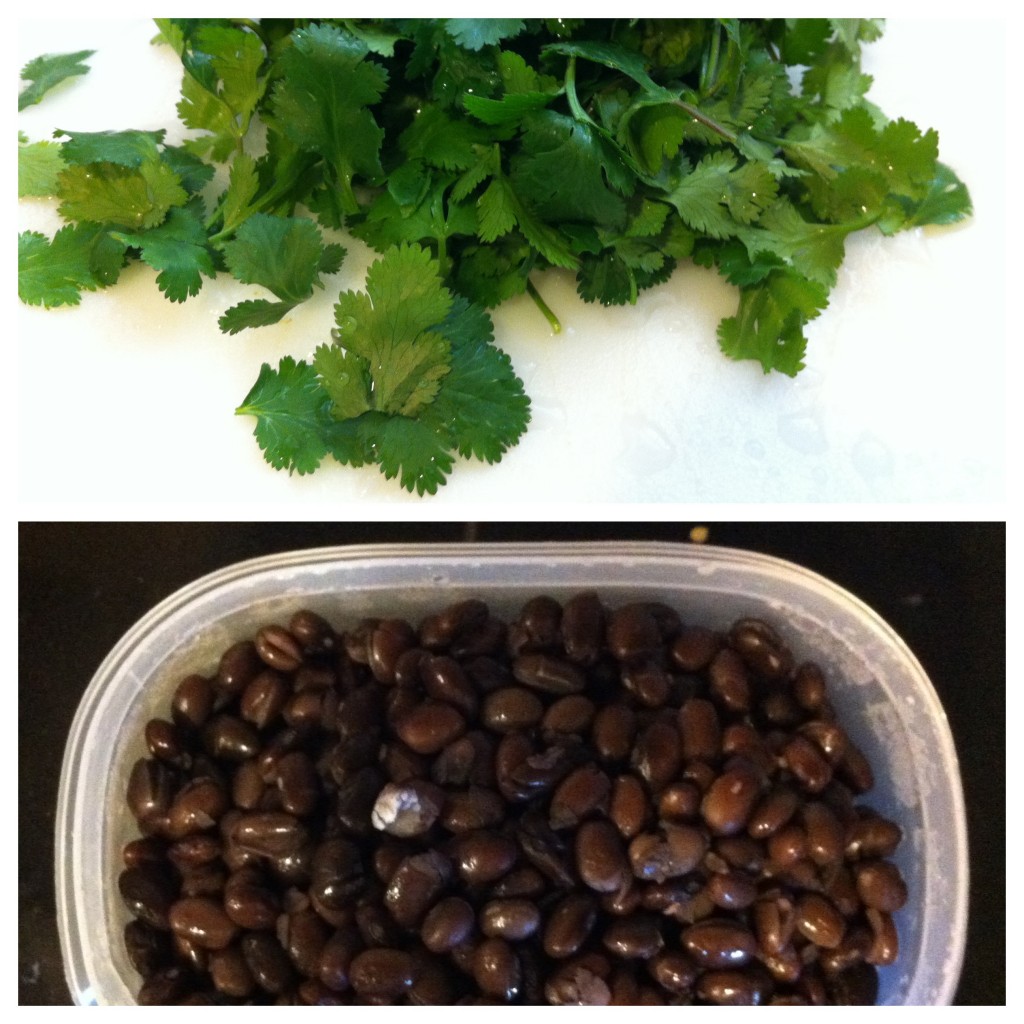 I patted dry the black beans and when the potatoes were soft, I added the black beans and cilantro for the last few minutes of cooking so the broth wouldn't change colors. I added more cumin and garlic salt to taste at this point because, like I said, I like savory…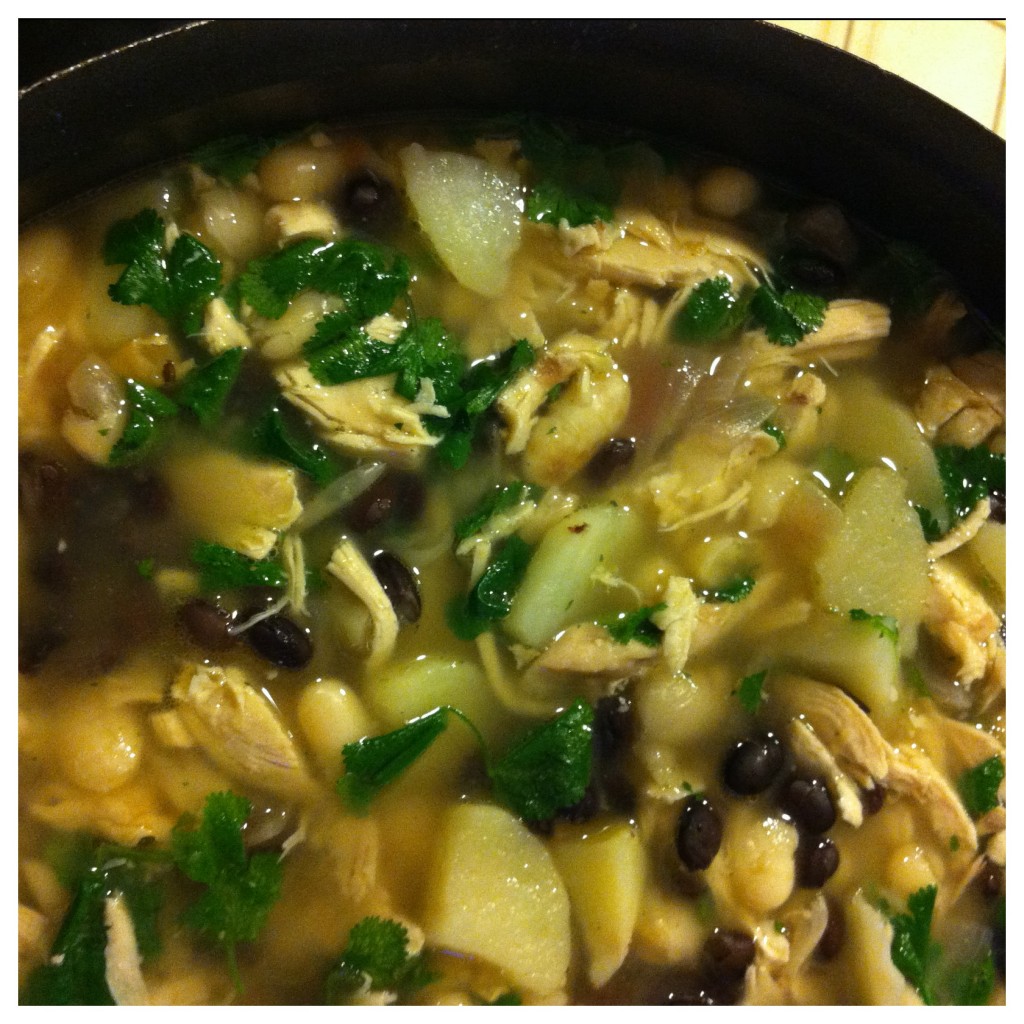 Then I made cornbread.
It was fantastic together.
I enjoyed looking at it in the white bowl almost as much as eating it. It is a light soup and the cilantro not only is a delicious addition but it's a pretty contrast. I'll be making this again!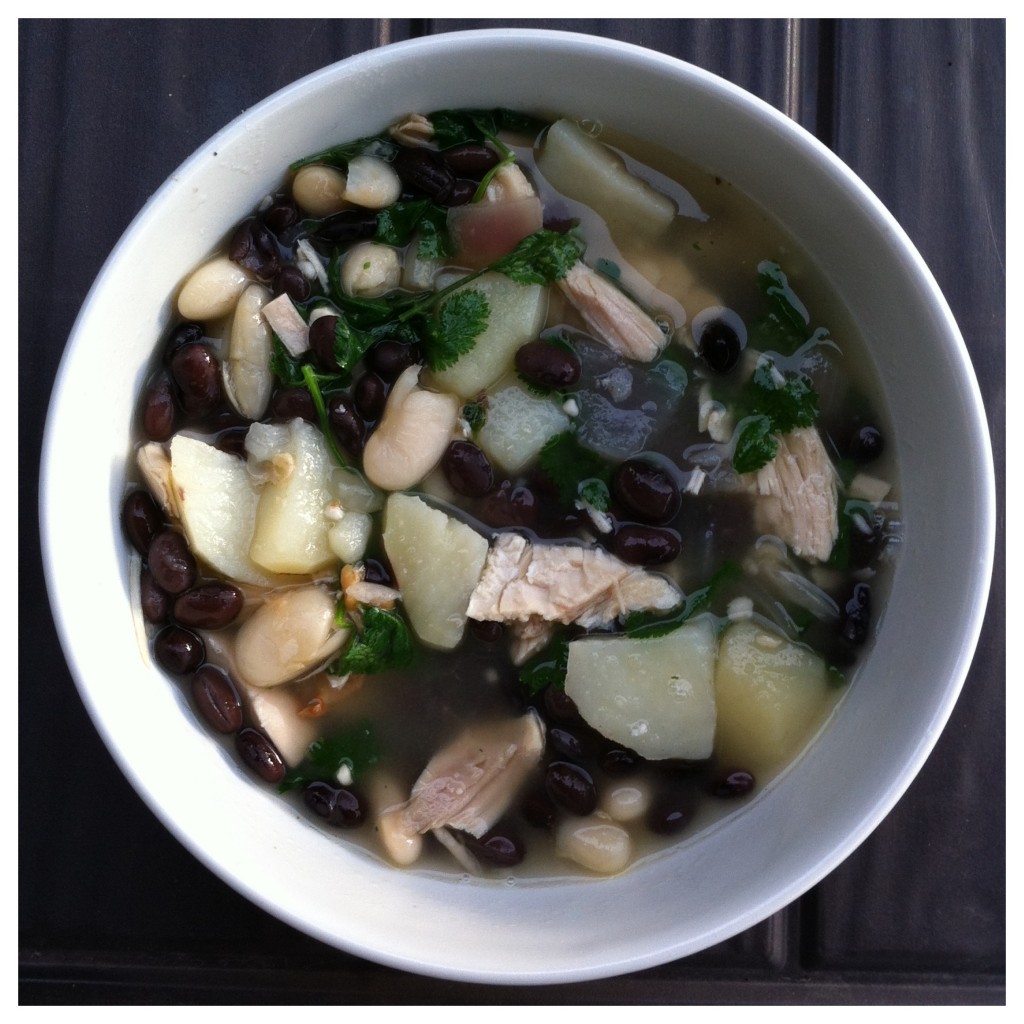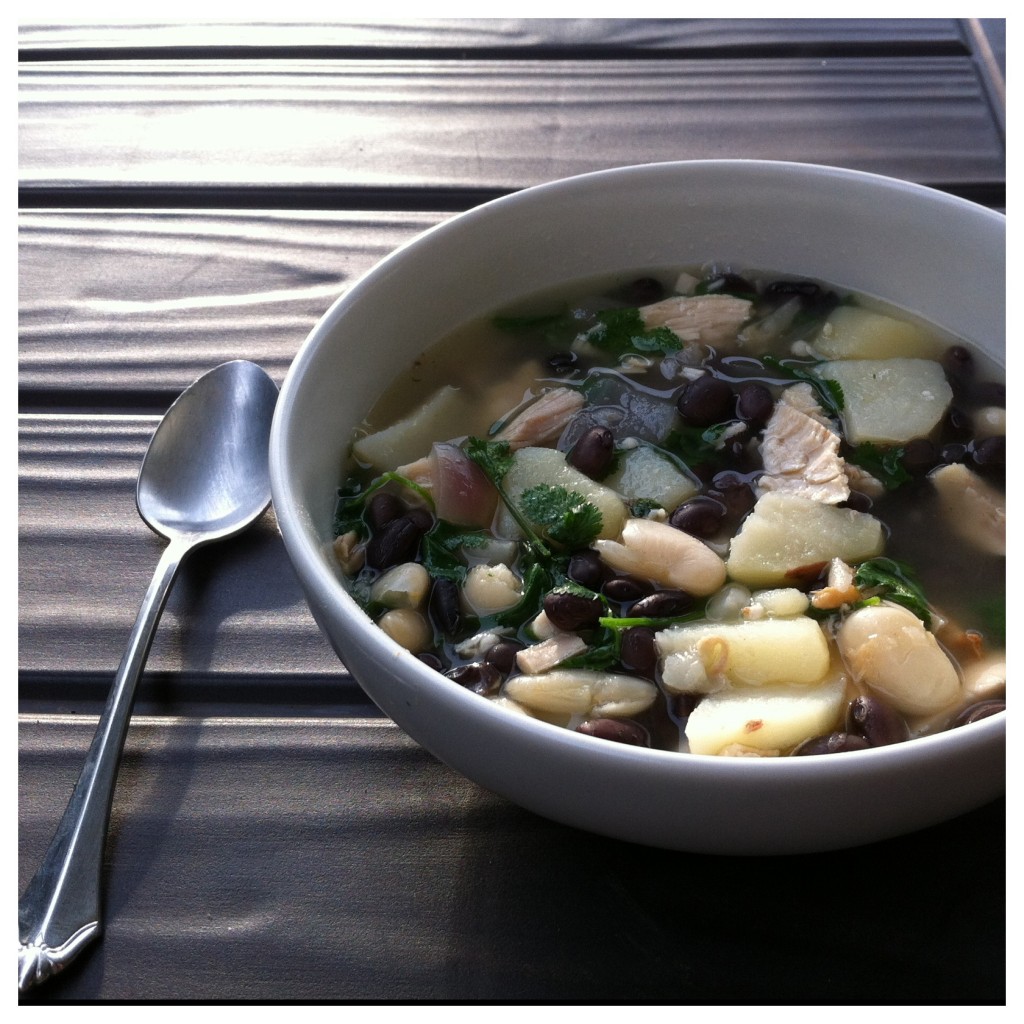 and of course, what would a food photo shoot be without interruptions from my boys…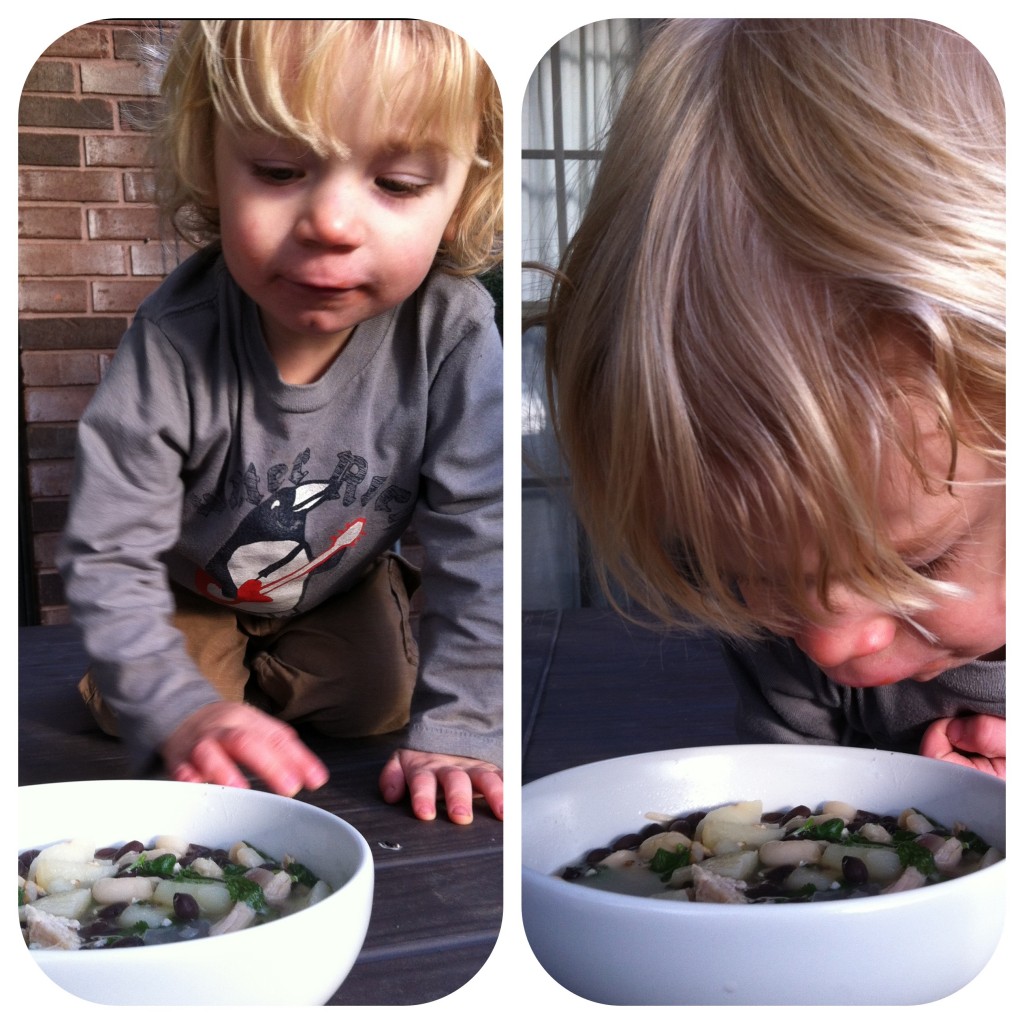 Disclosure: Bob's Red Mill sent me some of their dry beans but 100% of my thoughts and opinions are my own and this is not a paid for blog post. I am writing this out of the love for their products.