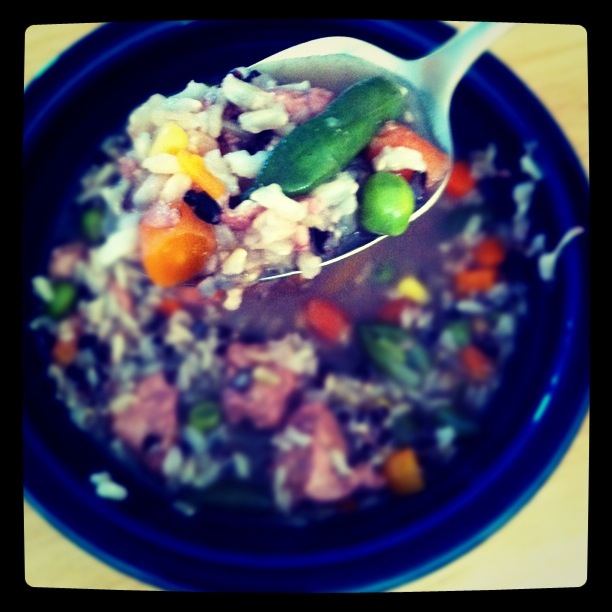 So, yeah, you can say it… this totally looks like a lot of my other recipes! HAH! I get it! The only reason I'm adding this easy recipe is that the word EASY is in it. I've not been feeling well lately due to a chronic sinus infection and since we are gluten/dairy/egg free due to my (very inconvenient) kid's allergies, my "go-to" in a pinch resources are pretty limited. Ben does NOT cook (to be fair, he's so great at dishes and vacuuming) and when I'm feeling sick and overwhelmed with my boys endless energy I have to have something easy and that doesn't easily burn.
Which is why I make soups. All the time. Set on low they can stand being ignored for a few minutes as I attempt to train my kids not to hit each other all the time. I digress…
Recently I discovered something weird looking and full of  healthy deliciousness- Black Rice. The uber healthy cousin to brown rice. If you really want to know the specifics on it, google it! I'd say more but my precious 20 month old is trying to type on the computer with me. One of the things google probably won't tell you is that it's a beautiful, visually appealing grain that also colors the food you cook it with a little  bit. The chicken in the soup came out with a purple hue on the outside, which, I mean, it's kind of awesome and sets this soup apart from others and makes it a fun thing to serve to friends!
Also, I've been looking into using frozen veggies. Usually I'm a fresh, organic produce kind of girl, but I've been reading how frozen veggies are sometimes actually more full of vitamins/minerals/good stuff/etc. because they were picked at their peak and frozen vs being transported for weeks. I'm still not for sure but decided to give them a try for the convenience aspect- chopping  veggies into small pieces that my family will eat is a little time consuming. As I've said before I use a vegan bouillon cube (a healthier option to the standard bullion cubes) to season a lot of my foods lately because I don't have time to season to taste like I used too.
I had pulled a few chicken breasts out the night before BUT I could have used the gluten free rotisserie chicken I had in the fridge as well.
To briefly sum it up, this is a visually appealing, fairly quick to make soup that only waits on the rice to soften. It takes about 45 minutes from start to finish which might seem like a long time for an "Easy" recipe, but you can leave it unattended if you need too.
Black Rice and Chicken Soup
1 Cup Black rice
1 Cup Brown or White Rice (black rice is expensive so I made this soup cheaper by using other rice)
3 Chicken Breasts (or 3 cups cubed cooked chicken)
1/4 Cup Purple Onion
2 Cloves Garlic
3 Cups Frozen Mixed Veggies
8 Cups Broth or Bullion Cubes (I had to add 1 1/2 cups of water because I don't have a lid that seals on my large skillet)
I cooked the chicken, garlic and onion  in a large skillet then added the bullion cubes & water. Brought to a boil and added the rice, covered and simmered for about 30 min, then dumped in the frozen veggies and simmered for another 10 minutes. It was that easy and let me tell, you I HAD INTERRUPTIONS.

Enjoy.