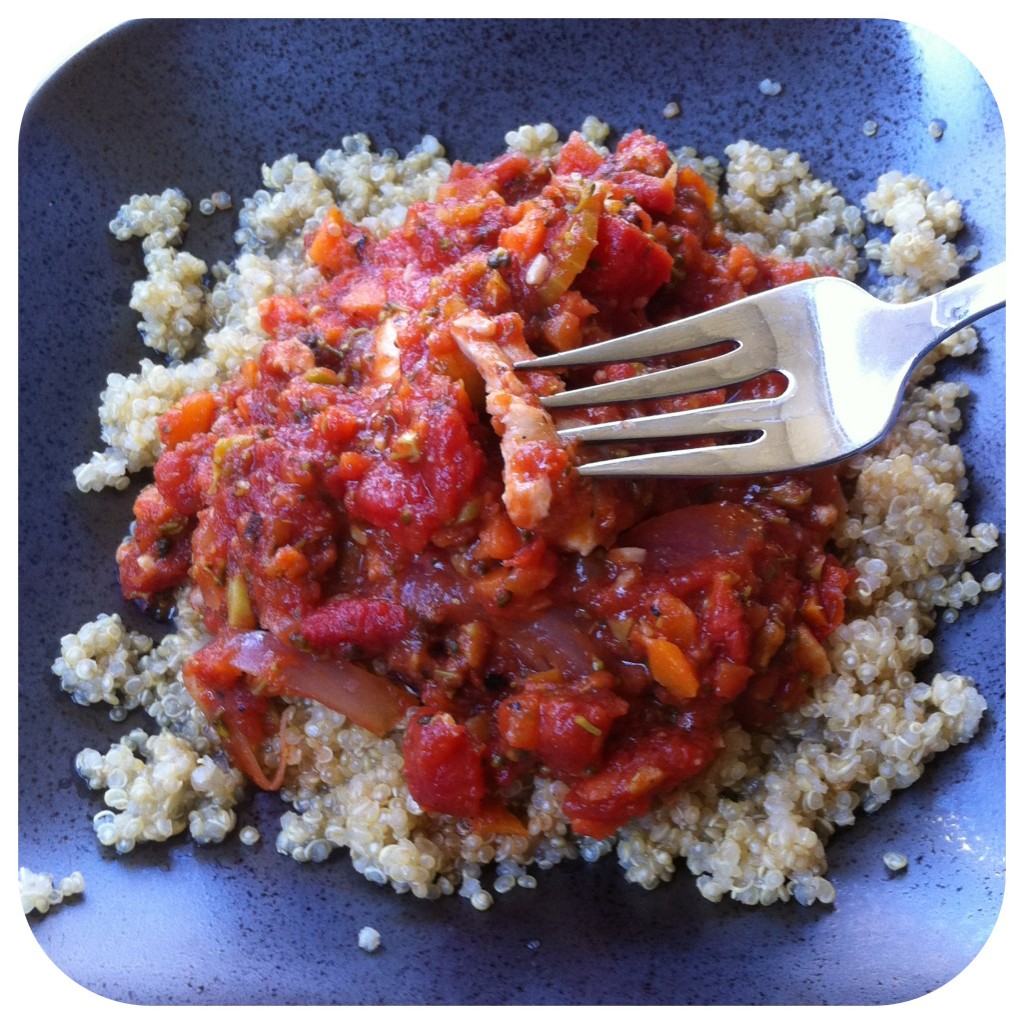 As a lot of you already know, lately I've been struggling with my 2 year old's nutrition. The other day I posted a snarky Facebook update at 2 am in an exhausted frustration after denying my child an alternate dinner in a (desperate) attempt to get him to be less picky. The result of my firm line of parenting is that he was wide awake screeching he was hungry! We had a banana snack around 2:30 am and although he went back to bed, I lay awake until after 5 am pondering what to do.
I've been kind of at a loss- since we are gluten and mostly dairy free, we don't have a lot of go-to convenience foods. I don't have a lot of money for over-priced gluten free pre-made meals from the natural food store and since I really feel eating healthy and all natural is important, I've just embraced this time in my life. My sweet, healthy boys are worth the frustration, time and experimenting.
After watching several documentaries on the meat industry, eating healthy, all natural meats is so important to me that I'd rather just not eat meat at all than eat some of the overly processed meats we find in most super markets. I'm not perfect and we do occasionally eat meats I'd rather not (OK, I love summer sausage!), but 95% of the time I only purchase grass-fed beef and smart chicken. I'm fortunate enough to get free venison from my in-laws and I've incorporated that into a lot of our meals as well. Sometimes Ben looks at me like I'm crazy about how picky I am about meats. This is an area I really don't compromise a lot on, I feel like eating Smart Chicken is a much safer choice than other chicken because the chicken is raised without antibiotics, is all natural and grain fed. I'm not sure I understand what the "air-chilled" difference is, but the fact that they don't plump up their chicken with added water or broth is also huge to me. Overall, I feel that the Smart Chicken just has a better taste and texture than other chicken and I feel at peace serving it to my family.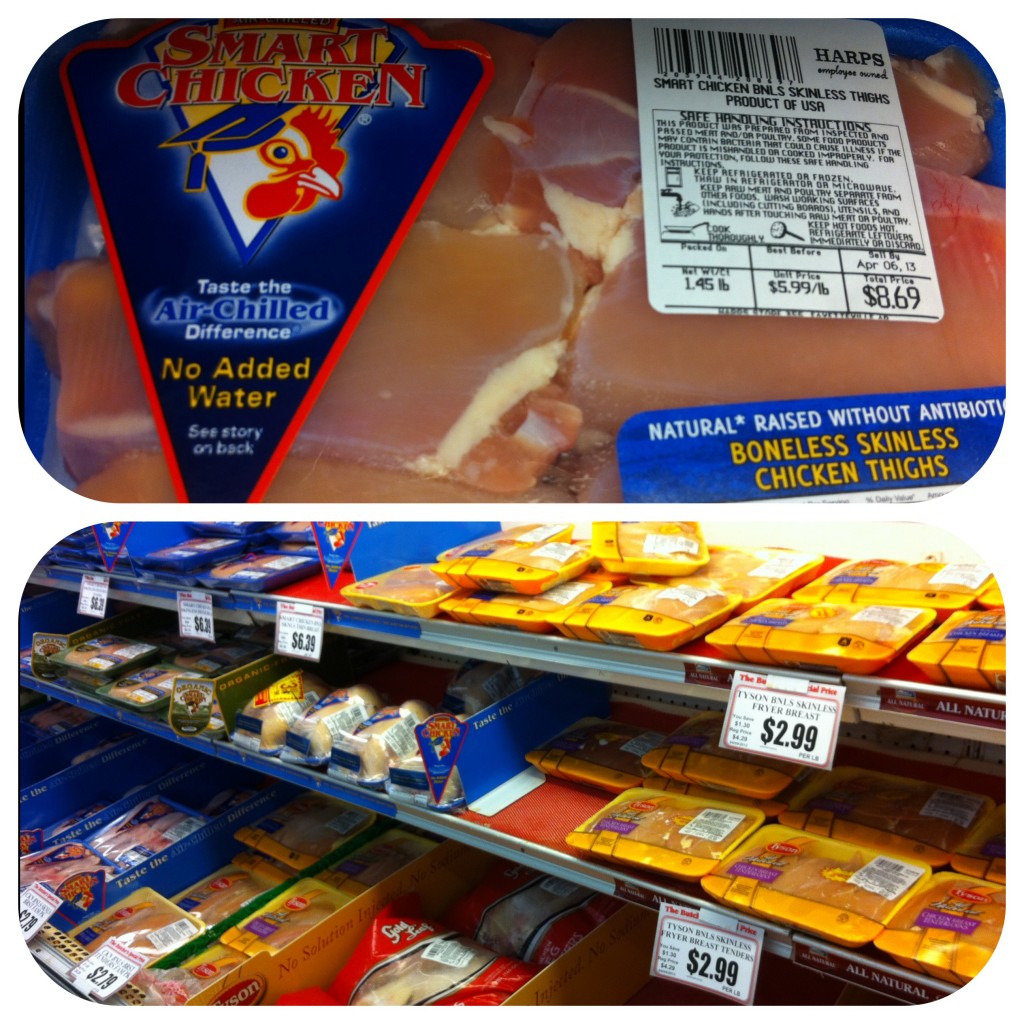 In order to compromise  some of what I love (lean meats and lots of fresh produce) with some of what Bug loves, (chicken and tomatoes- which to ME is a fruit- as well as noodles) I came across a recipe I wanted to try- and basically modified the whole thing. 😉 But what is cooking without inspiration? So, thank you to Smart Chicken's surprisingly amazing recipe page!
I went to my local Harps to do my shopping and was impressed as I usually am with their great healthy foods section. Their bulk section has gotten bigger and their prices are competitive with the natural health food store I've shopped at in the past. I was able to find all the ingredients I needed for this recipe easily and was excited that their selection of all natural and organic produce. The fact that it's employee owned is just another reason I like it. Check out the rest of my shopping trip with my crazy boys making it memorable here.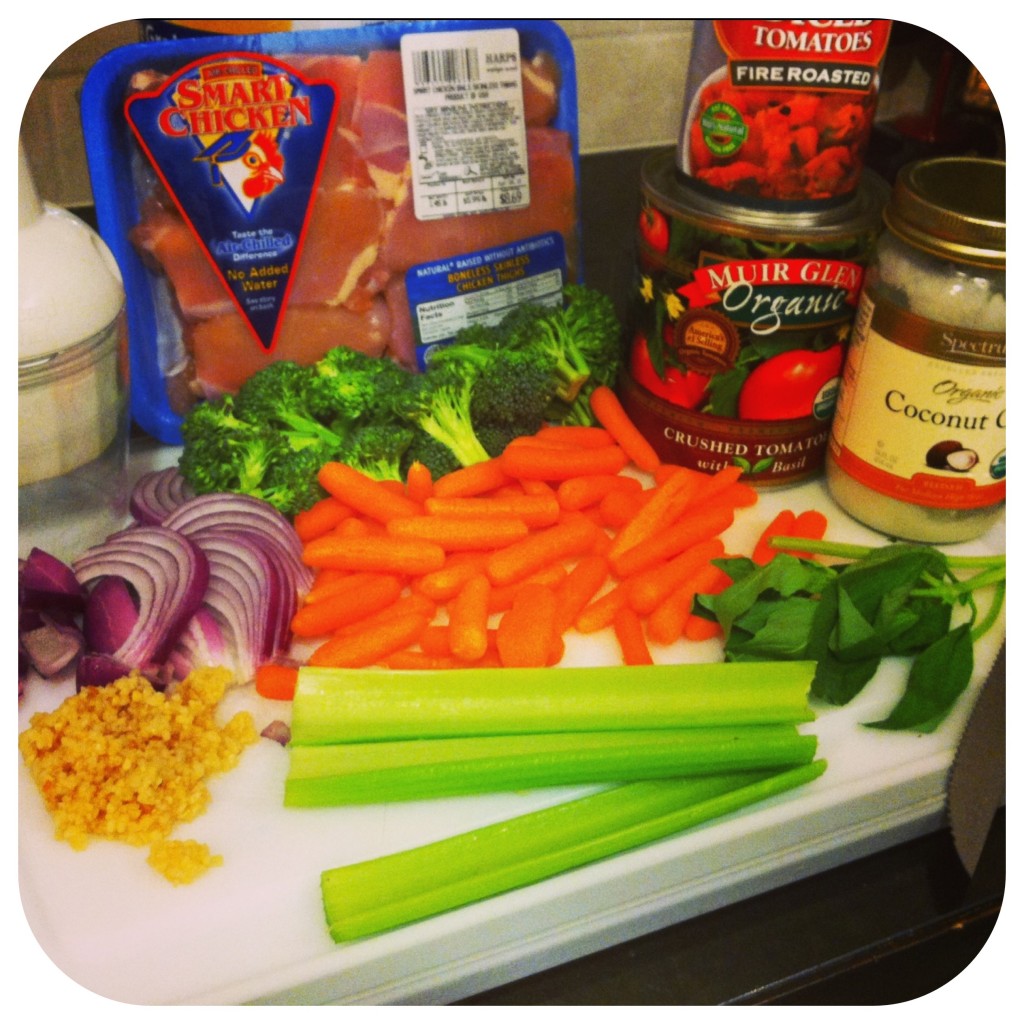 As modified my me. *Original recipe by Kevin Shinn, Chef , Bread & Cup, Lincoln, Nebraska
*1 to 2 pounds Smart Chicken legs or thighs (I got boneless for simplicity's sake)
*6 teaspoons coconut oil (I love coconut oil!)
*1 small purple onion, diced
*5 cloves garlic, minced
*28 ounces canned, crushed tomatoes with basil (I really wanted a basil flavor, regular tomatoes work too)
*14 ounce fire roasted  canned tomatoes
*3/4 cup minced broccoli
*3/4 cup minced carrots
*3 stalks celery, minced
*1/4 cup fresh basil leaves, chopped
*1 teaspoon  black pepper and salt
*1 tsp. garlic and celery salt
Preheat oven to 350°F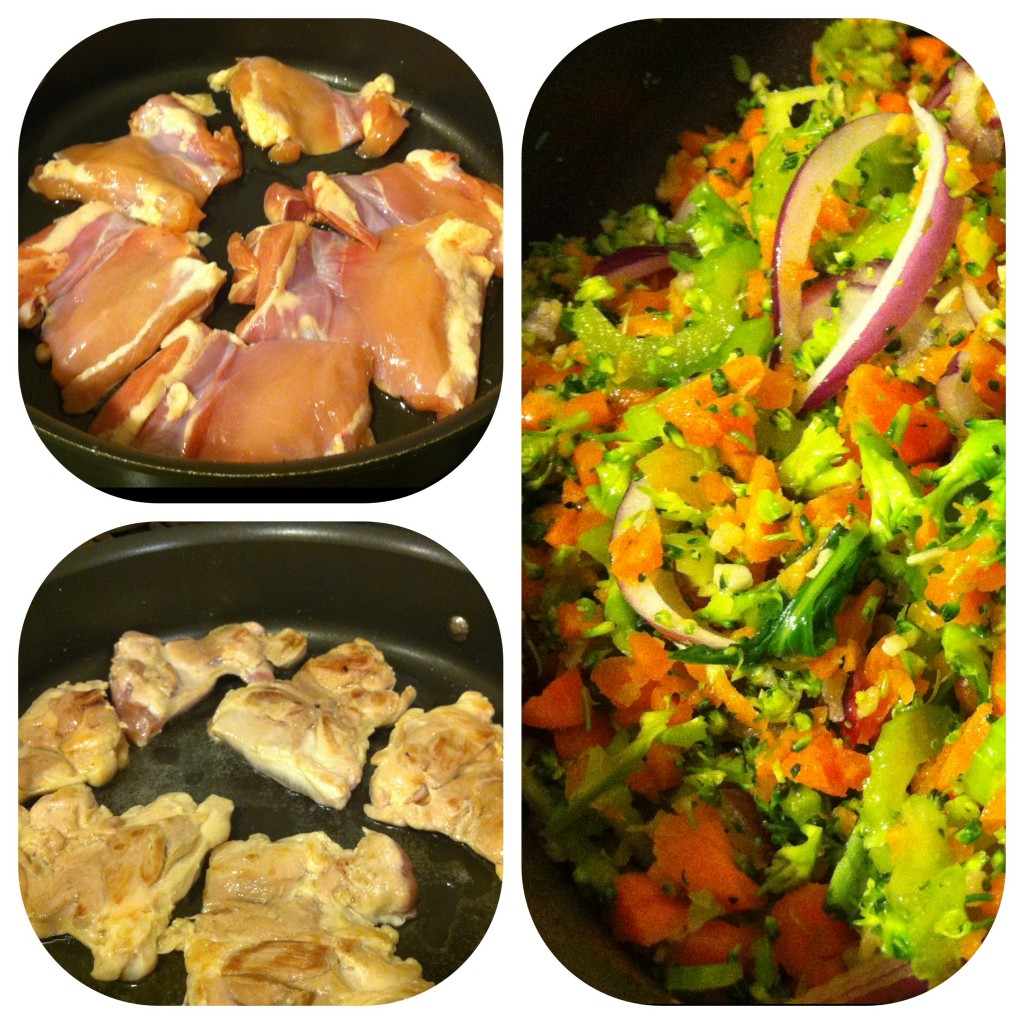 Heat 6 teaspoons of oil in a large skillet or sauté pan. Season the chicken with a sprinkling of salt and pepper, and place skin-side down in hot oil until lightly brown, about 3 to 4 minutes. While the chicken is cooking, mince the veggies. I used my favorite Pampered Chef veggie chopper and this only took about 2 minutes. Turn each piece of chicken over and brown for another 3 to 4 minutes then put in a 9 x 13 inch baking dish.
After the chicken is done browning, prepare the tomato sauce. In the same skillet, over medium-high heat. Add the onion, garlic and the rest of the veggies (I learned from my sneaky chef cookbook that tomato sauce hides a lot of different flavors so I added as many as I thought I could get away with…) and cook in the remaining oil for about 3 minutes until the veggies are soft. Add tomatoes and basil and cook until simmering. I admit here I added a bit of garlic and celery salt but then used salt and pepper mainly because I really wanted to bring out the basil flavors.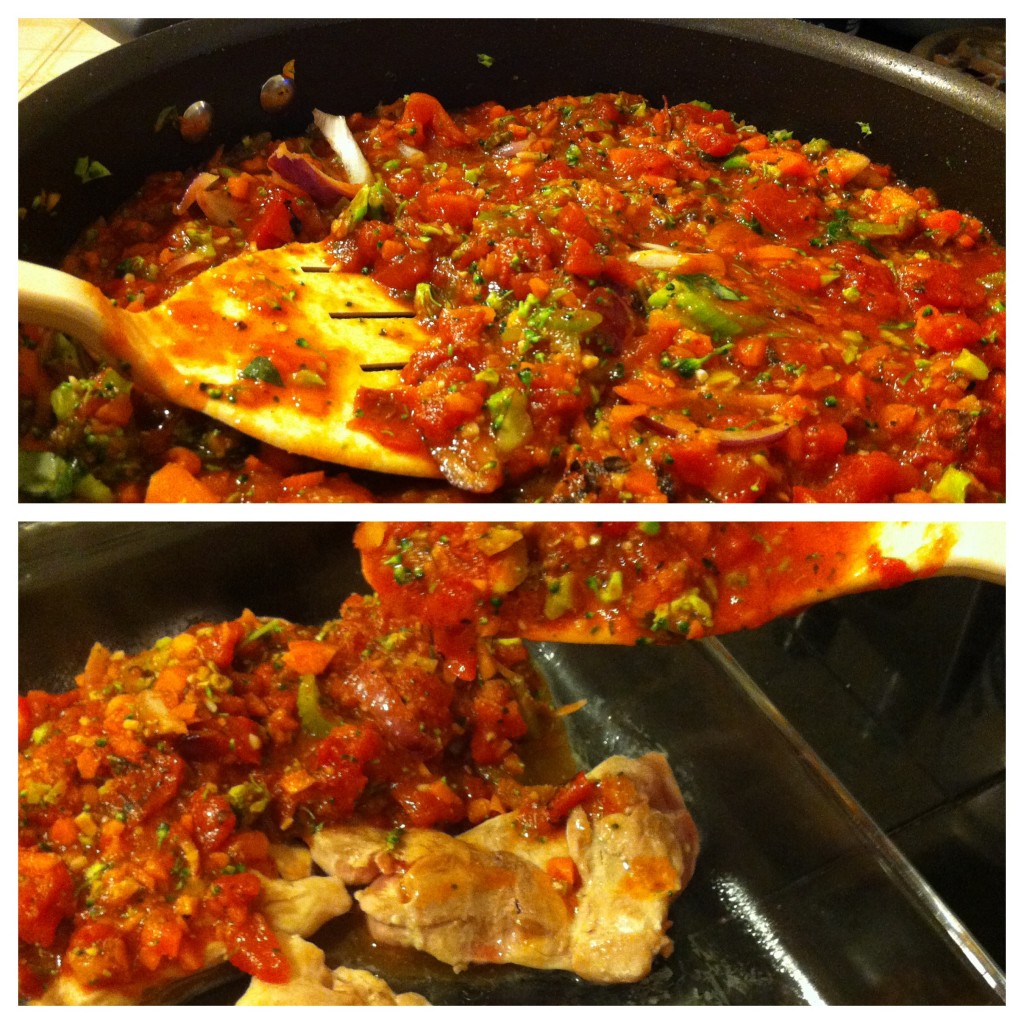 Carefully ladle hot tomato sauce over chicken. Bake uncovered for 35-45 minutes or until chicken pulls apart easily. (The internal temperature of the chicken should register 165°F. Remove from heat and let rest for 10 minutes.)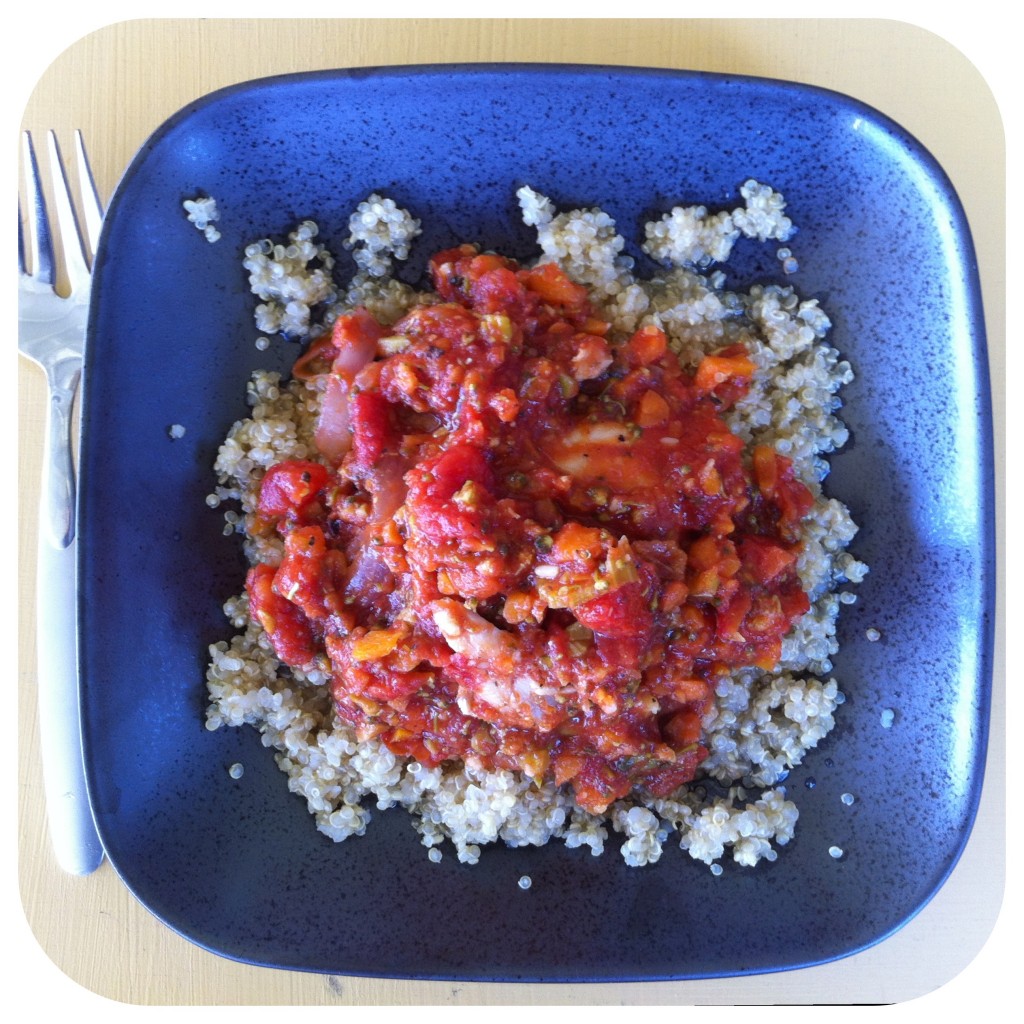 I made my favorite Bob's Red Mill Quinoa. I cooked it in a vegan chicken broth for a savory, delicious grain side and perfect to serve the above meal with! In order to compromise here, I was going to make some noodles to serve this over just in case Bug didn't feel like eating the quinoa. 😉 I also planned on adding a bit of cheese on top of that to make it a little more visually appealing.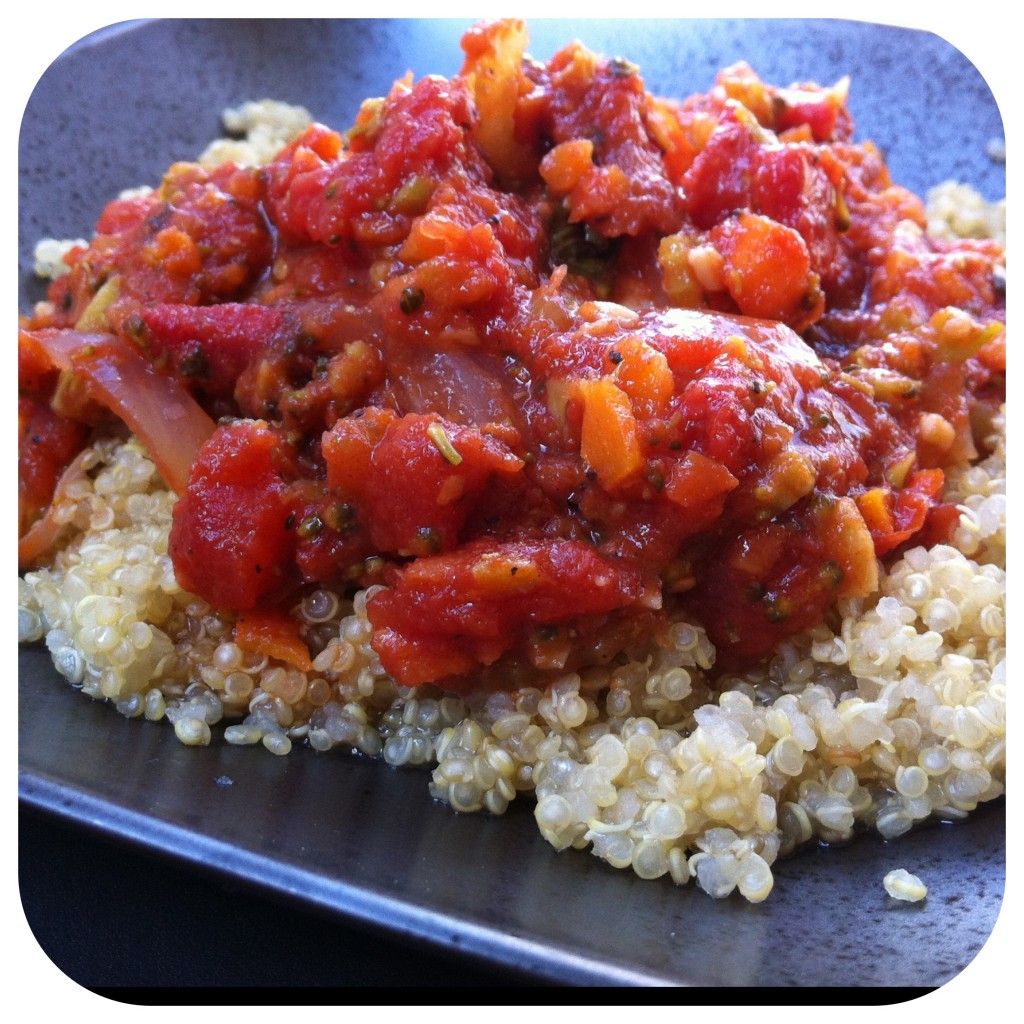 He loved it and I loved that he ate something actually good for him. He was really interested in the quinoa and actually asked to try this while I was photographing it! He didn't love the quinoa but did love the chicken and tomatoes. Noodles for the next meal! Have a lovely weekend!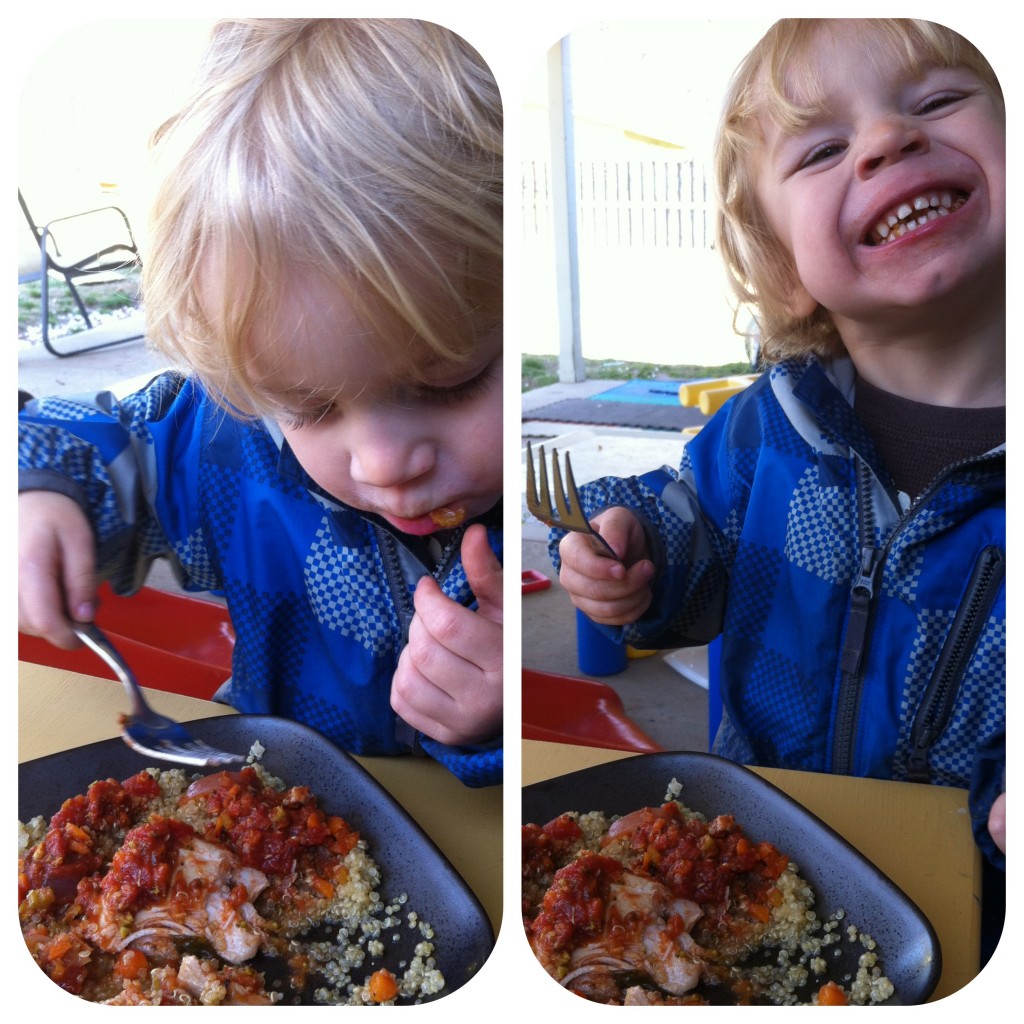 I am a member of the Collective Bias® Social Fabric® Community.  This shop has been compensated as part of a social shopper insights study for Collective Bias® #CBias #SocialFabric" As always, I blog with integrity and all of these thoughts and opinions are my own.