I know it's Thursday… RIGHT? I have lost track of the days with Bear home from school and have sorely missed blogging. Other than for Christmas Eve and Day I have been make-up less and in yoga pants so I thought it was only fair to pay tribute to casual days and today, even though it's Thursday, seemed perfect. I'm exhausted, but happy and can't wait to have a little more time to spend back here on my beloved page… Enjoy my friends. Happy Holiday!
Some days are no make-up, messy bun and OH MY GOODNESS I WANT TO KICK HORMONES IN THE FACE kind of days. When this happens, I put on sweat pants, a sweat shirt and look away when people look at me….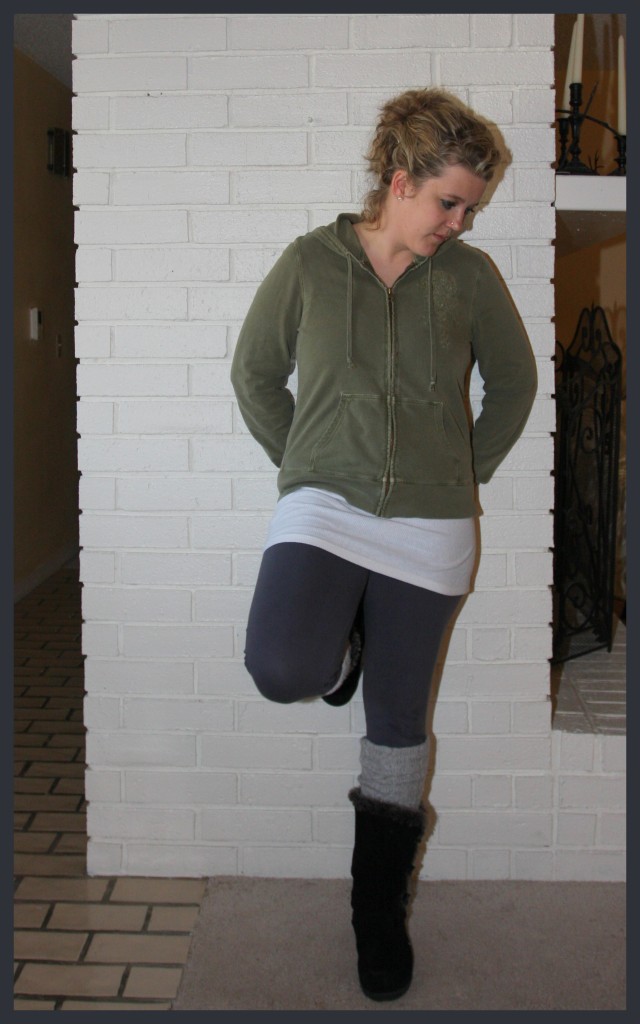 For the days I want to go a tippy-tappy more trendy I pull the following off the floor of my closet:
-white maternity tank top, $5 Old Navy, re-purposed to cover my post-baby butt over tights!
-gray tights, (or the black or brown ones) present from a friend. Maude, Worn during 2nd baby pregnancy. They are a little baggy but FREE!
-green jacket, $3, Old Navy, Potter's House (a thrift store)
-boot socks, $2, re-purposed Eddie Bauer sweater with the sleeves cut off…
-boots, part of a buy-1-get-2-free deal at Bass Outlets in Branson. They aren't the most stylish boots ever, but they were FREE and very comfortable.

(prob. around $40/each)