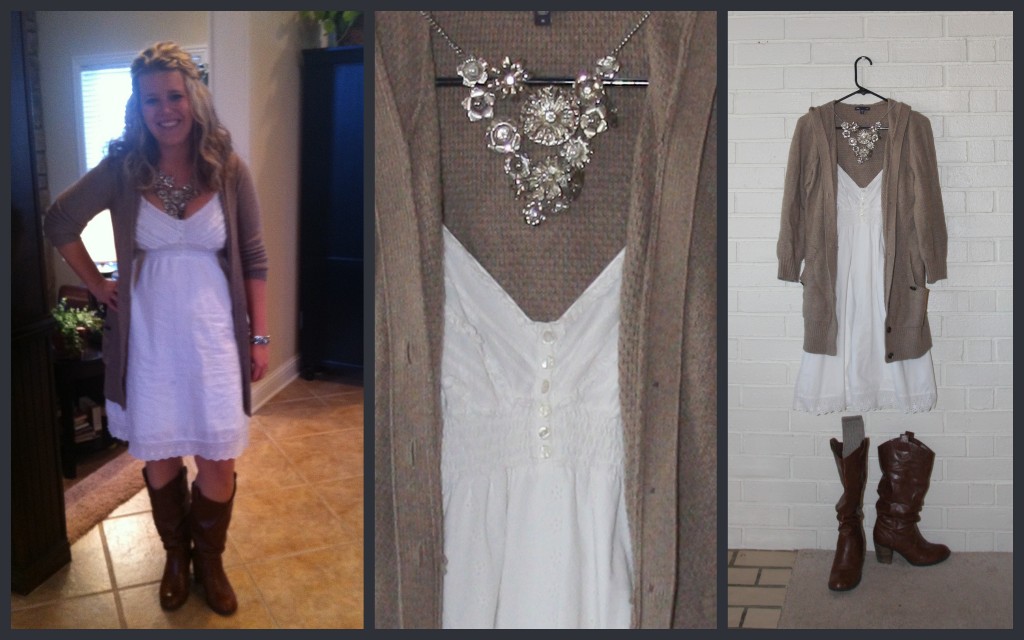 If I did A Fine Dime post on what I'm wearing today you would be disappointed. VERY. I worked out this morning so yoga pants and a hoodie are all I'll venture  into. There are days like this and besides… if I looked nice every time someone saw me the bar would be WAAAY high and I can't have that now!
So, today I'm talking about re-purposing that fun summery dress that you LOVE but feel like the  "white after labor day" or " no summer dresses in the winter" rules  still apply. Well, it doesn't if you do it right! If this is the first time you've read my Fine Dime series, you can go HERE to read my first installment (where I briefly discuss this topic) or click on the "Fashion Nothings" tab on the top row. My series is all about using what you have cleverly, some accessorizing and having fun with clothes.
To winterize a summer dress, pair it with a long, dark colored sweater or a chunky one that works but doesn't over-power the dress. A slim fitting sweater looks a little summery and is OK in the winter, but not necessarily with the dress you are trying to make look like it belongs in December. Paired with tights or thick sweater socks (like I featured in Monday's Outfit) and a good pair of high boots helps transition the dress. Belts look great with this outfit too but since my dress was so tight fitting I felt it was OK without one.
Dress- Quarter, label torn out, from a garage sale. It had a huge stain but I worked with bleach until it came out and it fits me PERFECTLY. This dress was a steal for me, I had been looking for one like this for awhile!
Sweater- $35, Gap Outlet. This one I agonized over because I hate buying new clothes, but when I realized it would go with brown OR black and that I could wear it with jeans, tights OR a dress I realized how muli-functional it was and took a deep breath and bought it! Buying good neutrals that are high quality and can be worn with almost anything are worth it!
Socks- $5, Smart Wool- re-purposed from my Ski clothes collection made when we had no kids and a double income. sighhhhhhhh.
Boots- $40, Shoe Carnival. They are perfectly slouchy and exactly what I was looking for although I was shocked that they were at Shoe Carnival! I love finding things places I thought didn't have quality items.
Necklace- $15, Target. This was a gift to me for my 30th Birthday! I get so many compliment on it- it's a little over the top for me normally but I think it's great to have a necklace that you love, from a time that you will remember and that turns heads.